EEVF Phase III: Expand the Network
Our Phase III College Participant Application is OPEN for Business!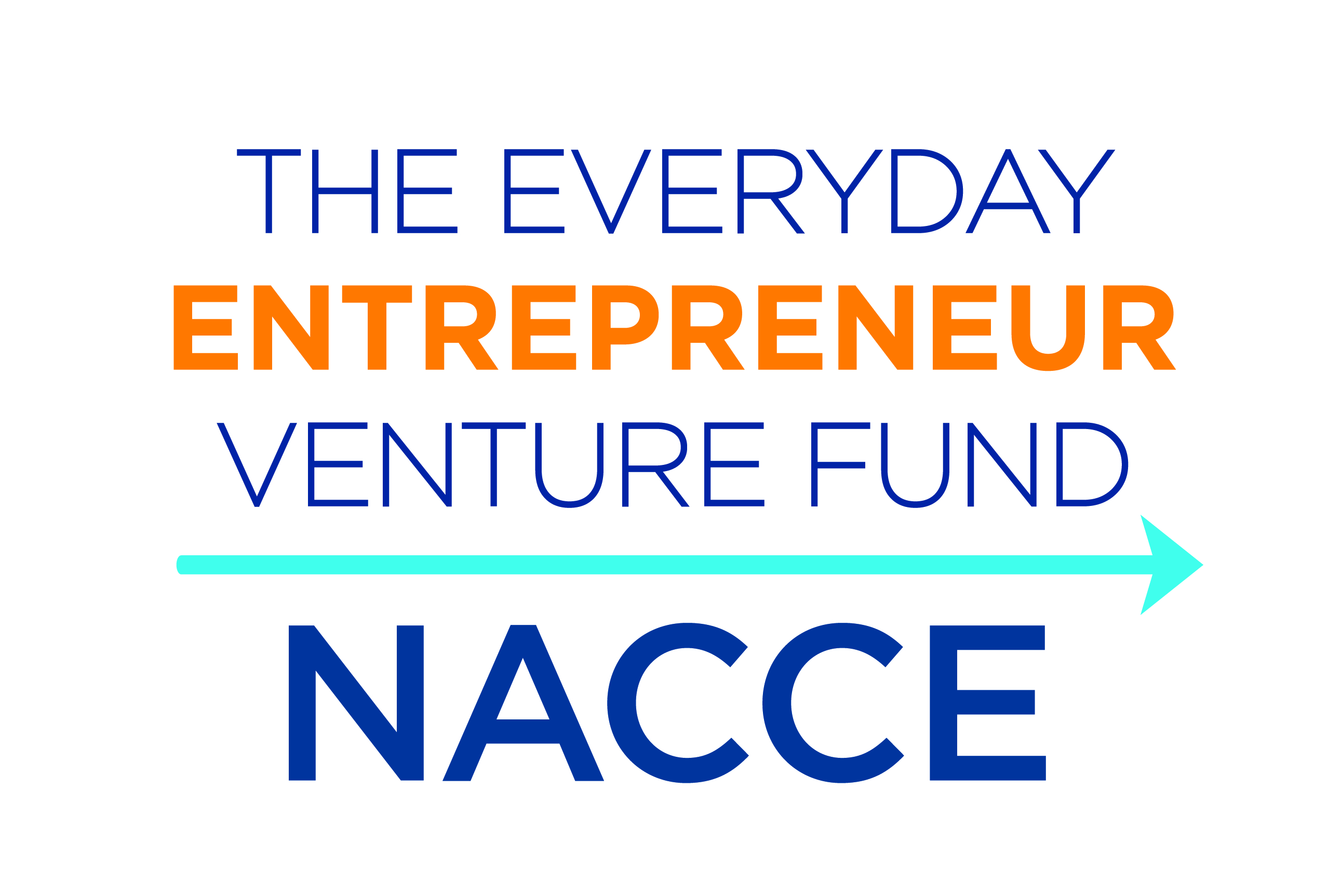 The National Association for Community College Entrepreneurship (NACCE), a 501(c)(3) nonprofit association, is in search of NACCE member community colleges, Historically Black Colleges and Universities (HBCUs), and Minority-Serving Institutions (MSIs) to participate in Phase III of the two-year Everyday Entrepreneur Venture Fund (EEVF) program. Successful applicants are willing to foster entrepreneurship in both their college and their community with an eye towards innovation, diversity, inclusion and local economic growth.
The goal of EEVF Phase III is to help cultivate entrepreneurial mindset, provide scalable resources, strategies and tools, and build a sense of community in colleges, who are dedicated to empowering future entrepreneurs with the financial management skills and tools required for long-term business success.
Our objectives with participating community colleges are to:
Give students access to grants/loans for business seed funding not available elsewhere and help them obtain skills required to be a successful business owner.


Create a collaborative learning environment and system of support for a cohort of aspiring entrepreneurs within the community college network.


Build scalable, profitable and highly visible businesses that engage a diverse student community through existing curriculum resulting in an expanded local ecosystem and an increase in available employment.

CLICK HERE TO ACCESS THE EEVF PHASE III APPLICATION

The EEVF Phase III Program will work to:
Expand the number of participating colleges involved with the EEVF program;
Provide funding to each college/district/HBCU upon the confirmation of local matching dollars and expand the pool of funding available nationally to match local dollars raised by participating colleges;
Develop templates, marketing materials, and professional development opportunities designed to support the local fundraising effort;
Connect EEVF Phase I and II colleges with EEVF Phase III colleges to develop a community of practice that will provide professional development, tools, support and sharing;
Create a post-funded business system of support to ensure continued success.
EEVF Phase III schools will receive funding for the purpose of financing student/community businesses. Additionally, two representatives from each participating college will receive a complimentary virtual registration to the NACCE 2021 Conference.
In order to expand and scale the project, NACCE will be collecting the stories of students and their businesses started through the EEVF program. These stories may be highlighted in the
Community College Entrepreneurship
journal, in press releases, online at nacce.com or via social channels as well in the NACCE podcast. Prior to receiving the first award payment, the selected colleges must:
Sign NACCE's Gift Award agreement (sample available upon request);
Complete a series of program implementation benchmarks, or "funding requirements":

Student pipeline identified; program implementation planned,
Mentor network in progress, with plans for expansion,
Funding Committee members identified and onboarded by college,
Startup Space Hub Implemented (provided by NACCE for the duration of EEVF programming),
Local Match raised and documented,
Program budget forecasted; sustainability plans reviewed;

The EEVF Innovator digital badge will be awarded to individuals who complete the full EEVF onboarding training and implementation process.
EEVF Phase III colleges shall also agree to:
Participate in regularly scheduled meetings, surveys, and trainings conducted primarily via conference/video calls;
Share requested program metrics and data with NACCE via an approved platform;
Develop a funding committee that includes college foundation staff and leadership, community members, and local funders responsible for approving and granting funds to business owners;
Create an application process that offers participation for student or community businesses that includes metrics consistent with the goals of EEVF Phase III reporting requirements;
Engage college foundation staff in managing funds and securing matching funds for the duration of EEVF Phase III; and
Recruit mentors and advisors for funded companies with regular engagement that are willing to extend their service and advice to other EEVF participating colleges.
EEVF Phase III colleges shall provide data to NACCE on a regular basis, with a final report at the conclusion of the pilot for evaluation purposes including, but not limited to the markers listed above. NACCE will measure the success of this 18-month program using data points including but not limited to the following:
total number of students engaged and available demographic information;
total number of businesses created including revenue to date;
the success rate of businesses created during Phase III one-year post launch;
the number of jobs created by EEVF Phase III businesses;
the amount of national and locally matched funds raised towards the initiative;
marketing outreach performed and related metrics;
total number of mentoring and advising hours per business; and
data demonstrating the inclusion of diverse student/community populations, including but not limited to women and minority groups, veterans, rural participants, F-1/international students, and re-entry groups such as the formerly incarcerated.
The EEVF Phase III RFA is issued to all NACCE members. The application deadline is 5:00 pm EST on Friday, April 30, 2021 via
NACCE's online EEVF Phase III Application Form
.
Following completion of the online form, applicants must confirm their application via email to NACCE Vice President Anne Strickland at
strickland@nacce.com
, subject line "EEVF Phase III Application | [YOUR INSTITUTION NAME HERE]." The email should contain the following:
Submit a letter stating commitment to successfully implementing EEVF in your local community. This letter should include the intent to support both local match fundraising efforts and fund management, with a signature from foundation or funding leadership, as well as the signature of a dean, vice president or president of the college that has the authority to commit the institution to EEVF Phase III and designate staff and/or faculty to participate in the EEVF Phase III program.


Contact information for both the college's proposed EEVF Phase III administrative lead and foundation representative. These contacts will be included in EEVF Onboarding and Community of Practice Calls beginning late summer/early fall 2021.
The receipt of all proposals will be confirmed via email within two business days. Participating community colleges are required to hold a NACCE membership. Preference will be given to colleges who have faculty with cross-functional experience in entrepreneurship, finance, accounting and/or other relevant expertise.
NACCE will host an informational webinar for all interested applicants to further clarify program logistics and formally answer any questions submitted on April 14, 2021.
Questions regarding all aspects of the EEVF program and the Phase III application process will be answered in two rounds, and may be submitted to NACCE Vice President Anne Strickland at strickland@nacce.com.


Feburary 18, 2021 | Phase III Application Window Opens
March 9, 2021 | Questions Due to NACCE (Round One), email to strickland@nacce.com
March 16, 2021 | Registration for NACCE's EEVF Phase III Informational Webinar opens
March 23, 2021 | Answers to Round One Questions Posted at www.nacce.com/EEVFPhaseIII
April 2, 2021 | Questions Due to NACCE (Round Two), email to strickland@nacce.com
April 14, 2021 | 2021 EEVF Phase III Informational Webinar
April 30, 2021 | Application Deadline
May 14, 2021 | Phase III Finalists Announced
May 17, 2021 | Finalist Interviews will be scheduled for this week
June 1, 2021 | EEVF Phase III Cohort Announced

Questions? Please reach out to NACCE Vice President Anne Strickland for more information.