Back to Events
Event Details
make/SHIFT 2.0, the Makerspace Ecosystem Summit, has been rescheduled from June 3-5, 2020 to May 6-8, 2021 in Coeur d'Alene, Idaho. Read more here.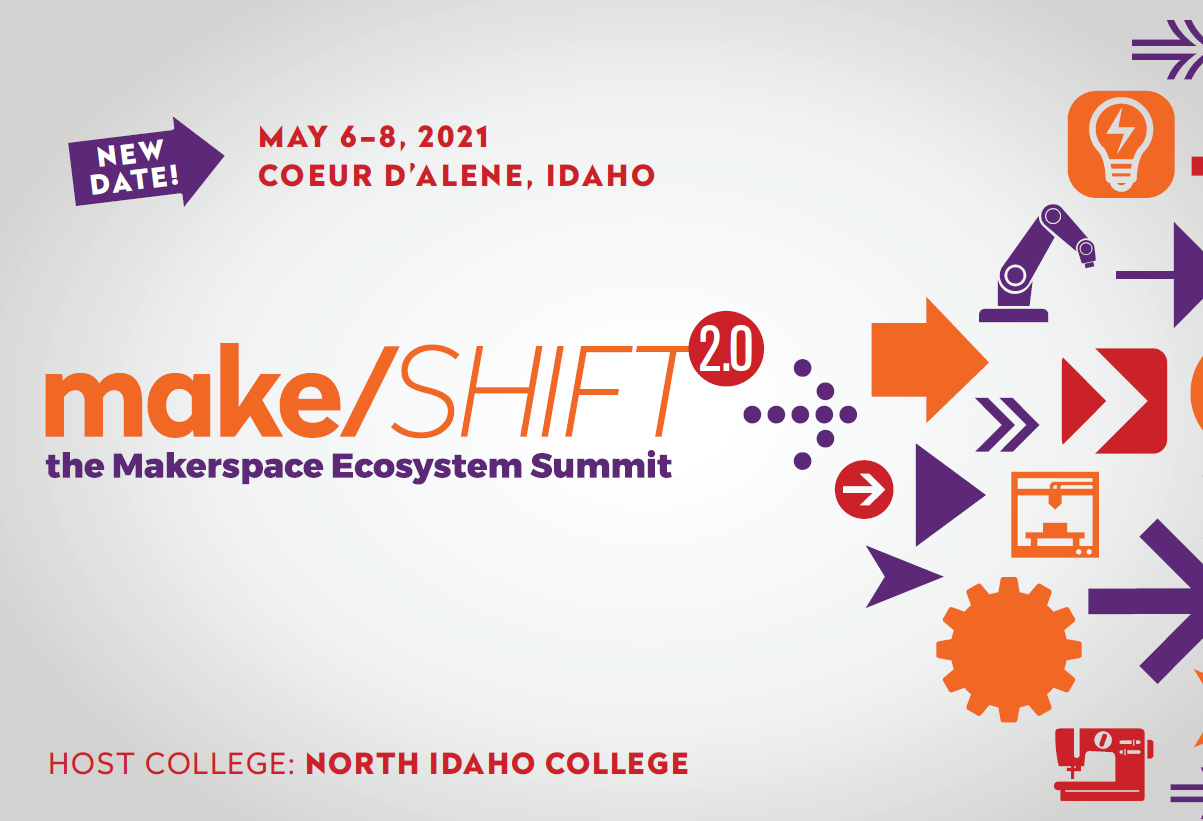 ---
Make the Shift to Inspire Education Innovation
Leverage best practices to teach the maker & entrepreneurial mindset sought by employers
Move forward by building an inclusive innovation culture & forming productive partnerships
Gain traction in preparing students for careers using proven entrepreneurial makerspace models
This conference will include a mixture of keynote presentations, breakout sessions and networking events.
The three breakout session tracks include:
Track A: Makerspace -- the models, curriculum and student impact driving community college innovation.
Track B: Entrepreneurship -- the mindset, education, and social significance inspiring communities.
Track C: Impact -- sustainable ecosystems and campus culture preparing the next generation for innovation careers.
For More Information:

3434 Kildaire Farm Road Suite 215
Cary, North Carolina 27518
United States
DRAFT AGENDA

Thursday, May 6

10:00 AM - 3:00 PM
Global Entrepreneurship Preconference with MSU CIBER
5:00 PM - 6:30 PM
Welcome Opening Reception Network with old and new friends and our exhibitors.
6:30 PM - 8:30 PM
Optional Dine-Around Dinners

Friday, May 7

7:00 AM - 8:15 AM
Breakfast
8:15 AM - 9:45 AM

Morning Main-stage Session: The Future is Here: Welcome to make/SHIFT 2.0

10:00 AM - 10:45 AM
Breakout Session 1 (Tracks A, B and C)
11:00 AM - 11:45 AM
Breakout Session 2 (Tracks A, B and C)
12:00 PM - 1:30 PM
Luncheon & Afternoon Main-stage Session: Community Colleges as Catalysts for Making & Entrepreneurship for the Future Workforce
1:30 PM - 2:15 PM
Coffee, Dessert & Networking Enjoy a sweet treat while networking with exhibitors.
2:30 PM - 3:15 PM
Breakout Session 3 (Tracks A, B and C)
3:30 PM - 4:15 PM
Breakout Session 4 (Tracks A, B and C)
4:30 PM - 6:00 PM
Networking Reception Network with old and new friends and our exhibitors.
6:00 PM - 7:30 PM
Optional Off-site Tour to Continuous Composites

Saturday, May 8

7:00 AM - 8:15 AM
Breakfast
8:15 AM - 9:45 AM
Morning Main-stage Session
10:00 AM - 10:45 AM
Breakout Session 5 (Tracks A, B and C)
11:00 AM - 11:45 AM
Breakout Session 6 (Tracks A, B and C)
12:00 PM - 1:30 PM
Luncheon & Afternoon Main-stage Session & Closing Remarks
2:00 PM - 3:00 PM
Optional Off-Site Tour to North Idaho College's Makerspace, Gizmo-CdA
3:00 PM - 4:30 PM
Optional Off-Site Guided Hike; Optional Off-Site Guided Brewery Tour