NACCE Leaders Visit Florida on Nat'l Collaboration Tour
Date posted
April 26, 2023
NACCE National Community Engagement Tour

Orlando – Thursday April 13, 2023
The NACCE team comprised of Drs. Rebecca Corbin and Andy Gold, along with NACCE's Senior Director of Marketing and Communications Beth Kerly, traveled to Vu Studio – Orlando to co-host a Press Conference, and community engagement gathering with the Florida High Tech Corridor. This stop on the NACCE National Engagement Tour, was a high impact event, filled with active networking, and national influential though leaders that included: Dr. Rebecca Corbin, President and CEO NACCE, Paul Sohl, CEO Florida High Tech Corridor. Also included in the event were four veteran owned business founders that delivered spirited talks about the critical importance of community college education, and the vital significance that the Syracuse University's Institute for veterans and Military Families (IVMF) has had on their business development. The Vetrepreneurs included IVMF STRIVE Alumna:
Owen Robertson, Founder of the LAB Theater Project, a community theater company focused on producing new works in the Tampa Bay community.

Dewayne Kimble, Founder of KMD89 VA Claims Consulting, a national service provider, helping veterans toi maximize their VA benefits.

Sherman Williams, Founder Body Aqua Water, a healthy beverage brand with a purpose.

April Caldwell, Founder of fayVen, a tech startup focused on matching vendors and creatives with venues.
The "Tour" stop in Orlando also featured a discussion by Beth Kerly, NACCE Sr. Director of Marketing & Communications about the NACCE Everyday Entrepreneur Program and venture Fund, and the SBA'S Community Navigator Pilot Program (CNPP), and how impactful those resources have been on veteran entrepreneurs. NACCE is a spoke partner on IVMF's national hub for CNPP.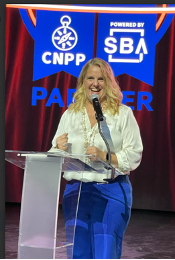 At the conclusion of the press and networking event, the venue host Vu Studio - Orlando provided a tour of their amazing and innovative facility. Vu Studio is a one stop source for end-to-end virtual production solutions.