Back to NACCE Store
Overcoming Educational Racism in the Community College
NACCE Publications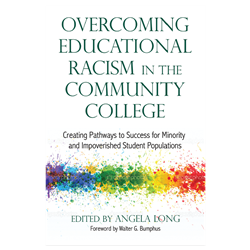 Overall, nearly half of all incoming community college students "drop-out" within twelve months of enrolling, with students of color and the economically disadvantaged faring far worse. Given the high proportion of underserved students these colleges enroll, the detrimental impact on their communities, and for the national economy as a whole at a time of diversifying demographics, is enormous.

This book addresses this urgent issue by bringing together nationally recognized researchers whose work throws light on the structural and systemic causes of student attrition, as well as college presidents and leaders who have successfully implemented strategies to improve student outcomes.

The book is divided into five sections, each devoted to a demographic group: African Americans, Native Americans/American Indians, Latino Americans, Asian Americans and Pacific Islanders, and Caucasian students in poverty. Each section in turn comprises three chapters, the first providing an up-to-date summary of research findings about barriers and attainments pertaining to the corresponding population, the second the views of a community college president, and the final chapter offering a range of models and best practices for achieving student success.

The analyses--descriptions of cutting edge programs--and recommendations for action will commend this volume to everyone concerned about equity and completion rates in the community college sector, from presidents and senior administrators through faculty and student affairs leaders. For educational researchers, it fills blanks on data about attrition and persistence patterns of minority students attending community colleges.
---