Presidents For
Entrepreneurship Pledge (PFEP)
Advance entrepreneurship at your college and in your community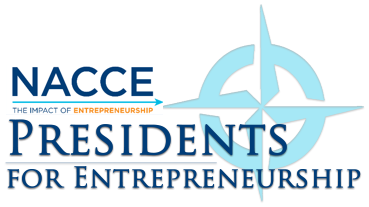 Through NACCE's Presidents for Entrepreneurship Pledge, community college presidents in the NACCE member network commit to five action steps designed to create economic vitality through entrepreneurship: 
1 | Form teams to focus on entrepreneurship. 
2 | Connect with entrepreneurs in the community.
3 | Collaborate with industry in your region. 
4 | Focus on business and job creation. 
5 | Share stories through events and the media. 
In 2015, the PFEP was validated through an independent study as an effective leadership method. Since its inception, more than 225 community college leaders have committed to advancing entrepreneurship on their campuses and in their communities, supporting small businesses and entrepreneurs across the nation. 
Join a vibrant community of college presidents and explore untapped opportunities, learn from others' experiences and perspectives, meet challenges with an entrepreneurial mindset, and gain vital insight into how entrepreneurship and entrepreneurial action impact real-world ecosystems. 
---
---