What is the Presidents for Entrepreneurship Pledge (PFEP)?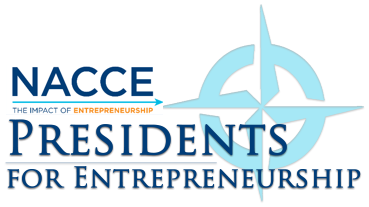 As a NACCE member, you can learn from others' experiences and perspectives, gaining vital insight into the way entrepreneurial thinking and action impacts real-world ecosystems. For example, you can learn how college leaders use NACCE's Presidents for Entrepreneurship Pledge to meet challenges and explore untapped opportunity. Through this important tool, community college presidents commit to five action steps that advance entrepreneurship in their communities and campuses and support local startups and small businesses.
Five Action Steps for Creating Economic Vitality Through Entrepreneurship
There are five action steps we believe are crucial for community colleges to advance entrepreneurship in their communities:
Form teams to focus on entrepreneurship
Connect with entrepreneurs in the community
Collaborate with industry in your region
Focus on business and job creation
Share stories through events and the media
Ready to sign the PFEP? Click here.
Action Steps Checklist | PFEP Validation Report | Presidents Who Have Signed On | PFEP Awards
---