Back to Events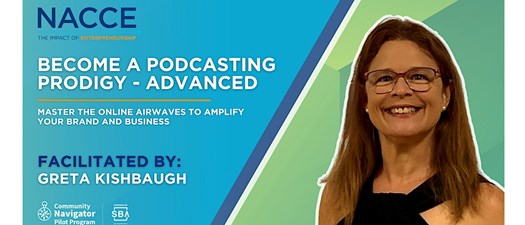 Become a Podcasting Prodigy - Advanced
Friday, August 25, 2023
11:00 AM - 12:00 PM (EDT)
Event Details
🎙️ Ready to Elevate Your Podcasting Brilliance? 🎙️
Unleash Your Voice and Master the Art of Podcasting Excellence!
This is part 2 of a 2 part series for Becoming a Podcasting Prodigy. To register for part 1 click here.
Welcome back, Podcasting Prodigy! You've conquered the basics, and now it's time to take your podcast to soaring new heights with our exhilarating Part 2 of the Podcasting Prodigy Series!
Ignite Your Podcasting Brilliance:
🚀 Advanced Storytelling Techniques: Elevate your narrative prowess and keep your audience on the edge of their seats with captivating storytelling methods.
🎙️ Dive into Your Niche: Discover how to carve a unique path in your niche, captivating audiences with specialized content that sets you apart.
📈 Monetization Mastery: Uncover ingenious strategies to monetize your podcast like a seasoned pro, turning your passion into a prosperous venture.
💡 Expert Insights from Industry Titans: Learn from the podcasting elite, who have mastered the art of engaging millions through their shows.
Supercharge Your Success!
With exclusive insider insights and advanced podcasting strategies, Part 2 of our Podcasting Prodigy Series is designed to propel you to unprecedented heights of podcasting success! 🌌
🔥 Limited Spots Available – Claim Yours Now! 🔥
Don't miss out on this exclusive opportunity to uplevel your podcasting brilliance. Reserve your spot now to secure your seat in this groundbreaking webinar!
Whether you're an experienced podcaster seeking advanced techniques or a rising star looking to make a bigger impact, this webinar is your ticket to podcasting greatness! Join us on this thrilling journey, and together, let's redefine the podcasting landscape!
🎧 Ready to dive into the heart of podcasting brilliance? Secure your spot now – we can't wait to inspire podcasting excellence with you! 🎧
Greta Kishbaugh is a full-time Business Professor with St. Petersburg College and works with entrepreneurs with a focus on Veteran Start-Ups. She is Co-Founder of Biz Dynamics Group, offering business education and help for those who would like to get involved in franchise management. She has been a resident of St. Petersburg for over 38 years and has two young boys. Her passion is in helping anyone with a business idea. She is also a fundraiser and social media expert.
Greta Kishbaugh is also a consultant for National Association for Community College Entrepreneurship Community Navigator Pilot Program. To learn more how Community Navigator can help veterans find entrepreneurial resources for success click here