Back to Events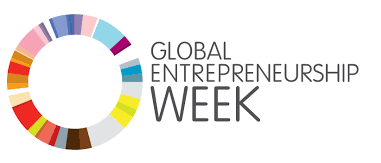 Celebrate Global Entrepreneurship Week with NACCE
180 countries. 40,000 activities. Removing barriers and welcoming all.
Monday, November 8, 2021
at
12:30 PM (EST)
to Friday, November 12, 2021 at 1:00 PM (EST)
Zoom Meeting: https://us06web.zoom.us/j/83937626754?pwd=M0hwMzcwOWUzZC9YdERQVWdrK3dPUT09
Event Details
180 countries. 40,000 activities. Removing barriers and welcoming all.
Celebrate Global Entrepreneurship Week (GEW) 2021 with NACCE! Join us from 12:30-1:00 pm EASTERN on Monday, November 8 - Friday, November 12 for informal coffee chats surrounding various topics related to global entrepreneurship. Each coffee chat will have a global entrepreneurship theme with guest speakers, but we will also provide time for the audience to ask questions and share their own experiences. Connect with fellow globally minded NACCE members and learn best practices surrounding global entrepreneurship!
AGENDA
Monday, November 8: Best Practices in International Education with Indiana University Center for International Business and Research (IU CIBER)

Speakers:

Ronald Betzig, Jackson College (MI)
Christine Everett, IU CIBER (IN)
Gary Graves, Fullerton College (CA)

Tuesday, November 9: Learn More About Skills Based Learning with IBM SkillsBuild
Wednesday, November 10: Learn More About Verizon Small Business Digital Ready

Speaker:

Jason Johnson, Next Street (NY)

Thursday, November 11: YouTube Premiere | The Changing Landscape of Entrepreneurship Across Borders

Speakers:

Hear speakers from the U.K., Sweden, and Spain, as well as from the National Association of College and University Entrepreneurs (NACUE), a similar organization to NACCE based in the U.K.

Friday, November 12: Makerspaces & Incubators | Adapting & Iterating During the Pandemic

Speakers:

Joseph Cassidy, College of DuPage (IL)
Eric Hepburn, Austin Community College (TX)
---
Other ways to get involved:
---
About Global Entrepreneurship Week (GEW):
This November, Global Entrepreneurship Network will celebrate 13 years of helping millions of people unleash their ideas to start and scale new businesses through Global Entrepreneurship Week. The campaign began in 2008 with an emphasis on inspiring young people to make their mark and has quickly grown to become a comprehensive effort that engages entrepreneurs, investors, policymakers, researchers, support organizations and others collaborating to advance economic growth and innovation in more than 180+ countries around the world. Learn more at www.genglobal.org/gew.
For More Information:

3434 Kildaire Farm Road Suite 215
Cary, North Carolina 27518
United States
413.306.3131
This event is free and open to the public.