Back to Events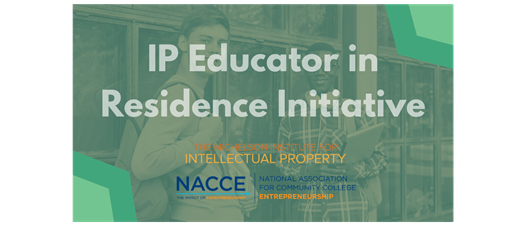 NACCE & Michelson IP Educator in Residence Initiative
Tuesday, September 1, 2020
Event Details
Informational Webinar - NACCE & Michelson IP Educator in Residence Initiative
Intellectual property (IP) refers to intangible creations of the mind. In today's innovation economy, it is critically important for aspiring entrepreneurs, inventors, and makers to understand how to leverage IP rights to manage the protection, sharing, and commercialization of their ideas and creative works.
We're seeking up to five (5) faculty participants with a strong interest in IP for a new community of practice that aims to build a stronger awareness of IP across the NACCE ecosystem. These IP Educators in Residence will comprise an inclusive community of educators who share our commitment to spread IP education by supporting the adoption and integration of Michelson IP curriculum and resources across NACCE campuses and community networks. In support of this initiation, 20MM will provide a stipend of up to $3,000 for participating faculty that complete all deliverables.
Join us for an informational webinar on Tuesday, September 1 from 1:00 - 2:00 PM EDT to learn more about how you can apply!
For More Information:

3434 Kildaire Farm Road Suite 215
Cary, North Carolina 27518
United States
413.306.3131
This webinar is free to NACCE members and $20 for non-members. Members must be logged-in to receive free registration.