NEW Pitch for the Foundations will award NACCE Colleges $150,000 in Prize Funds this October
Date posted
January 11, 2022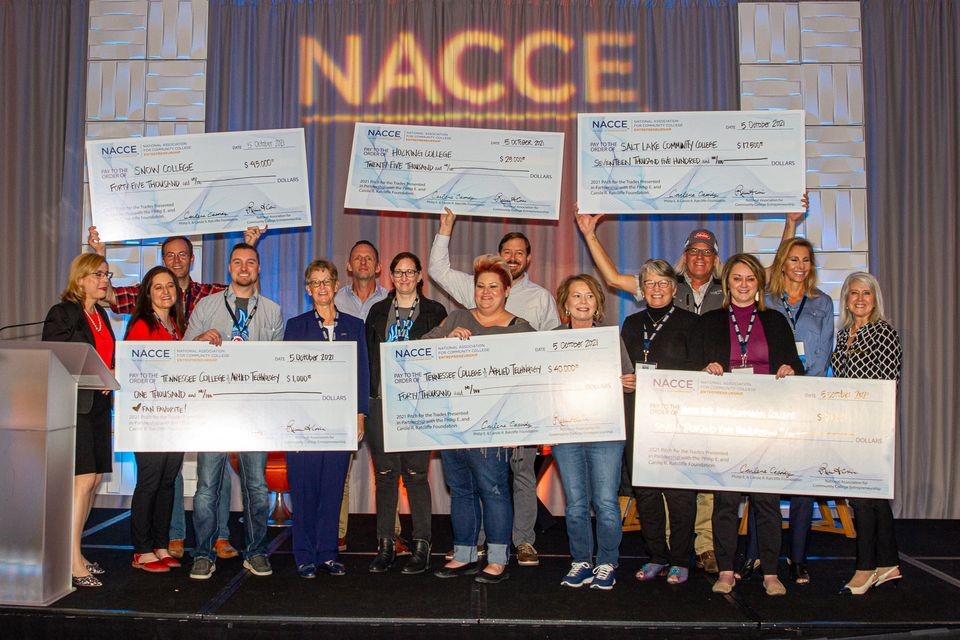 Raleigh, NC | The National Association for Community College Entrepreneurship (NACCE) is delighted to announce a new Pitch for the Foundation gift of $220,000 from the Philip E. & Carole R. Ratcliffe Foundation. College presidents, foundation staff and volunteer board members will pitch ideas at NACCE's 20th anniversary Conference in Boston, Massachusetts October 2 – 5, 2022 and receive up to $150,000 in cash prizes. Pitch for the Foundation winners will develop and implement new approaches to turn $150,000 in prize funding into $1 million in impact by early 2023. Additional funds from this award will be used to create a toolkit of resources to help all college foundations increase capacity to raise needed revenue.
Pitch for the Foundation is a signature event created after NACCE's successful October 2021 conference and Future Building Summit in Minneapolis, Minnesota. Over 100 speakers from national foundations, all levels of government, industry and higher education leaders ideated and created a new model for a Foundation of the Future.
"Two years into the pandemic, we know that communities have enormous capacity to pivot, rebuild, and turn adversity into opportunity. We also see tremendous generosity of philanthropic leaders like Chip and Stuart Weismiller who contributed an additional $185,000 to jump start the Foundation of the Future project, and the generous investment of the Philip E. & Carole R. Radcliffe Foundation who saw the opportunity to tap into the innovation of community college foundations for new ideas and approaches by adding and funding a pitch competition to the Foundation of the Future Model," noted NACCE President & CEO Dr. Rebecca Corbin.
Carlene Cassidy, CEO of the Philip E. & Carole R. Ratcliffe Foundation noted that the Ratcliffe Foundation is interested in exploring how the proven pitch technique can be expanded into other divisions and initiatives in our nation's colleges. "We have been very impressed with the unique ideas that solve local problems or fill gaps in skilled trades and workforce development. Colleges have innovated and collaborated with partners across campus and in the community with enthusiasm, and we're seeing tremendous impact. We look forward to seeing how college foundations can apply the same practices to create transformation and opportunity in their communities," she said.
Pitch for the Foundation will replicate the success seen in NACCE's Pitch for the Skilled Trades, a program funded by the Ratcliffe Foundation as a project of NACCE's Philip E. & Carole R. Ratcliffe Foundation Center of Entrepreneurship and Education, which has awarded more than $250,000 to 10 colleges across the nation who are helping to innovate skilled trades programming across the nation.
Learn more about this work at www.nacce.com.


---

About NACCE
NACCE is an organization of educators, administrators, presidents and entrepreneurs focused on igniting entrepreneurship in their communities and campuses. NACCE has two main goals: to empower college leaders to approach the business of running a community college with an entrepreneurial mindset and to grow the community college's role in supporting job creation and entrepreneurs in their local ecosystem. NACCE unites a dynamic network of community colleges. For more information, visit www.nacce.com.

About the Philip E. & Carole R. Ratcliffe Foundation
The Philip E. and Carole R. Ratcliffe Foundation is a charitable organization designed to encourage and reward entrepreneurship, create jobs, and expand economic opportunity. Based in the Annapolis, Maryland, the foundation provides funds to institutions to encourage entrepreneurship in non-traditional business fields such as the arts, design, health care, environmental science, aquaculture and skilled trades. The Ratcliffe Foundation strives to integrate its programs with local communities through mentorships and business involvement. Visit: https://www.ratcliffefoundation.com/