Press Release PHCC President Signs President's For Entrepreneurship Pledge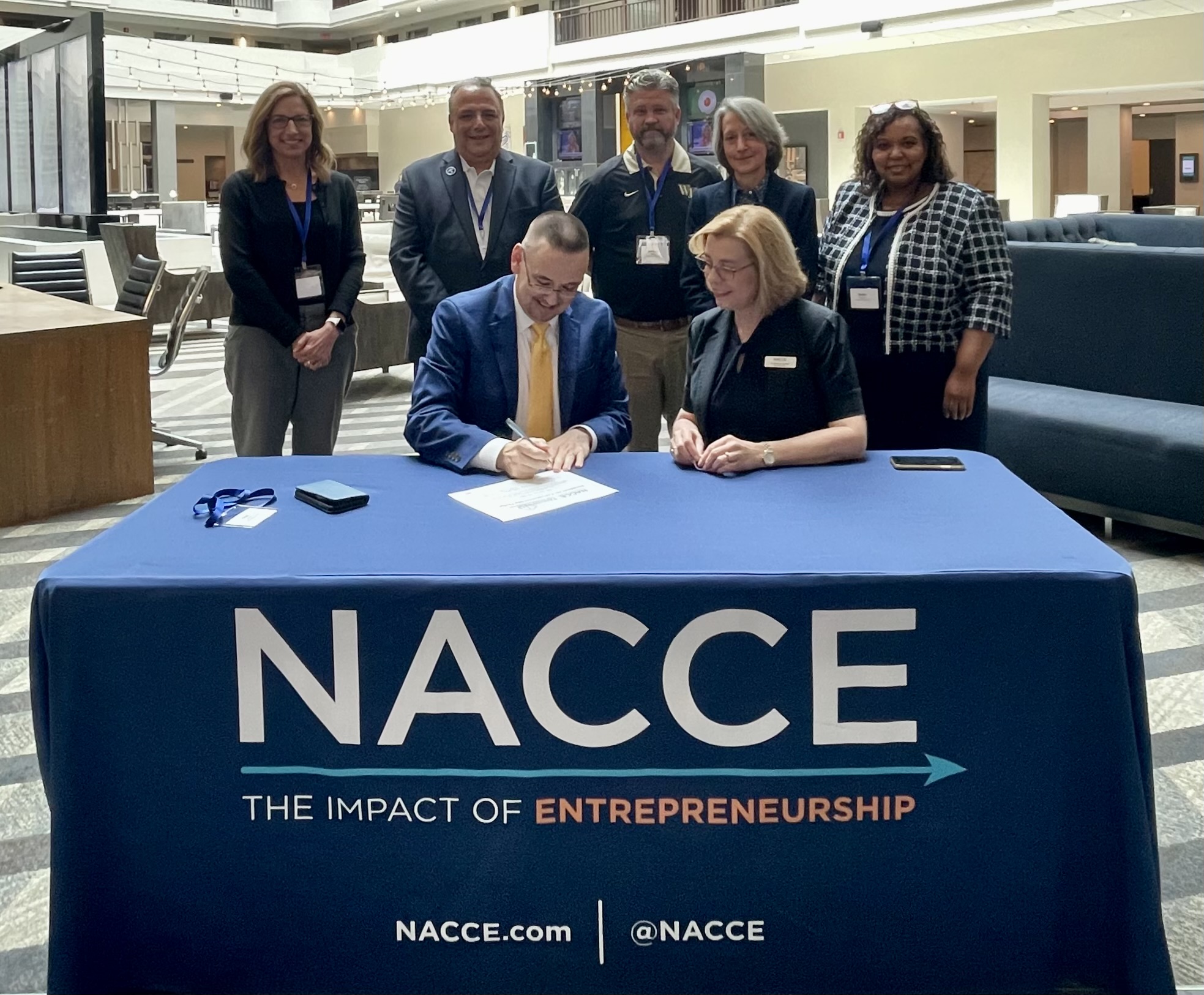 CHARLOTTE, NC | June 3, 2022 | Patrick & Hecnry Community College (PHCC) joined more than 200 colleges around the country in committing to the Presidents for Entrepreneurship Pledge (PFEP) of the National Association for Community College Entrepreneurship (NACCE). NACCE is the country's leading organization focused on promoting entrepreneurship through community colleges, and the PFEP is one of its foremost leadership tools.
Presidents who sign the pledge commit their colleges to undertake entrepreneurial practices that boost economic vitality in their communities. In doing so, they commit to five key action steps to advance entrepreneurship, including:
Form teams to focus on entrepreneurship
Connect with entrepreneurs in the community
Collaborate with industry in the local region
Focus on business and job creation
Share stories through events and the media
PHCC President Dr. Greg Hodges., signed the pledge during the Entrepreneurial College of the Future Ideation workshop. This bold new initiative will harness teams of three leaders at each college who will work together and with other colleges to tackle challenges and opportunities on their campuses and in their communities. We will work with a team of experts to identify best practices that will be shared with the NACCE membership through a database of innovative practices.

Additionally, 65 colleges have signed on to co-create a national database of best innovative practices that will be unveiled at NACCE's national conference in Boston, MA on October 2-5, 2022.
The pilot focuses on the following areas:
WORKFORCE DEVELOPMENT - aligning with employer needs and creating one's own job;
FUNDRAISING - moving beyond scholarships to big community-driven intiatives;
STUDENT SUCCESS - increasing enrollment and retention; and,
SILO BUSTING - increasing engagement and retention of college personnel.
---
About NACCE
Celebrating its 20th anniversary this year, NACCE is an organization of educators, administrators, presidents, and entrepreneurs focused on igniting entrepreneurship in their communities and on their campuses. The association represents a dynamic community of technical and community colleges, including more than 2,500 faculty, staff, and administrators who serve four million students. NACCE has its headquarters in Cary, NC, and maintains a satellite office in Springfield, MA, where it was founded. For more information, visit www.nacce.com. Follow NACCE on Twitter at @NACCE.
About Patrick & Henry Community College
Patrick & Henry Community College is a comprehensive community college committed to enriching the quality of life in its service region through academic excellence, student success, workforce development, community engagement, and lifelong learning.