SUSSEX COUNTY COMMUNITY COLLEGE PRESIDENT SIGNS ENTREPRENEURIAL PLEDGE AT GROUNDBREAKING EVENT
MAY 6 Marks Start of New Academic Center and Commitment to Entrepreneurship
NEWTON, NEW JERSEY - - May 6, 2019 - - Sussex County Community College (SCCC) became the first New Jersey community college to join more than 170 colleges around the country in committing to the Presidents for Entrepreneurship Pledge (PFEP) of the National Association for Community College Entrepreneurship (NACCE). SCCC President Jon Connolly, Ph.D., signed the pledge on May 6 during groundbreaking ceremonies for the college's new Academic Center.
Presidents who sign the pledge commit their colleges to undertake entrepreneurial practices that boost economic vitality in their communities. NACCE is the nation's leading organization focused on promoting entrepreneurship through community colleges, and the PFEP is one of its foremost tools. President Connolly signed the pledge during the groundbreaking ceremonies for a new, 13,000-square-foot Academic Center. Designed to foster innovation and student success through innovative programming and experiential learning, the new space will house classrooms, a lecture hall, a makerspace, meeting rooms, and student gathering areas.
"In signing this pledge, we are demonstrating our commitment as an institution to encourage and develop entrepreneurial thinking across our campus," said President Connolly. "This is particularly timely today as we break ground on our new Academic Center, signaling yet again our dedication to educating our future entrepreneurs."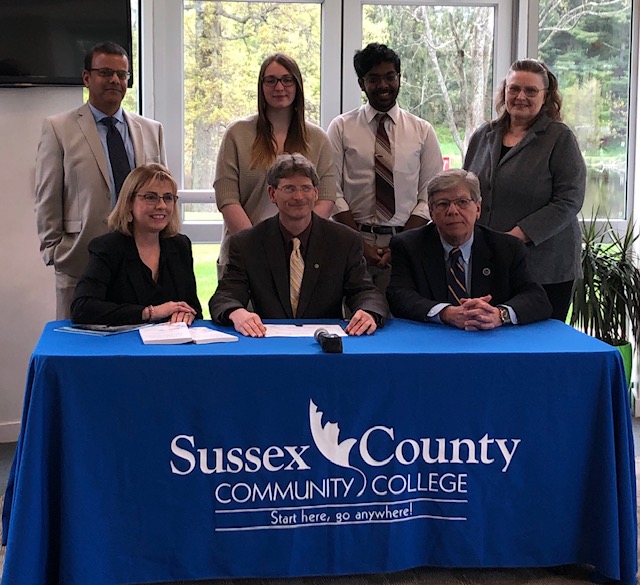 Through NACCE's Presidents for Entrepreneurship Pledge, community college presidents commit to five action steps that advance entrepreneurship in their communities and support local start-ups and small businesses. The five action steps are:
Form teams to focus on entrepreneurship
Connect with entrepreneurs in the community
Collaborate with industry in your region
Focus on business and job creation
Share stories through events and the media
"As a resident of New Jersey and having served for a number of years at nearby Rowan College at Burlington County, I am delighted to welcome Sussex County Community College into the growing number of community college presidents across the country who have signed the pledge," said Rebecca Corbin, Ed.D., president and CEO of NACCE. "Research has validated that presidents who sign the PFEP have greater success in mobilizing entrepreneurs in their community and in the classroom."
About NACCE
NACCE is an organization of educators, administrators, presidents and entrepreneurs focused on igniting entrepreneurship in their community and on their campus. NACCE has two main goals: to empower the college to approach the business of running a community college with an entrepreneurial mindset; and to grow the community college's role in supporting job creation and entrepreneurs in their local ecosystem. The association represents 300+ community and technical colleges and 2,000 faculty, staff, administrators and presidents who serve more than 3.3 million students.