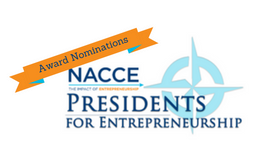 Several years ago, NACCE implemented the President's for Entrepreneurship Pledge (PFEP) as a way of igniting positive change across campus and in the classroom. In 2015, the PFEP was validated through an independent study as an effective leadership method. For the past two years, we have recognized 10 schools with PFEP College of Excellence Awards (see 2018 winners below). We invite NACCE member colleges that have signed the PFEP to self-nominate as a college of excellence.
NOMINATIONS WILL BE ACCEPTED FEBRUARY 1-28, 2019
Reasons to Participate
If you are doing innovative work you deserve to be recognized. Your board, faculty and students across the country need to know what you are doing.
Enhance your credibility and that of your school's to document success for accreditation reports and to attract investment in entrepreneurship in your local community.
Create valuable content that will be helpful to your college in student enrollment and fundraising efforts.
Leadership... NACCE will document what you are doing as part of our best-practice examples. We will then share it with community colleges nationwide as an example of what leading schools are doing right now.
Winners will receive the following recognition:
Winners and recognition awards will be announced and presented at the NACCE Celebratory Breakfast at the annual AACC Conference on Monday, April 15, 2019 from 7:00 – 8:30 AM at the Orlando World Center Marriott Hotel.
Recognition in a press release detailing the winners and their contributions
Inclusion in an article in the Spring/Summer issue of the Community College Entrepreneurship journal
Highlight as innovators and leaders in our social media
Identification as subject matter experts and sought out by NACCE as a resource in future articles, events, etc.
Requirements
NACCE Membership: If you are not a NACCE member you are missing out! Please take a few minutes to learn more about the benefits of membership and how easy it is to sign up.
Sign the PFEP Pledge: Participants also need to be current PFEP Pledge signers. PFEP is a commitment by your college to advance entrepreneurship in your community.
2018 College of Excellence Award Winners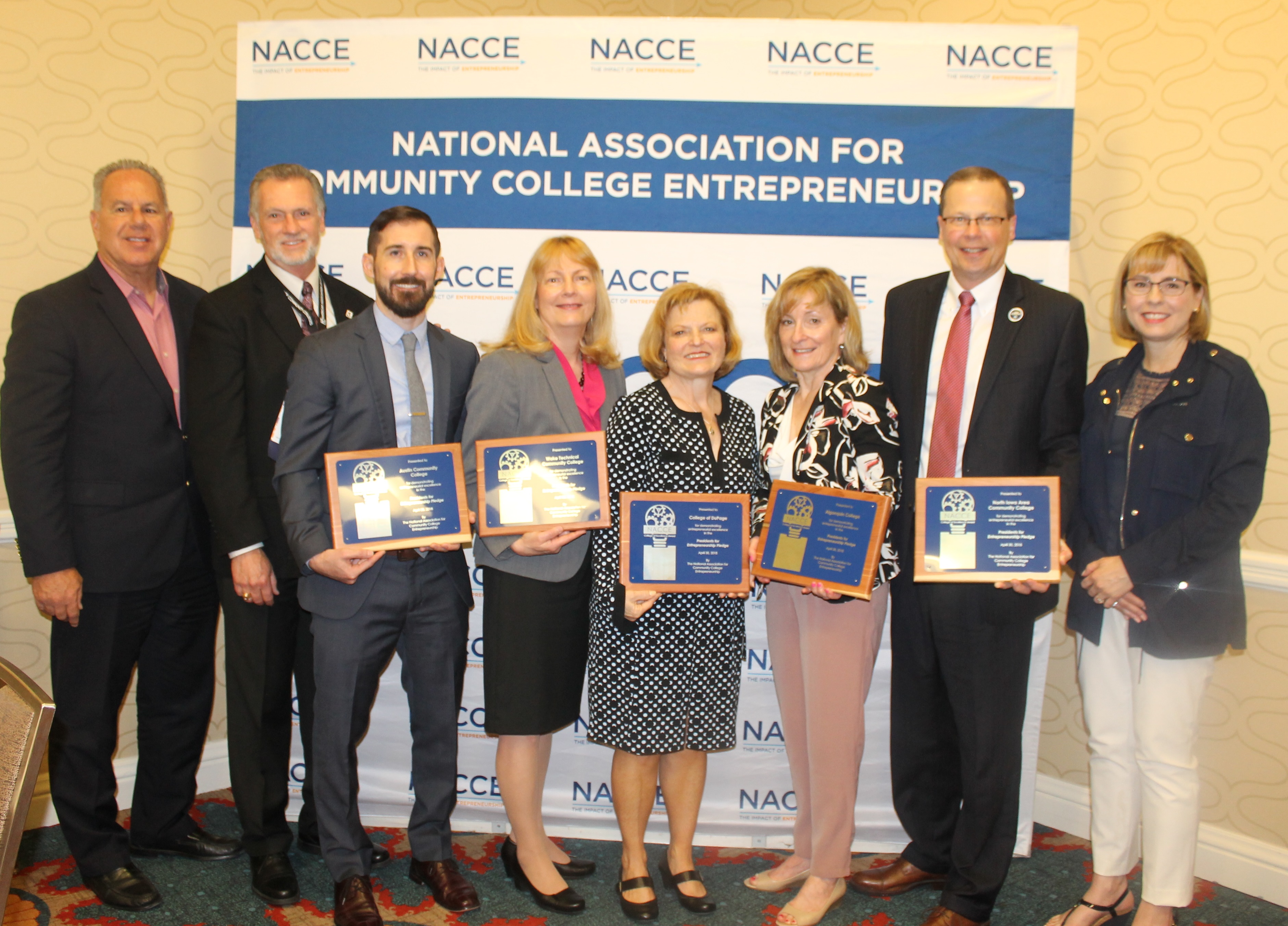 Step 1 Winner (Create or Expand Internal & External Teams Dedicated to Entrepreneurship): Algonquin College (Canada)
Step 2 Winner (Increase Entrepreneurs' Engagement in Community Colleges): College of DuPage (IL)
Step 3 Winner (Engage in Industry Cluster Development): Austin Community College (TX)
Step 4 Winner (Leverage Both Community College and Community Assets to Spur Innovation and Job Creation): Wake Technical Community College (NC)
Step 5 Winner (Create Buzz and Broad Exposure of your College's Commitment to Entrepreneurship): North Iowa Area Community College (IA)