Veterans Entrepreneurship
Center of Practice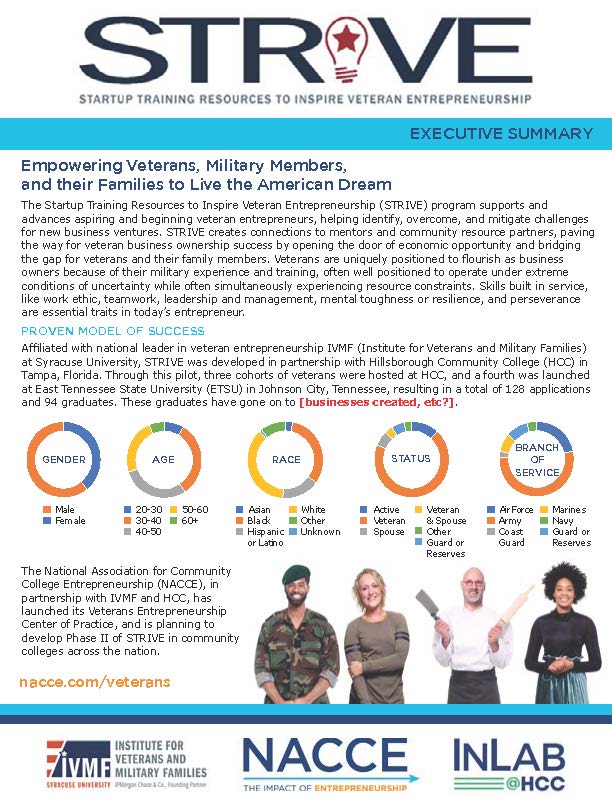 The Veterans Center of Practice is created to support veterans and their families
within our network providing access to funding, educational tools and partnerships to fuel their entrepreneurial journeys.
Veteran entrepreneurs are in search of tailored support and assistance
in launching their businesses.
46% believe navigating resources in their local community is not easy.
45% believe that their business has NOT been supported by the local community.
22% of veteran-owned businesses cite lack of mentorship as a challenge.
Our goal at NACCE is to leverage our college network and community, building a supportive ecosystem for veteran entrepreneurs. Questions? Connect with NACCE Director of Community Engagement Andy Gold.
---

The STRIVE Initiative at NACCE
NACCE is excited to partner with Institute for Veterans & Military Families (IVMF), whose mission is "to empower service members, veterans, and their families through actionable research, innovative programs, and insightful analytics," with the launch of our new Veteran Entrepreneurship Center of Practice. IVMF is the perfect complement to our organization and driven to provide measurable impact throughout our community college network.
Their Startup Training Resources to Inspire Veteran Entrepreneurship (STRIVE) program is part of a landmark initiative that transforms veterans and military family members into entrepreneurs. STRIVE is currently delivered in partnership with NACCE member colleges Hillsborough Community College (Tampa, FL) and East Tennessee State University (Johnson City, TN). The program leverages networks and education resources in local communities to support and advance aspiring veteran entrepreneurs, as well as veterans who have recently started a business and need support to navigate common barriers to startup success.
The program will now grow to a six-member consortium including Fayetteville Technical College (Fayetteville, NC), Kauai Community College (Puhi, HI), Pierpont Community & Technical College, (Fairmont, WV) and Salt Lake Community College (Salt Lake City, UT).
"We are thrilled to announce the creation of this new NACCE member college consortium that will support veteran entrepreneurs across the country. We are deeply grateful to IVMF for collaborating with us. Partnerships like this that align with NACCE's mission of fostering entrepreneurship through community colleges are key to our association's growth, our nation's economic recovery, and the advancement of equity," said Rebecca Corbin, President and CEO of NACCE.
Is your college interested in getting involved? Complete the interest form linked below, and we will be in touch!
Click here to complete interest form
---
"The program far exceeded my expectations and provided a vast amount of material that I am able to take away to keep on hand and update as my business grows. This along with the instructors positive and supportive attitude made the experience much more valuable than I ever could have expected. By having the ability to plug in my actual business into the concepts that were taught, I was able to build a business matrix around my specific situation and will be able to iterate as my business grows, no matter to what level. I now have a professional level mechanics toolbox to handle any level of growth."

– STRIVE 2020 Graduate
---
Veterans Entrepreneurship Center of Practice