CTCC | Community
& Technical College Consortium
Community and Technical College Professional Development Webinar Series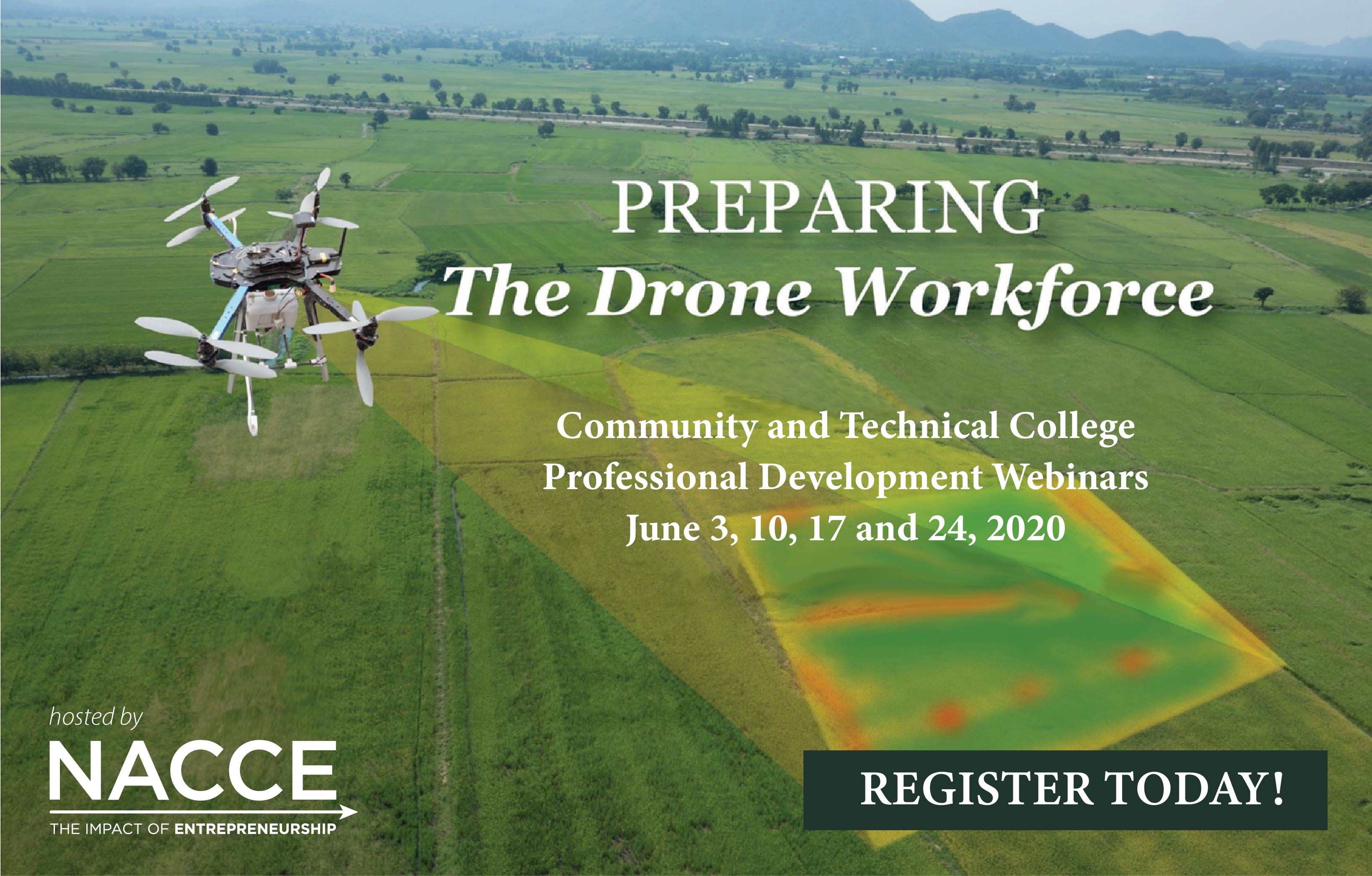 The growing unmanned aircraft system (UAS), or drone industry is creating a vast array of new workforce opportunities. In addition to entrepreneurial launches of new small UAS companies, well-established corporations and governmental entities in nearly every sector are considering opportunities to incorporate drones into their operations. A national conference entitled Preparing the Drone Workforce professional webinar series was planned for March in Colonial Williamsburg, VA, and cancelled due to the COVID-19 pandemic. Working together with NACCE, the conference has been reimagined as a series of four half-day webinars that will take place through the month of June. Our sessions include much of the original content planned for our in-person event in Williamsburg and bring in additional areas of focus.
Register today for the Preparing the Drone Workforce four-part professional development webinar series to:
– hear best practices for effective UAS courses/programs of study
– discuss topics relevant to creating and sustaining a drone workforce pipeline
– learn about key UAS educational offerings and industry initiatives
– be among the first to learn about emerging trends in the industry
Drone industry partners and UAS end-users will spotlight the growing demand for various applications, from package delivery to search and rescue, precision agriculture, real estate, transportation, infrastructure inspection, and many others.
We look forward to bringing together representatives of higher education and UAS industry. Join us!
Earn a digital badge for attending at least
three of four professional development sessions!
NACCE is thrilled to offer digital badging to Preparing the Drone Workforce attendees. Download this quick info sheet, and click here to learn more about digital badging with NACCE.
Questions about registration or our program?
Please contact CTCC Representative Tom Downs, or message Leah Deppert, NACCE's Director of Marketing & Communications.
---
Resources


A new program known as Community and Technical College Centers of Excellence in Small Unmanned Aircraft System Technology Training is being developed. Authorized under the FAA Reauthorization Act of 2018, this new program will establish an expanded role for two-year public colleges in education and training of Americans for unmanned aircraft systems (UAS), or drone technology.
Community and technical colleges can help meet the nation's requirements for a well-trained workforce to operate drones. This is an area in which there is a lack of adequately trained and licensed pilots and technicians, despite a rapidly expanding need for drones in numerous industry applications.
Businesses use drones to take photos and video, for security, and to conduct inspections and surveys, among many other purposes. A booming sector of drone software and hardware vendors throughout the United States is addressing the needs of a long list of industry users in agriculture, land management, energy, and construction. Many of these drone vendors are small businesses, while others are large aerospace companies and defense contractors.
There is a shortage of technically trained drone technicians and pilots, and this shortage in trained workforce is expected to worsen as industry demands for usage of drones continues to grow. Operating and maintaining autonomous flight vehicles requires specialized education and training. Notably, commercial pilots must obtain a FAA drone license.
With the number of commercial drone operations outpacing the pool of certified drone pilots, more training programs are needed – especially to help young flyers operate drones legally and safely. Community and technical colleges are uniquely capable of providing this training. These colleges can utilize specialized drone training curriculum to provide students with the skills and knowledge required to pilot drones and access emerging drone technology job opportunities. Hands-on training can enable two-year public colleges to give advanced insight into the business and employment opportunities created by drones.
Courses at community and technical colleges can cover such topics as the history of flight and of unmanned aircraft, flight fundamentals science, FAA regulations, airspace requirements, and uses for drones.Specific learning components can include:
Different types of unmanned aircraft systems including both multi-rotor and fixed-wing


Flight systems, autonomous vehicles, radio controllers, components and characteristics


Routine maintenance, uses and applications, privacy concerns, safety and insurance


Hands-on flight practice using small model quadcopters and computer simulator training


FAA and Federal Communication Commission policies on unmanned aircraft systems


Dual credit programs to deliver these training opportunities to high school students.
With funding and assistance to expand capacity related to drone technology, two-year public colleges can provide this education and training, on an affordable basis.