2022 Pitch for the Foundations
Presented in Partnership with the Philip E. & Carole R. Ratcliffe Foundation
The primary goal of Pitch for the Foundations is to create opporutnities
for College and Foundation Leadership to accelerate their success.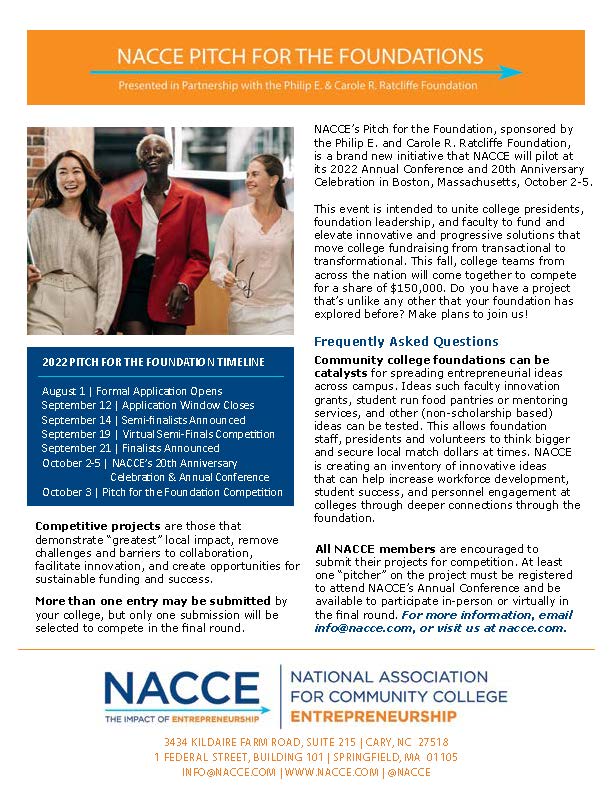 NACCE's Pitch for the Foundations, presented in parntership with the Philip E. and Carole R. RatcliffeFoundation, is a brand new initiative that NACCE will pilot at its 2022 Annual Conference and 20th Anniversary Celebration in Boston, Massachusetts, October 2-5. The Pitch competition will take place on Monday, October 3. Project ideas pitched at this event have a shot at winning up to $50,000 of a total prize fund of $150,000. 

Move your college fundraising and programming from transactional to transformational. Elevate and innovate workforce development, student success, and personnel engagement. Develop progressive solutions, and fund them with winnings from Pitch for the Foundations this fall!


Click the image (right) to download
NACCE's Pitch for the Foundations Info Sheet. 
---
May 2022 | To Be Announced: Informational Webinar -- look for updates in an upcoming issue of eNews!
August 1, 2022: Application period opens. A link to the application will be live on this site.
September 12, 2022, 5:00 PM, PT: Application deadline. Applications submitted should include a 1-page detailed budget, college name and mailing address, lead contact, project title, 3-line project description, and the amount of funding needed to launch your project. To be eligible, your college must be a NACCE member and at least one-person from the pitch/project team must be registered to attend NACCE 2022, October 2-5, either in-person or virtually. 
September 14, 2022, 5:00 PM, ET: Semi-finalists announced. Semi-final teams will pitch virtually on September 19 before a judging panel. Virtual meeting details will be sent to semi-finalists after announcement.
September 19, 2022: Semi-final virtual competition. Each team will have 2-minutes to pitch, and 3-minutes for Q & A. This is your team's opportunity to expand your story and give details about the challenge your project is working to solve and its college, community, or economic impact. Tell us why this project matters to your college and/or community. Remember, this is your time to use your public speaking, communications and entrepreneurial thinking skills to pitch your story. Make it compelling and engaging!
September 21, 2022, 5:00 PM, ET: Final team selection announced. Top 5-6 teams selected will advance to the final Pitch for the Foundations competition. We are hopeful you are able to join us in-person in Boston, however, if that is not an option, we will ensure you are able to pitch virtually.
October 3, 2022: The finalists' 3-minute pitches will be presented to a panel of in-person judges and NACCE conference attendees on October 3 at the NACCE 20th Annual Conference (Boston, Massachusetts, and streamed to virtual attendees). All finalists must be available for this live round that includes a 5-minute Q & A session and for the award announcements, which will take place in a subsequent main-stage session. Virtual accommodations will be made for presenters who are unable to participate in-person. Time of sessions TBA.
Who is eligible to apply?
All NACCE member organizations are encouraged to apply. 
---
What is the maximum award per college?
Please ask for what you truly need to help get your project off the ground and to keep it going. The maximum award will not exceed $50,000. We encourage you to leverage the NACCE-Ratcliffe award with other monies to fully fund your project.
---
Who may pitch?
Faculty, staff and administrators from NACCE member colleges. At least one "pitcher" on the project must be registered for the NACCE Annual Conference in Minneapolis, Minnesota, October 2-5, 2022, and be available to participate in-person or virtually in the final round of the virtual pitch competition. Either in-person or virtual registration is acceptable, however we anticipate that the competition will be held primarily in-person.
---
What level of commitment does a project need from its institution?
The project must have the support of your community college president and foundation leadership.
---
Who else at my college should know about this project?
In addition to your typical procedures, be sure to confirm that your college's grants management and/or foundation departments are aware of the project and agree to a maximum of 10% or less administrative management fee.
---
May an institution submit more than one application for a demonstration project that promotes the skilled trades?
Yes, multiple applications will be considered, however, only one team per college may be selected for a cash award. NACCE looks forward to hearing the creative and innovative proposals our members will develop.
---
What is considered a successful foundation project?
The definition of success is fairly broad in this inaugural event. Competetive projects are those that demonstrate "greatest" local impact, remove challenges and barriers to collaboration, and create opportunities for sustainable funding and success.  
---
What are the requirements of the pitch?
In the semi-final round, you have two-minutes to tell us your story; make it compelling and unique to your situation. Pitches in the final round are held to three-minutes. Pitches are to be conducted "in-person" (live or virtually) by a single pitcher or as a team effort. Videos may not be incorporated into your pitch. We are looking to see that your proposal is fiscally sound. We are not looking for a fully-vetted plan at this point.
---
What kind of fiscal plan does our pitch team need to provide? 
We are looking to see that your proposal is fiscally sound. We will not be looking for a fully-vetted business plan at this point.
---
What are the criteria being used in the initial, semi-final and final rounds?
---
Does my project need to launch or support small businesses and/or local industry to participate?
A benefit of your project may be the creation of one or more businesses, but it is not necessary to participate. Our primary goal is to expand opportunity at your college and in your community.
---


For more information about Pitch for the Foundations, contact the NACCE team.