EEVF Phase II: Scale with Support
EEVF PHASE II | 2020 - 2021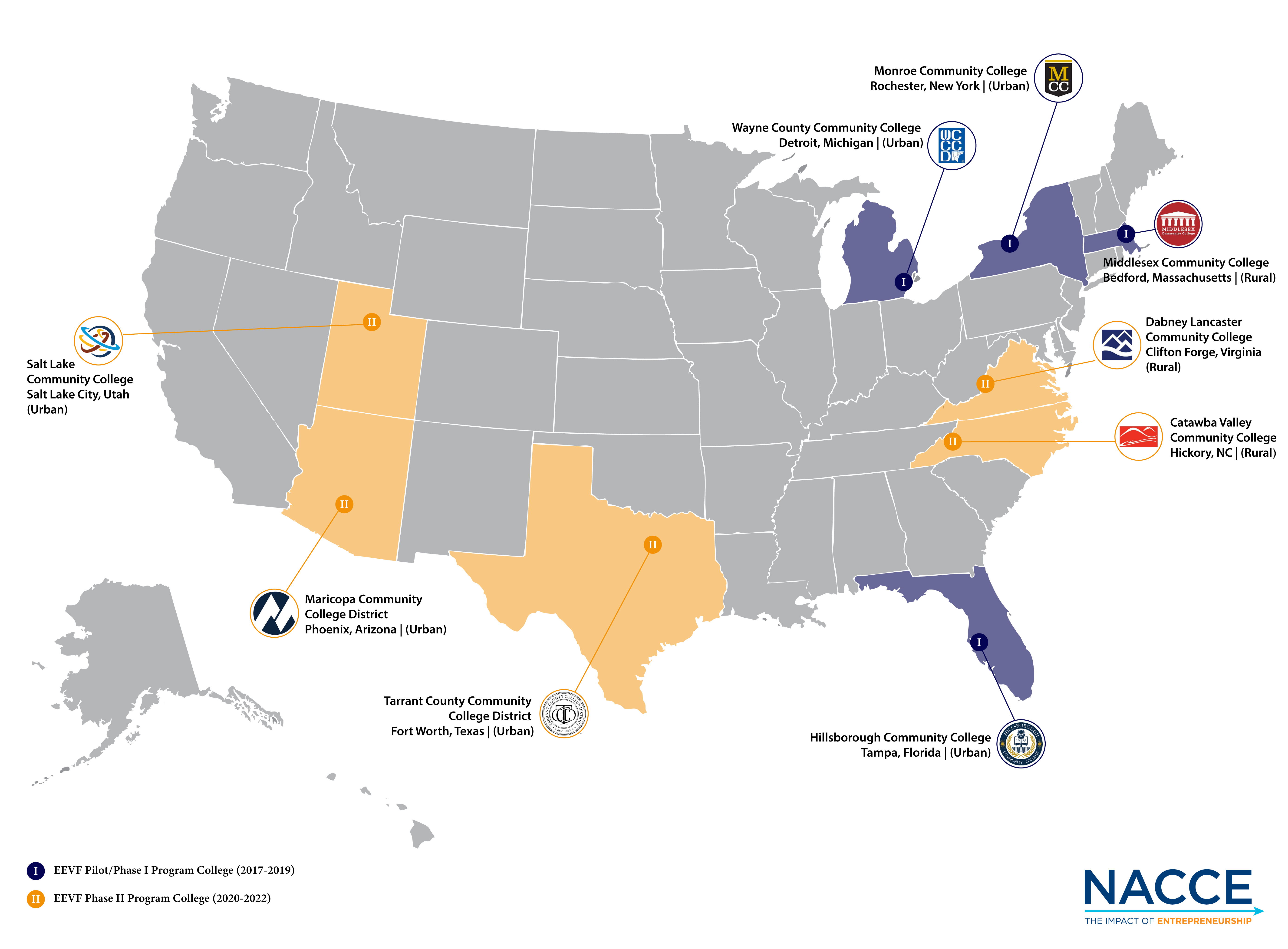 NACCE is thrilled to welcome a second cohort of community college program participants -- nine community colleges in five new locations -- to participate in the two-year Everyday Entrepreneur Venture Fund (EEVF) Phase II. Learn more about the Phase I of the EEVF Pilot Program here. 
Please join us in welcoming the following schools: 
Catawba Valley Community College (CVCC)
Hickory, North Carolina
Dabney S. Lancaster Community College (DSLCC)
Clifton Forge, Virginia
Salt Lake Community College (SLCC)
Salt Lake County, Utah
Maricopa County Community College District (MCCCD)
Phoenix, Arizona: South Mountain Community College, Glendale Community College, Phoenix College, Rio Salado College & Mesa Community College
Tarrant County College District (TCCD)
Fort Worth, Texas
---
Program Goals
The goal of EEVF Phase II is to help cultivate an entrepreneurial mindset, provide scalable resources, strategies and tools, and build a sense of community in colleges, who are dedicated to empowering future entrepreneurs with the financial management skills and tools required for long-term business success. 
Our objectives with participating community colleges are to:
Give students access to grants/loans for business seed funding not available elsewhere and help them obtain skills required to be a successful business owner.


Create a collaborative learning environment and system of support for a cohort of aspiring entrepreneurs within the community college network.


Build scalable, profitable and highly visible businesses

that engage a diverse student community through existing curriculum resulting in an expanded local ecosystem and an increase in available employment.