Back to Events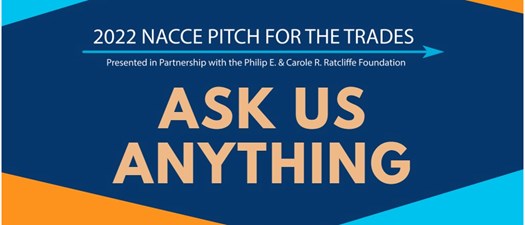 Pitch For The Trades | Ask Us Anything
Wednesday, March 16, 2022
Event Details
Join us for a free Ask Me Anything event! We'll discuss all things NACCE's Pitch For The Trades 2022 competition and answering questions like:
How and where do I apply?
Who's eligible to apply?
How much can I win?
How do I win?
What makes for a winning pitch?
What's the timeline?
Where is the competition? Is it in-person, virtual or both?​
Are you interested in earning funds to help launch your project related to the skilled trades? Register above to save your seat!
This year, NACCE and the Philip E. & Carole R. Ratcliffe Foundation Center of Entrepreneurship & Innovation, are excited to announce $150,000 available for the Pitch for the Trades competition. Colleges are eligible to win up to $50,000 in this competition! This is your opportunity to shine and to help create a buzz on-campus and in your community.