2022 Pitch for the Skilled Trades
Date posted
April 21, 2023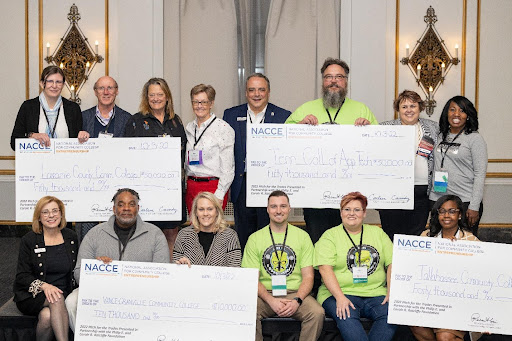 Winners of the Pitch for the Skilled Trades #NACCE2022
Kudos to the dozens of the teams that competed with gusto for a share of the $150,000 in prizes generously provided by the Philip and Carole R. Ratcliffe Foundation at NACCE's 20th Anniversary competition!
We appreciate the leadership of Pitch Coach Dr. Darcie Tumey, with support from the NACCE Fellows, Dr. John Rainone and Joe April, who worked with the teams through all stages of the competition. We applaud the judging panel for the time and effort that they spend deliberating about the final awards:
Carlene Cassidy, CEO, Ratcliffe Foundation
Leigh Estabrooks, Invention Education Officer, Lemelson-MIT
Ryan Groves, Head of Entrepreneurship and Co-Creator of Slyngshot, The Singleton Foundation
Rob Herndon, President, Entrepreneurial Learning Initative (ELI)
Vincent Murphy, Co-founder, Everyday Entrepreneur Venture Fund
Congratulations to this year's winning teams!
| | | |
| --- | --- | --- |
| College | Project | Award |
| Laramie County Community College (WY) | "Z Lab – AR/VR Experience" | $50,000 |
| Tallahassee Community College (FL) | "Breaker-Breaker One-Nine" | $40,000 |
| Tennessee College of Applied Technology (TN) | "The Ride of Frankenstein (Electric Car)" | $50,000 |
| Vance-Granville Community College (NC) | "Welding Expansion Project" | $10,000 |