Entrepreneurship in Action in the Midwest: Pitches, Pledges, and Possibilities
Date posted
November 22, 2021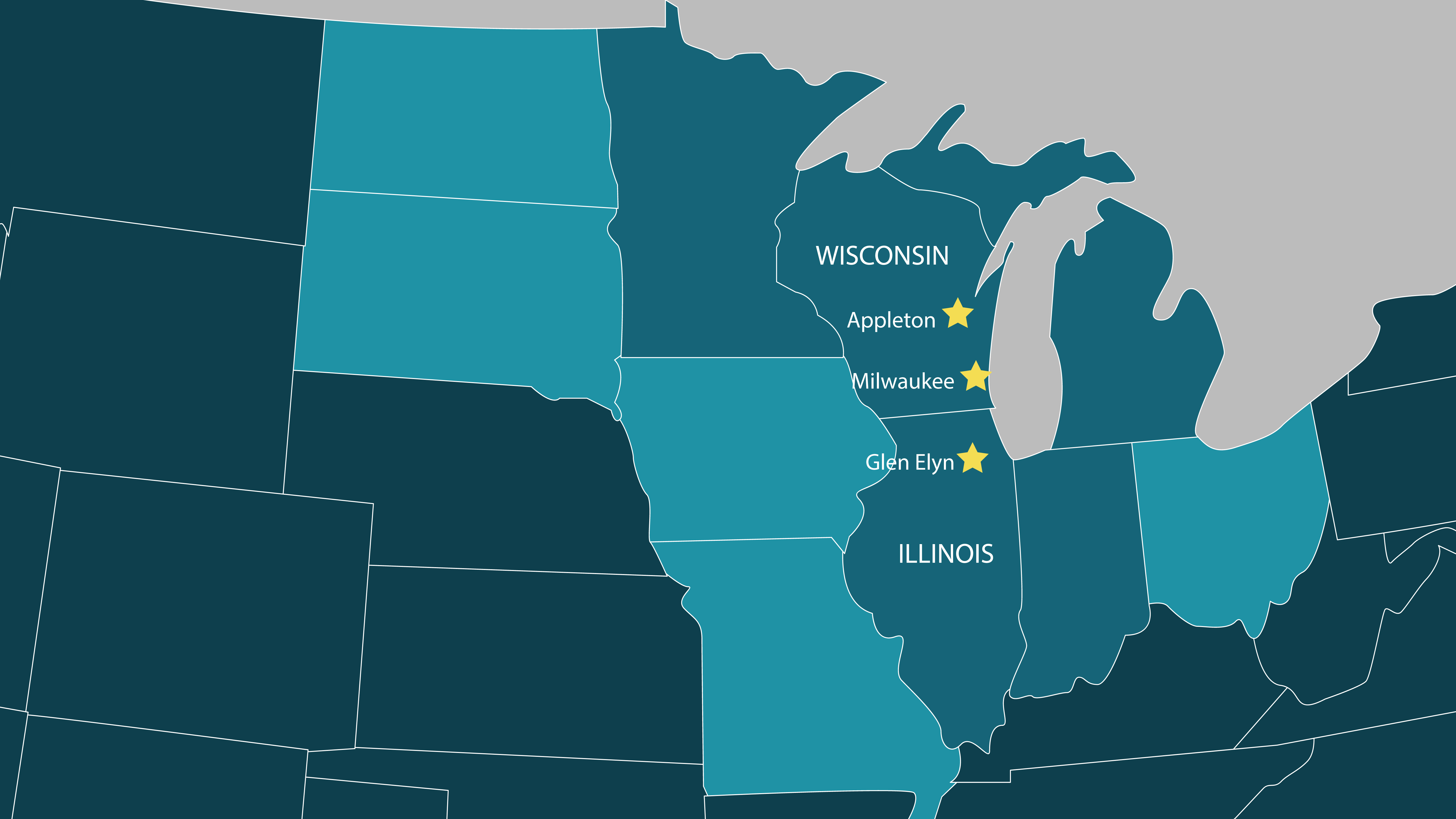 2020 and 2021 were marked by disruption, challenge, uncertainty, and entrepreneurial action. NACCE has created tools, templates, and communication platforms to help colleges move forward. College leaders may be new to their posts, opportunities may have presented themselves through the pandemic, and college communities may wish to take the lead on an initiative nationally.
In 38 hours in mid-November, with the support of stellar NACCE team member Erika Burfield, I had the chance to drive 300 miles and to make the following connections:


Relentless Passion + New Leadership
Fox Valley Technical College | Appleton, WI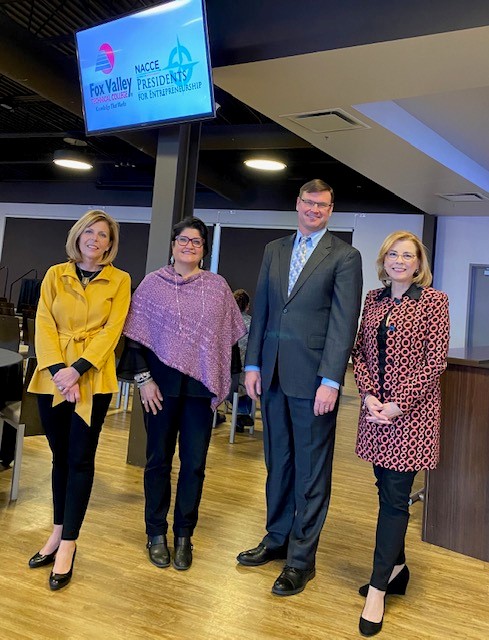 Longtime NACCE Champion Amy Pietsch, who serves as director of the Venture Center at Fox Valley Technical College, and her colleagues saw the opportunity to celebrate incoming FVTC President Christopher Matheny, who publicly committed to the Presidents for Entrepreneurship Pledge (PFEP) during Wisconsin Startup Week at the Timber Rattlers Minor League Baseball Stadium.
"Small businesses and entrepreneurs are the backbone of a growing economy and critically important to the Fox Valley region," Dr. Matheny said. "Since 2005, our Venture Center has helped more than 600 entrepreneurs and small business owners launch or grow their business. Our Innovation Accelerator for Veterans has resulted in more than 40 veteran-owned business startups since it started five years ago."
The 12 (business) pitches that followed included many innovative everyday businesses such as 3D printed chin rest for more comfortable airline travel, an electronic dog brush that was modeled after technology designed for cattle grooming, and a wait staff app that allowed restaurant and bar owners to connect with and negotiate working arrangements with needed staff.
Photo: From left to right, Fox Cities Chamber of Commerce President Becky Bartoszek with FVTC's Amy Pietsch, President Matheny, and Dr. Corbin.
Reconnection + Veterans ESHIP
Milwaukee Area Technical College | Milwaukee, WI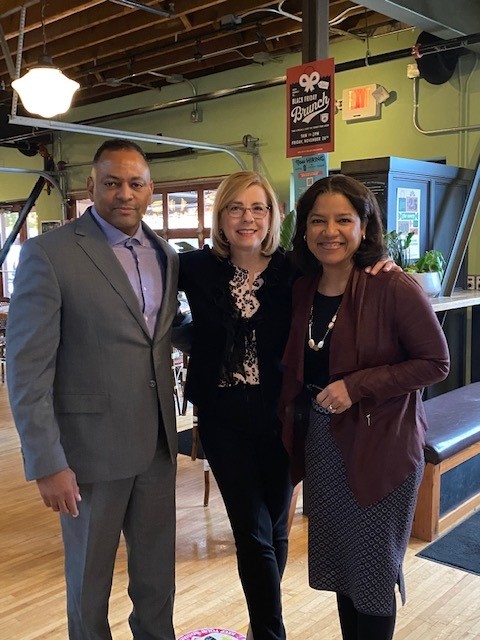 Many years ago, while serving as the executive director of a community college foundation in New Jersey, I had the good fortune of working with Dr. Naydeen Gonzales-De Jesus. She contributed funds to up a book scholarship for students in need at the RCBC Foundation.
These days, Dr. Gonzales-De Jesus serves as executive vice president of student success for MATC. Her team includes innovative leaders like Dean Carl Meredith, who has immense passion for serving veterans in many ways including entrepreneurship. We agreed to explore how they might connect with NACCE's growing work with the Startup Training Resources to Inspire Veteran Entrepreneurship (STRIVE) Program, led by Syracuse University's Institute for Veterans and Military Families (IVMF) and developed in partnership with East Tennessee State University (ETSU) and the InLab at Hillsborough Community College (HCC) in Tampa, FL.
NACCE is excited to continue its growth in the year to come as we collaborate with IVMF and HCC professors Beth Kerly and Andy Gold.
Photo, right: Dr. Corbin with Dr. Gonzales-De Jesus and Dean Meredith.

Bold Action + Expansive Inclusivity
The College of DuPage | Glen Ellyn, IL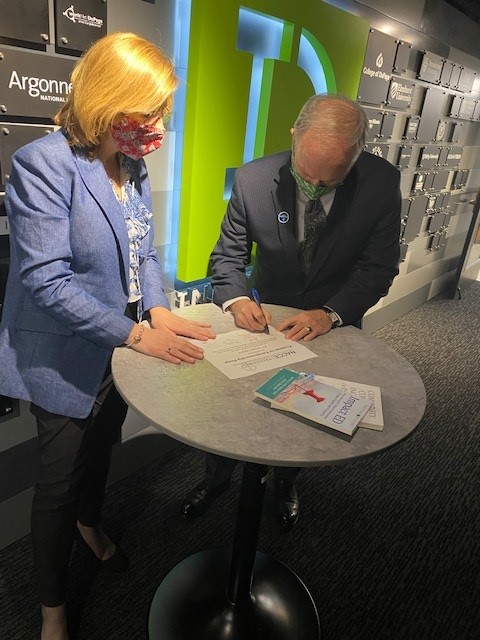 Innovation DuPage is situated on a quaint street in the heart of Glen Ellyn and was buzzing with interns, entrepreneurs, and college leaders all eager to talk about the economic development over the past 16 years that translates to over $1 billion in economic impact. Students at the College of DuPage and surrounding universities are aware of the value of this resource. In fact, over 80 applied for a coveted 8 paid intern slots at Innovation DuPage. Witnessing so many best practices and so much enthusiasm for this model, President Brian Caputo, after signing the PFEP, agreed to keynote at NACCE's 20th Anniversary Conference in October of 2022 in Boston, MA. We also agreed to explore a boot camp style workshop in the summer of 2022 to invite other NACCE leaders across the country to learn, share and replicate these best practices.
In this week of Thanksgiving, I am reflecting upon the power of the NACCE Network to be resilient, to be generous sharing ideas and resources, and to be hopeful about what the future will bring.
Photo, left: Dr. Caputo signs NACCE's Presidents for Entrepreneurship Pledge (PFEP) with Dr. Corbin
---
Are you interested in learning more about the STRIVE at NACCE, our Presidents for Entrepreneurship Pledge, or what's happening next at NACCE? Email info@nacce.com for more information. We hope to see you at a NACCE event soon!