PRESS RELEASE--Lee Lambert Honored as NACCE 2023 Entrepreneurial President of the Year
Date posted
October 29, 2023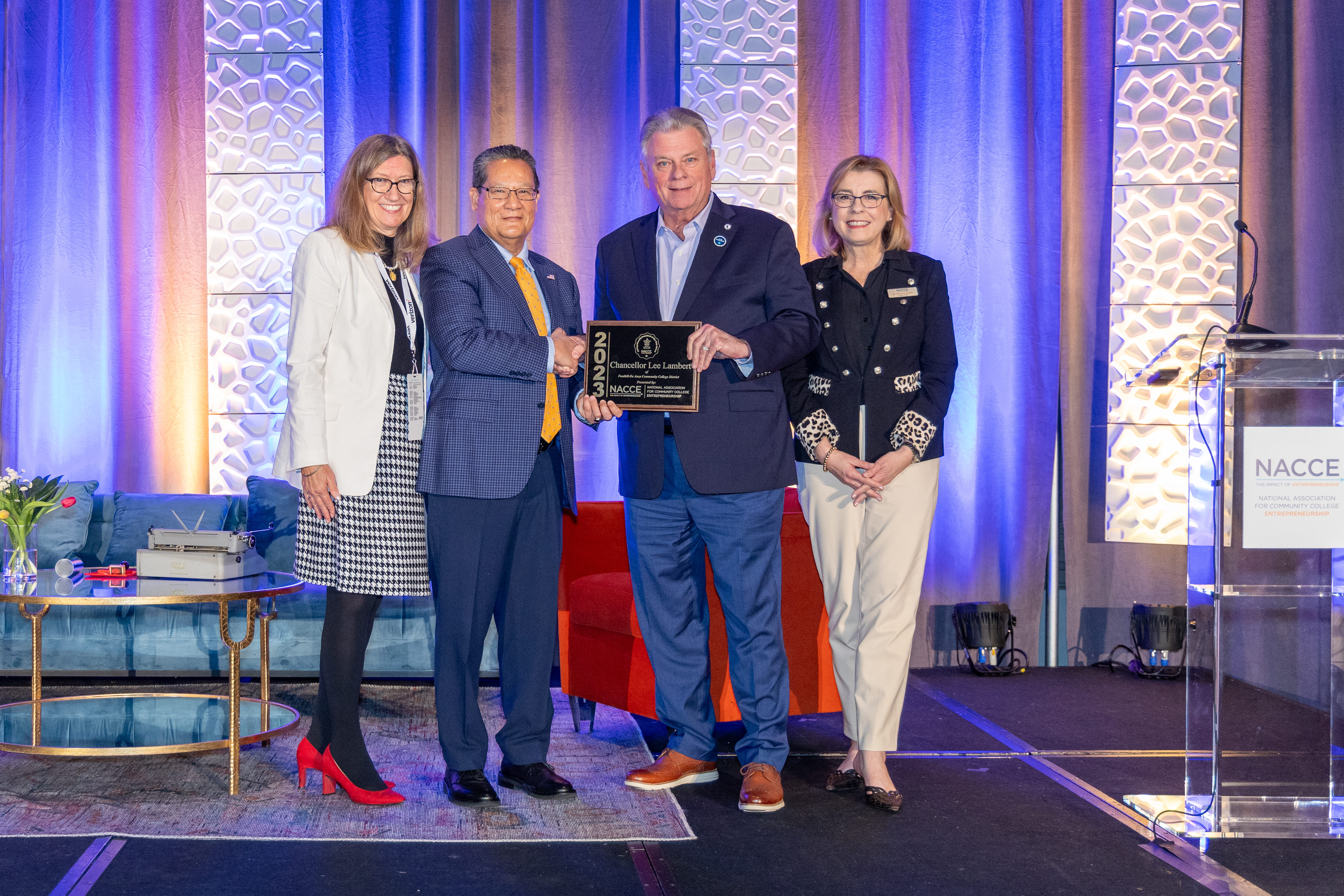 LEE LAMBERT HONORED AS NACCE 2023 ENTREPRENEURIAL PRESIDENT OF THE YEAR
NASHVILLE, TN - - October 29, 2023 - - The National Association for Community College Entrepreneurship (NACCE), the nation's leading organization dedicated to promoting entrepreneurship through community colleges, has named Chancellor Lee D. Lambert its Entrepreneurial President of the Year. The award was presented during NACCE's annual conference in Nashville, Tennessee.
"The designation of Chancellor Lambert as NACCE's Entrepreneurial President of the Year acknowledges his remarkable leadership and transformative vision during his tenure at Pima Community College (PCC) over the past decade," said NACCE President and CEO, Rebecca Corbin. "A dedicated member of NACCE, he continues his entrepreneurial journey at Foothill-DeAnza College in California, where his visionary leadership is poised to inspire further success."
Under Chancellor Lambert's leadership, PCC achieved several notable milestones, including:
Community Partnership Mobilization: When faced with a withdrawal of state funding in 2014, Chancellor Lambert forged vital community partnerships to expand educational opportunities and access for students. PCC, one of only two institutions in the nation to experience such funding cuts, successfully initiated innovative measures, including new revenue streams, financial aid, and scholarships to alleviate student financial burdens.
Integrated Basic Education Skills Training (IBEST): Chancellor Lambert introduced IBEST within Adult Basic Education, enabling GED seekers to simultaneously earn certificates in high-tech fields.
Centers of Excellence (CoE): To ensure PCC's responsiveness to workforce needs, the college established six Centers of Excellence, driven by industry input. The CoEs encompass Applied Technology, Arts, Health Professions, Hospitality Leadership, Information Technology/CyberSecurity, and Public Safety & Emergency Services.
Excellence in Online Education: Pima OnLine gained national recognition for its content design and delivery. The creation of the Instructional Designer Training Academy (IDTA) addressed the need for virtual, hybrid, and high-flex learning modules.
Significant Foundation Gifts: PCC's Foundation received three substantial gifts within the past three years, including: a $5 million challenge grant; a $2.5 million gift supporting Advanced Manufacturing and Aviation Technology programs; and a $1 million gift focused on economic improvement in the Tucson area.
Workforce Development Initiatives: Chancellor Lambert initiated "Fast Track" certificates, enabling studentss to acquire 21st-century skills and career training leading to thriving living wages. These stackable certificates can eventually result in associate degrees.
"Chancellor Lambert also fostered critical partnerships with organizations such as The Center of Opportunity, the Ford Automotive Student Service Educational Training Program, Earn to Learn, the Mexican Consulate, and others, contributing to the community's advancement," Corbin said.
Harvard University recognized PCC as an exemplary institution, highlighted in a book published by Harvard Education Press, America's Hidden Economic Engines: How Community Colleges Can Drive Shared Prosperity (June 2023).
Chancellor Lambert is a first-generation college student who interrupted his education to serve in the U.S. Army. He has a J.D. from Seattle University and a bachelor's degree from The Evergreen State College in Washington.
About NACCE
The National Association for Community College Entrepreneurship (NACCE) is a 501(c) (3) organization dedicated to promoting entrepreneurship through community colleges by providing resources and support to build and sustain high-impact entrepreneurship programs. The association represents 340+ community and technical colleges, universities and HBCU's, including over 2,000 faculty, staff, administrators, and presidents who serve more than three million students. For more information, visit nacce.com.
About Pima Community College
Pima Community College is a comprehensive two-year institution serving students and employers throughout Pima County in Arizona and beyond. The college welcomes anyone striving to achieve a better life for themselves, their families and their communities. For more information, visit www.pima.edu.
###