National Entrepreneurship Week Wrap Up
Date posted
February 18, 2023
NACCE Celebrates National Entrepreneurship Week!
Saturday
NACCE President and CEO, Dr. Rebecca Corbin welcomed new NACCE member Chesapeake College. Kicking off National Entrepreneurship Week, Dr. Cliff Coppersmith, President of Chesapeake College and Reza Jafari, Vice Chair, Chesapeake College Board of Trustees shared their vision for the future with Rebecca and Dr. Andy Gold, Vice President of Strategic Engagement for NACCE. Following the meeting with Chesapeake College, the NACCE team met with Carlene Cassidy, CEO of the Ratcliffe Foundation to finalize a $510,000 grant to support the Pitch for the Trades competition for 2023 - 2026.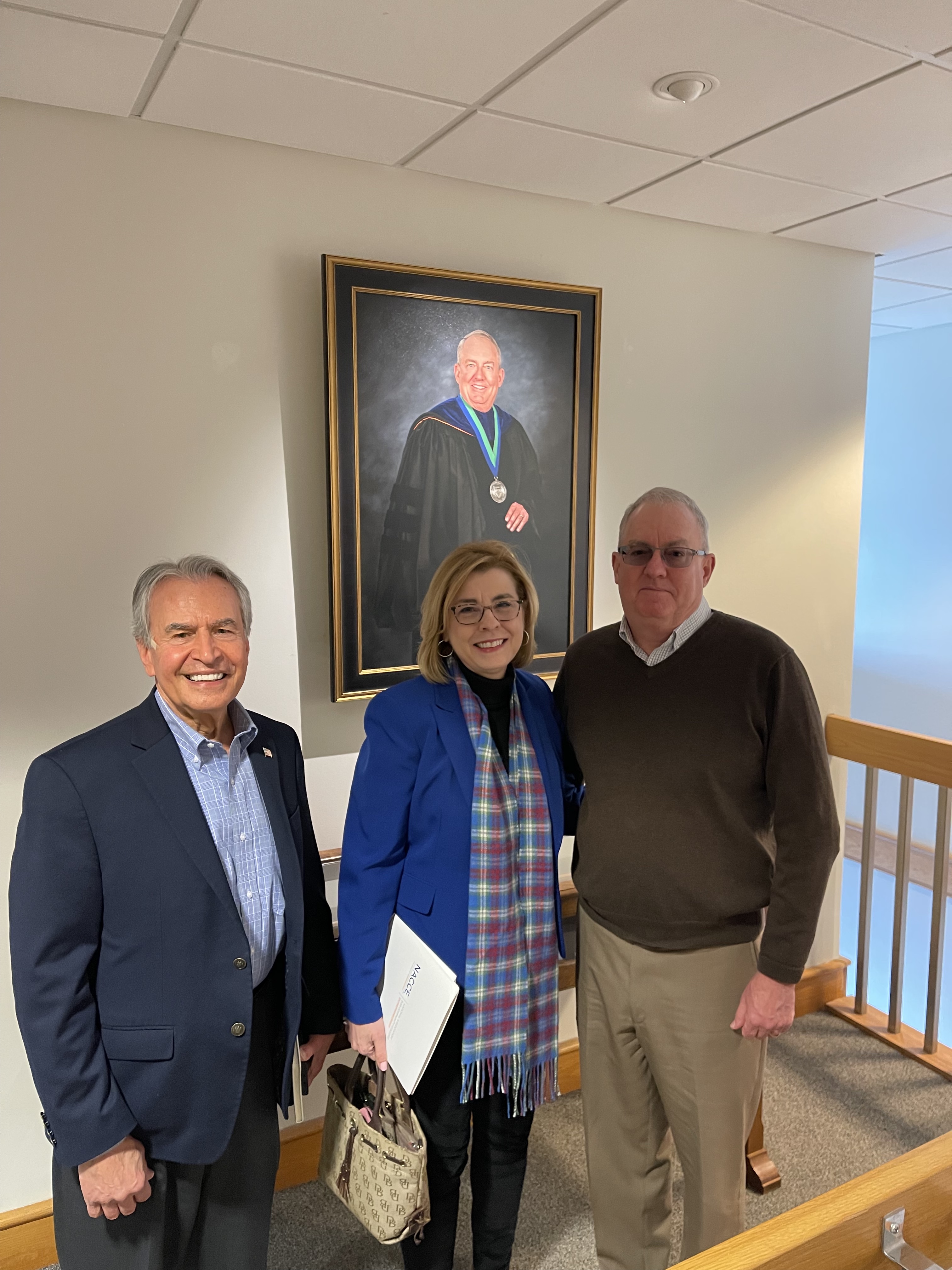 Monday
President and CEO of Parts Life, Sam Thevanayagam hosted a spotlight event in Moorestown, NJ for National Entrepreneurship Week. Guests included officials from local and regional community colleges and businesses as well as NACCE partners from Syracuse University Institute for Veterans and Military Families (IVMF). NACCE selected Parts Life as the site for the NEW celebration to highlight the combined power of education, industry, government, nonprofit and philanthropic leaders working together to advance opportunity for all.
During the ceremony, community colleges students gathered with government, nonprofit and other leaders, and shared powerful and emotional stories of successes and failures. They emphasized how higher education, infused with entrepreneurship and innovation, fosters diversity and equity, and opens doors to new opportunities.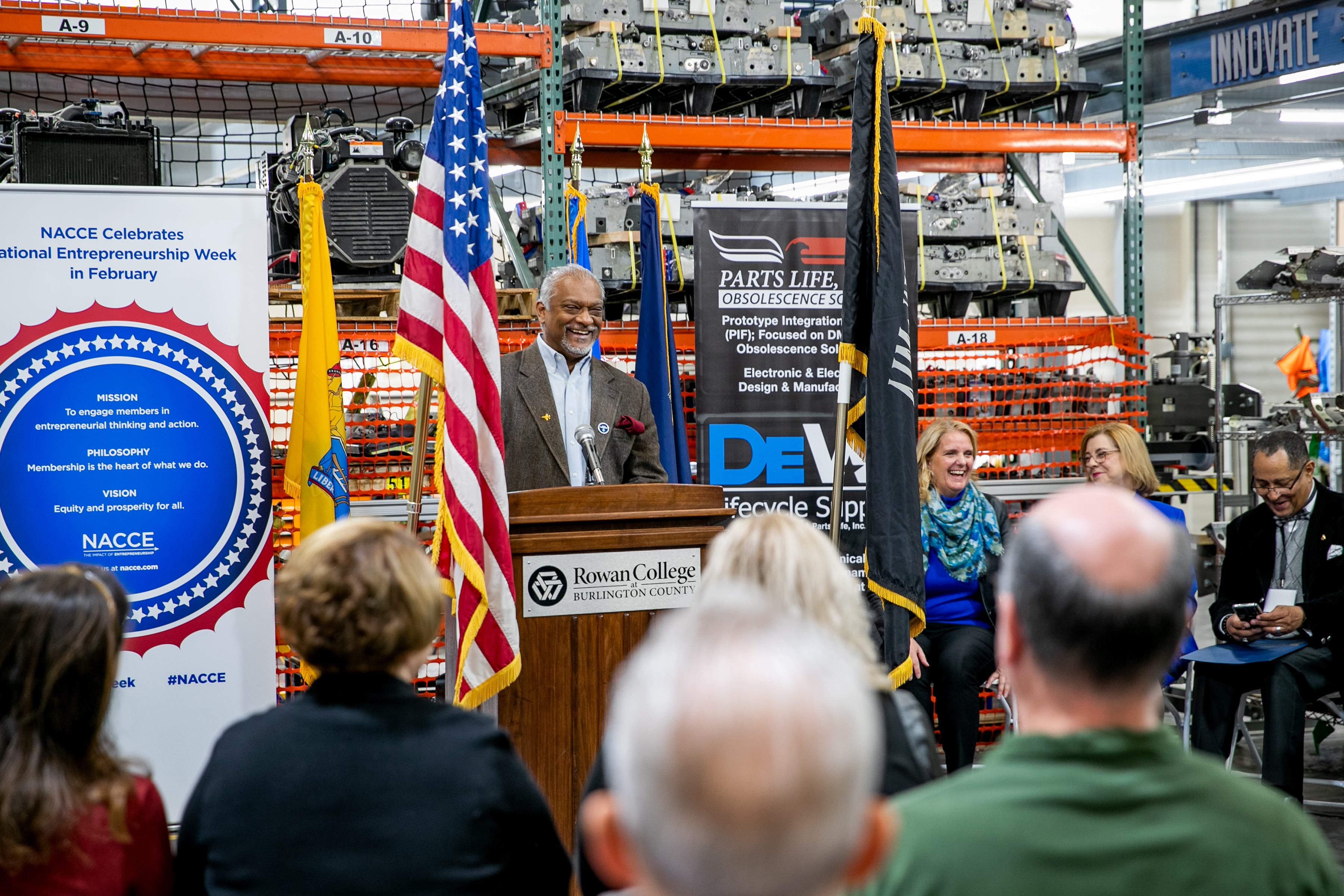 Anthony Jones (AJ), founder of Kismet Kicks, a proud father and U.S. Air Force veteran, and adult student earned his associate and bachelor's degree while raising his family. He shared his journey that included mentorship and growth mindset to accomplish his dreams.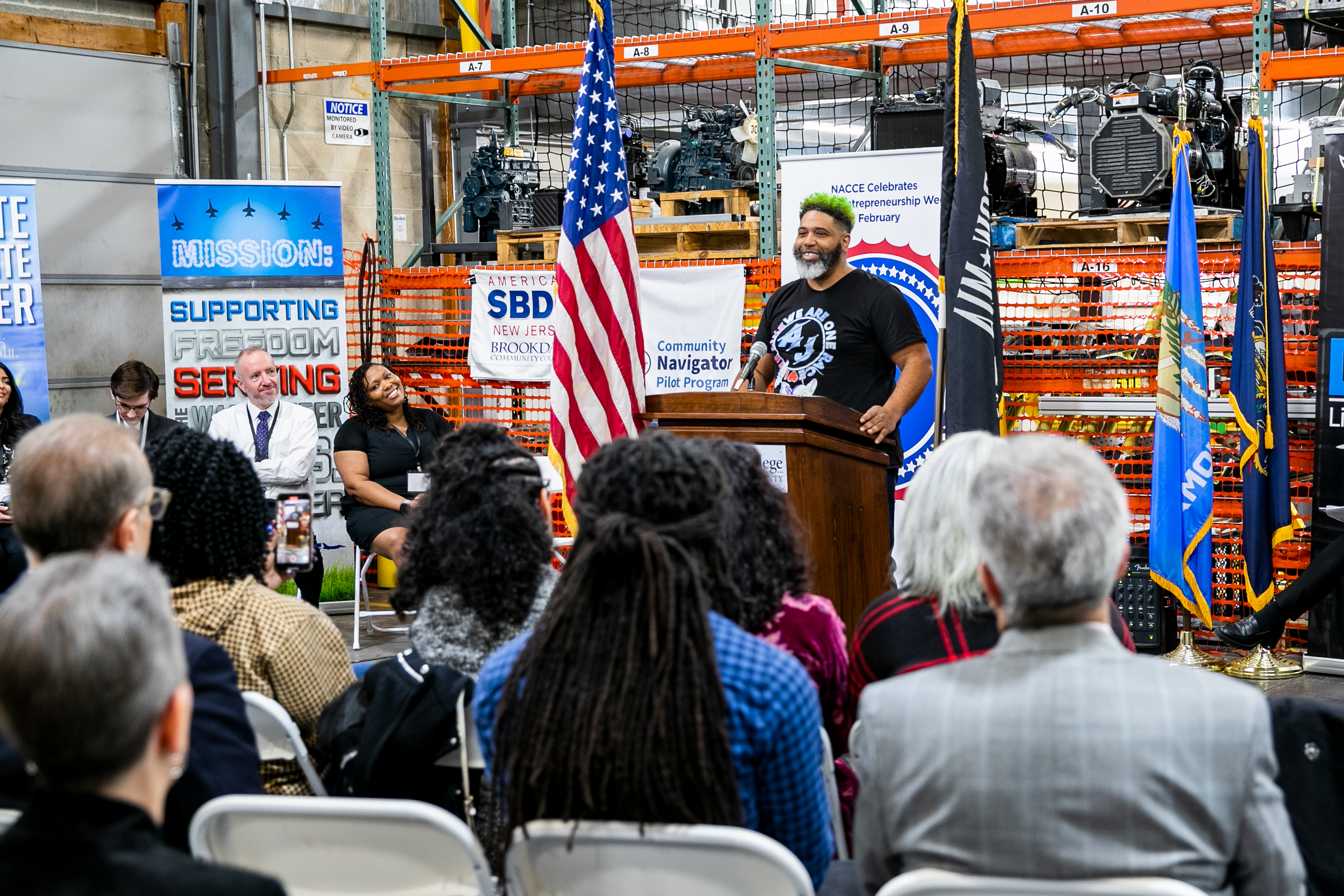 Ashley Kulikowski, founder Fearless Movement, is a non-traditional hybrid student at Rowan University (NJ). Rowan's Center of Innovation and Entrepreneurship to launch her career and allievate mental challenges.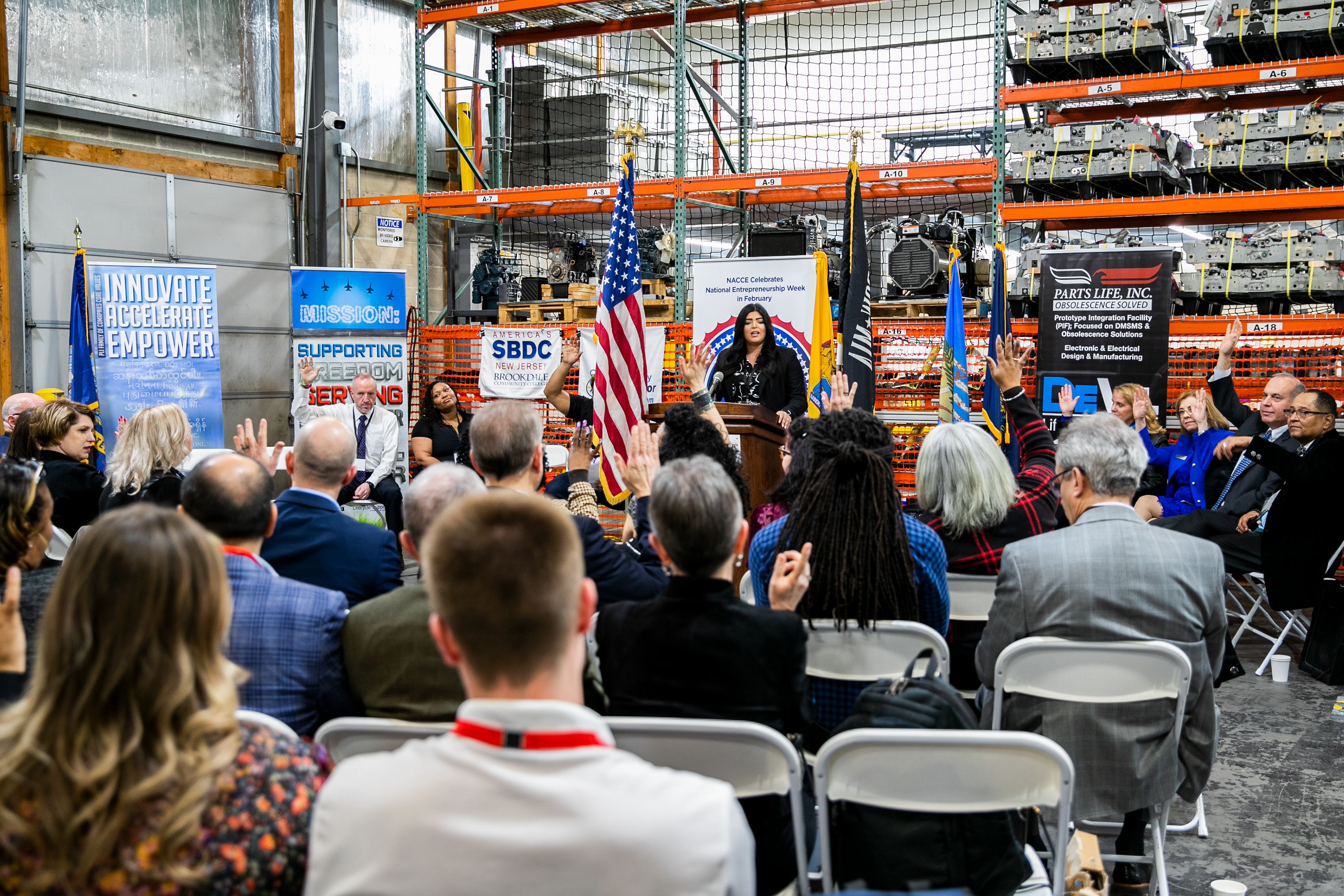 Raphalita Justice, founder Muse Piano Academy, a pianist, piano, and music teacher is the co-owner of Muse Piano Academy. The first in her family to earn and degree, she expanded her education to include participation in non-credit entrepreneurship training through the Institute for Veterans and Military Families.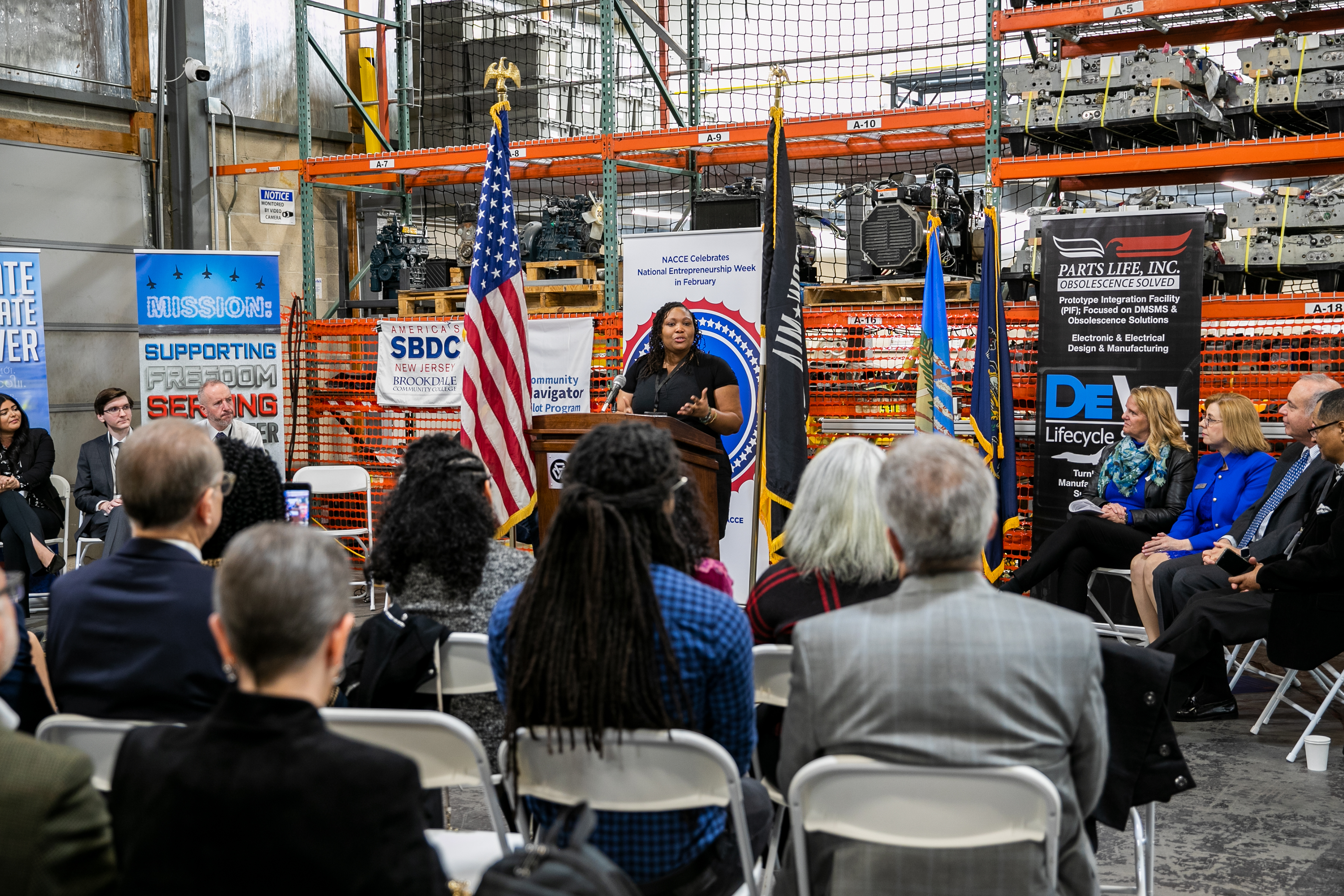 NACCE Doctoral Fellow and Morgan State University student, Michael Covington read the Senate and General Assembly Joint Legislative Resolution by Senator SINGLETON, Assemblyman CONWAY, and Assemblywoman MURPHY honoring this special day.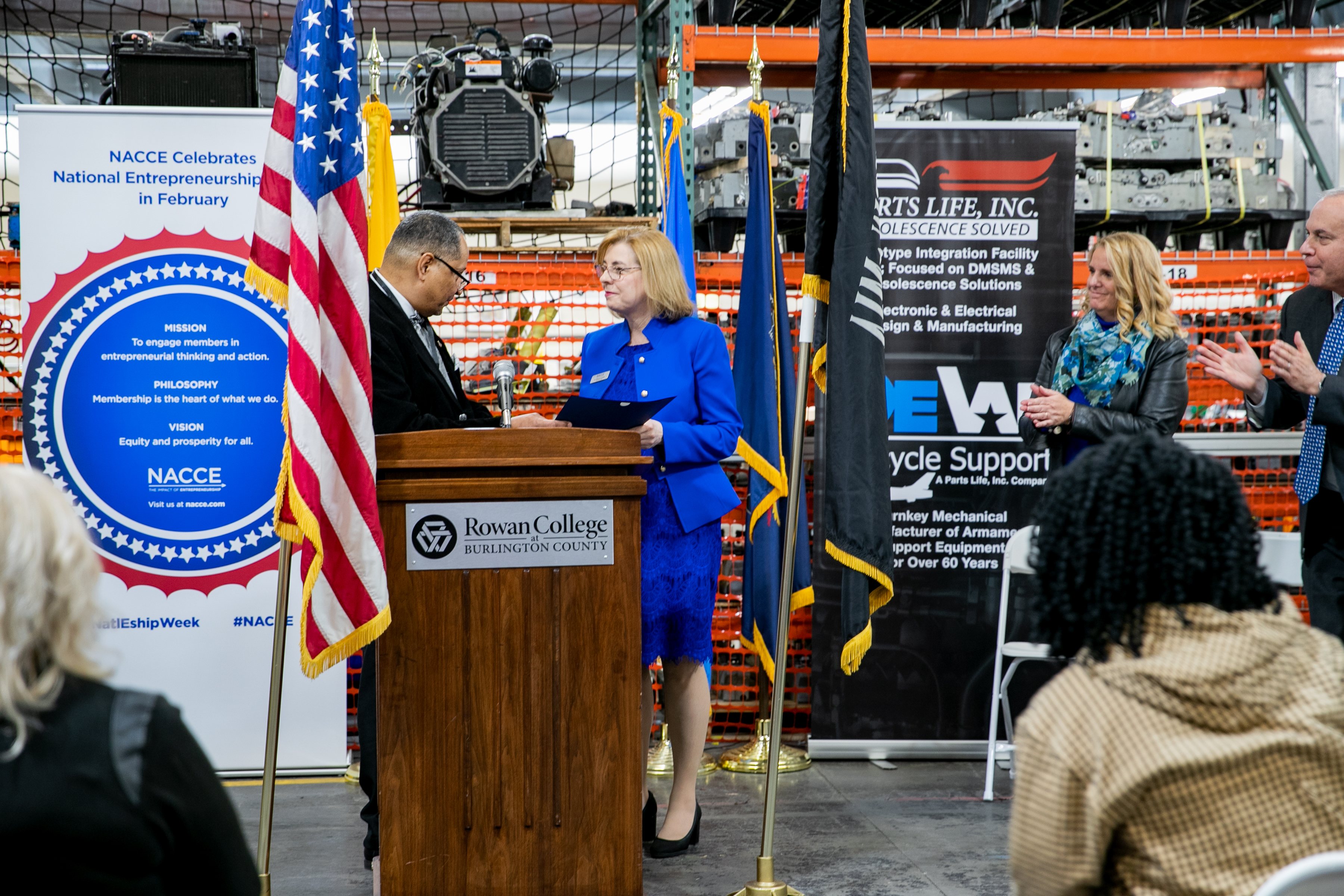 Check NACCE social media for more exciting parts of the day!
Tuesday
Rowan College of Burlington County (RCBC) hosted a Discussion of Entrepreneurship at its Student Success Center in Mount Laurel, NJ. Students gathered to hear from RCBC's President, Dr. Michael Cioce, Founder and CEO of Saxbys, Nick Bayer, and Vice President of Strategic Engagement, Dr. Andy Gold talk about the importance of entrepreneurial mindset and innovative action. The event emphasized the importance of experiential learning and infusing entrepreneurship into all academic disciplines.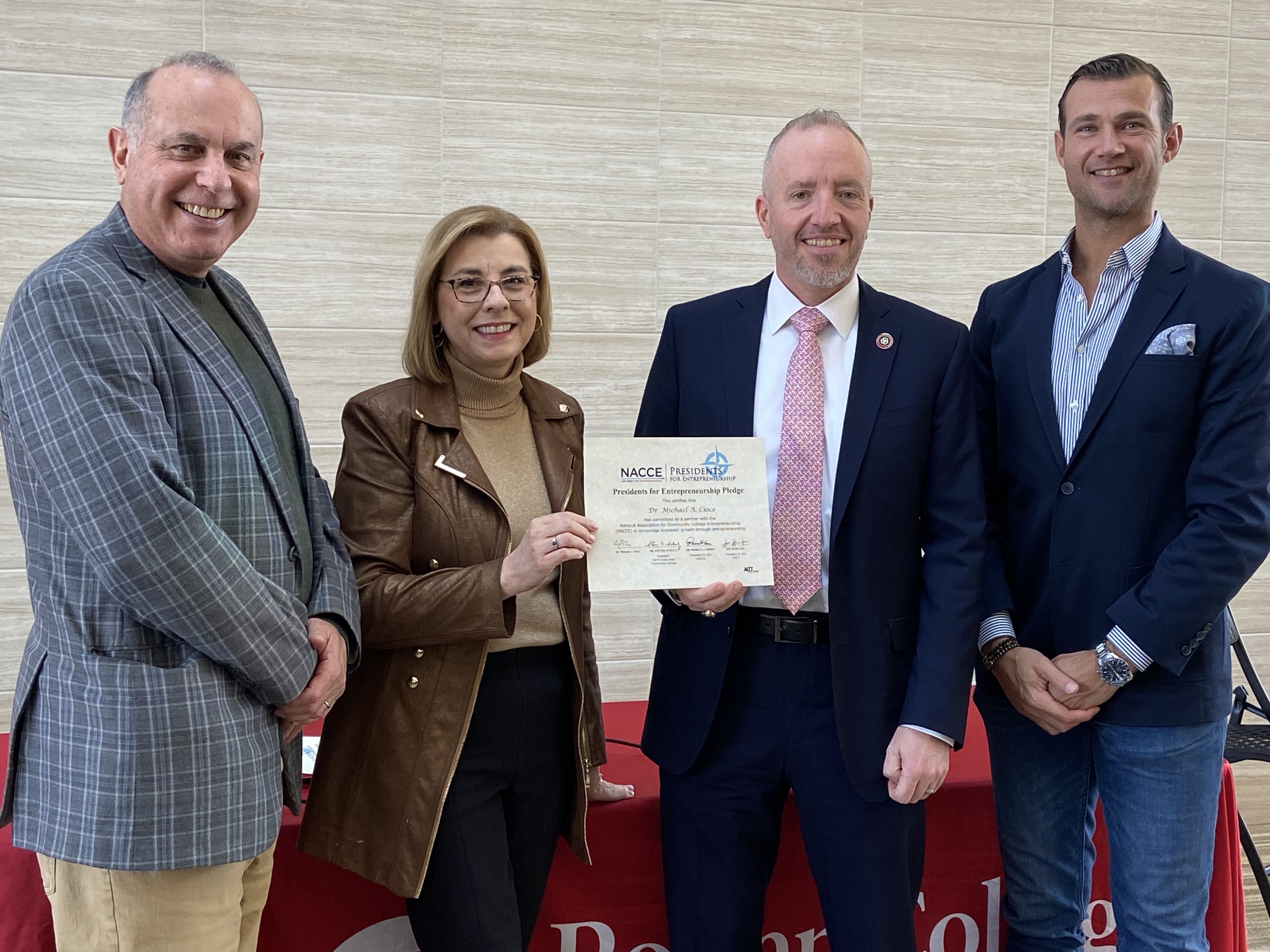 Wednesday
The Forward with NACCE podcast, reaching over 880 American cities and 57 countries, released a special National Entrepreneurship Week episode featuring Saxbys Founder and CEO, Nick Bayer. NACCE also celebrated its expanded staff to build capacity for the organization to grow and scale. "After completing a national search and with support from the NACCE board to invest in an expanded leadership team, we are delighted to welcome a team with impecable credentials and longtime service to NACCE," said Rebecca Corbin, President and CEO of NACCE.
Listen to the Forward with NACCE National Entrepreneurship Week episode

Thursday
Dr. Jim Murdaugh, President of Tallahassee Community College (FL) and NACCE Board member and Dr. Rebecca Corbin, President and CEO of NACCE engaged in a virtual fireside chat about the importance of leadership in confronting the challenges of our time. They discussed how entrepreneurial mindset and innovative action can turn problems into opportunities and how creating a network to support lifelong learning and celebrating success (and failures) leads to transformation
Friday
We appreciate NACCE members as well as their entrepreneurial ecosystem partners and students who took the time to reflect on how challenges can be turned into opportunities and stories that can inspire others to take action.