Nominate your college for national recognition from the Deshpande Symposium
Date posted
March 29, 2022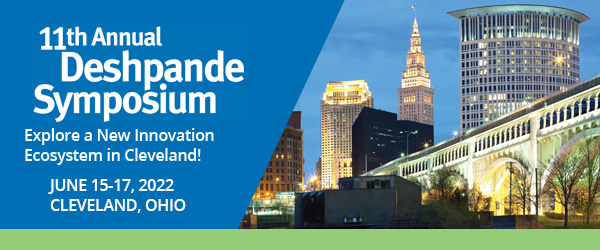 The 11th Annual Deshpande Symposium on Innovation and Entrepreneurship in Higher Education returns in person June 15-17, 2022 in Cleveland, Ohio. Nominations for the Symposium's annual awards program are being accepted now through April 15, 2022.
This is a great opportunity to nominate a program, individual or institution who has contributed to entrepreneurship on your campus in areas around curriculum, student engagement, technology and more.
Over the last 10 years, colleges and universities across the country have been honored for their excellence in innovation and entrepreneurship. For the University of Akron Research Foundation, winning a 2021 Deshpande Symposium award for Exemplary Practice in Technology Commercialization, provided the catalyst for a year of growth and discovery. Since receiving the award, UARF has doubled its I-Corps teams, expanded its accelerator, and connected with teams across the state of Ohio.
"UARF's growing momentum also led to the opportunity to improve and expand our STRIDE Accelerator, which serves hard tech companies that have graduated from an I-Corps program," writes UARF's Executive Director Elyse Ball. "Even though the STRIDE Accelerator is only two years old, it was selected for a prestigious Small Business Administration Growth Accelerator Fund Competition Award. Importantly, the STRIDE Accelerator serves a diverse population of entrepreneurs; 71% of companies are women- or minority-led." Read more on the Deshpande Symposium website.
A bonus for our 2022 winners – this year's awards ceremony will be held at the Rock and Roll Hall of Fame in Cleveland! Imagine receiving an award on the famous rock hall stage where so many have graced.
Full details and registration information for the 2022 Deshpande Symposium can be found on our website: DeshpandeSymposium.org