The Philip E. &
Carole R. Ratcliffe Foundation
Pitch for the Trades + The Ratcliffe Center of Entrepreneurship & Innovation

NACCE's establishment of the Philip E. & Carole R. Ratcliffe Foundation Center of Entrepreneurship & Innovation will provide additional support for the first-year cohort of Pitch for the Trades award recipients as well as the annual continuation of the Pitch for the Trades competition in 2020 and in future years.
Among the first wave of winners, three schools are currently participating in the national EEVF initiative. NACCE will identify mentor resources within its community to support each new cohort of participating community colleges. The Pitch for the Trades competition targets emerging trades and industries as determined annually by a nationwide survey of stakeholders.
The success of this three-year initiative will be measured by NACCE's partner-platform Startup Space, which also tracks performance metrics for the EEVF program. Data collected from participating colleges will provide funders and NACCE members with reports about students and faculty affected, business and revenue creation and generation in ecosystems that can be aggregated to show national impact.
---
Do you have an entrepreneurial idea that needs a little funding boost? Do you have a project in mind that clearly identifies a solution to the challenge of encouraging innovation, capacity, and interest in support of the skilled trades? Does your idea improve access to education in the skilled trades, facilitate economic development in the skilled trades, build capacity, boost underserved populations, expand skilled trades internships or apprenticeship programs?
If so, NACCE and the Philip E. & Carole R. Ratcliffe Foundation Center of Entrepreneurship & Innovation are looking for you to pitch us your idea! Details about this year's virtual pitch competition are being shared at make/SHIFT virtual July 20-24, 2020, and during NACCE's August 12 member webinar. Hear from 2019 Pitch for the Trades winners as they share their progress on their projects, lessons learned, and tips they might have for future "pitchers."


VISIT NACCE's MEMBER WEBINAR ARCHIVE TO VIEW THE RECORDING
OF OUR AUgust 12 INFORMATIONAL WEBINAR
PARTICIPATE IN THE 2020 PITCH FOR THE TRADES COMPETITION!
---
The 2019 Pitch for the Trades
In 2019, NACCE was awarded a $100,000 grant by the Philip E. and Carole R. Ratcliffe Foundation to support entrepreneurs in skilled trades. The grant was used to host the 2019 Pitch for the Trades competition at NACCE's annual conference. The overarching goal of this competition was to foster job creation for the trades and infuse entrepreneurship into apprenticeships and trades. Sixteen teams competed in the first, annual Pitch for the Trades with 5 colleges awarded $8,000 to $22,000.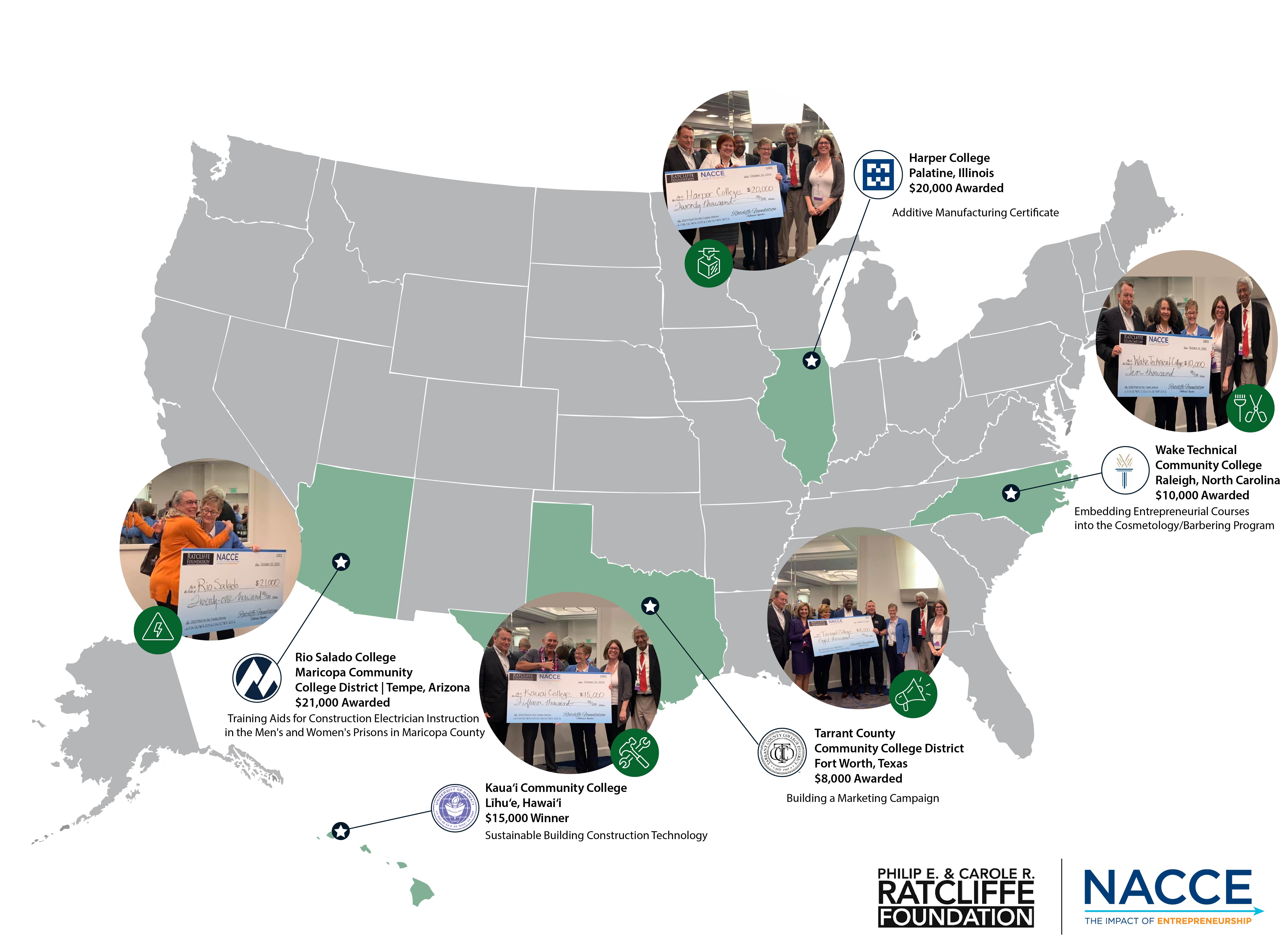 In April 2020, these five colleges have collectively:
Served 257+ students, preparing them for jobs in skilled trades, providing them with job readiness, providing internships, and supporting the creation of new ventures;
Leveraged additional funding of $46,500;
Supported populations at risk and provided positive social impact; and,
Increased visibility for community colleges, including a mention in Forbes Magazine
NACCE looks forward to expanding the impact of this program in partnership with the Philip E. & Carole R. Ratcliffe Foundation.