Back to Events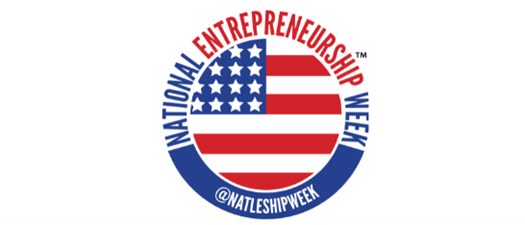 National Entrepreneurship Week
Monday, February 14, 2022
at
2:00 PM (EST)
to Friday, February 18, 2022 at 2:00 PM (EST)
Event Details
Join us virtually every
day during National Entrepreneurship Week, February 14 - 18 !
#NatlEshipWeek uplifts NACCE's core
values of diversity, inclusion,
equity, education, and collaboration. These core values are
representative of America's Entrepreneurial Ecosystem.

What is National Entrepreneurship Week?
#NatlEshipWeek democratizes entrepreneurship by
empowering all voices of entrepreneurship across the
country through education, connection, and collaboration.
#NatlEshipWeek envisions a national entrepreneurship ecosystem that is as diverse and rich as the citizens that are part of it.
THE ECOSYSTEM
#NatlEshipWeek offers a rich network of partners that engage, educate, and build equitable access to America's Entrepreneurship Ecosystem. This grassroots initiative is made stronger by diverse partners who collaborate, coordinate, and create their own activities and engagement events. The annual event has three primary stakeholder groups.
EDUCATORS
From cradle to career, #NatlEshipWeek recognizes the importance of working with educators to inspire the next generation of entrepreneurs. We welcome grade school, community college, higher education, and non-traditional educators, to join the conversation.
ECOSYSTEM BUILDERS
It takes an ecosystem village to raise an entrepreneur. #NatlEshipWeek welcomes entrepreneurship ecosystem builders across the country to share their resources, best practices, and programs. Whether you're an entrepreneurial support organization, non-profit, or even a local library, if you support entrepreneurship #NatlEshipWeek is the initiative for you.
ENTREPRENERUS
Prospective, practicing, and past are welcome to engage in conversations, find resources, and identify support in the development of their ventures. NatlEshipWeek uplifts the diverse voices of entrepreneurs across the United States.
Recordings
Entrepreneruship Education Panel
Recording coming soon!
---
Business Tools & Resources
Business Tools & Resources featuring stories from IBM SkillsBuild and Verizon Small Business Digital Ready. Combined, IBM and Verizon have an aligned mission to reskill and upskill entrepreneurs and small business owners. Join us as we dive into the resources and tools available through both digital resources.
---
IP & Experiential Learning
Explore Faculty Tools & Resources: Michelson IP Experiential Teaching Workshop. Hear from NACCE's Michelson IP Educator in Residence (EIR) program faculty, who will share best practices for infusing intellectual property (IP) into business, entrepreneurship, marketing, invention, and maker curriculum. Join us for Part Two, where we focus on learners' understanding and application through experiential learning. Through hands-on participation, structured reflection, and modeling through practice, participants will develop and improve skills and confidence in incorporating facilitated learning into their practice.

---
Advancing Equity: Navigating New Terrain
Advancing Equity: Navigating New Terrain featuring VentureWell. Leaders in community colleges are eager for solutions to advance diversity, equity, and inclusion (DEI) in their work. Join us for an interactive discussion about strategies, resources and promising practices for advancing equity in higher education. You'll have an opportunity to connect with the authors of the VentureWell publication series, Advancing Equity: Navigating New Terrain.
---
Fueling The Future of Entrepreneurship
Future Friday featuring The NACCE Playbook, Entrepreneurial Foundations of the Future and a virtual Presidents for Entrepreneurship Pledge Signing. NACCE has a long standing history of practicing what we preach. We don't just work to ignite entrepreneurship in colleges and in communities, we infuse entrepreneurship in all that we do – it's a key component of our culture. Join us on Friday as we close #NatlEshipWeek with a celebration of what we have planned for 2022!