Nine College Presidents Sign NACCE's PFEP Pledge During West Virginia's Higher Ed Day
Date posted
January 28, 2019
NACCE joined the West Virginia Community and Technical College System and the West Virginia Higher Education Policy Commission in observing Higher Education Day at the Legislature on January 28 at the state capitol in Charleston, West Virginia. The celebratory day culminated with nine presidents of the state's career and technical educational (CTC) colleges signing NACCE's Presidents for Entrepreneurship Pledge (PFEP).
Presidents who sign the pledge commit their colleges to undertake entrepreneurial practices that boost economic vitality in their communities. This is the first time community college presidents have signed the pledge at a state capitol.
Chancellor for West Virginia Community and Technical Education Sarah Tucker, Ph.D. presided over the pledge signing, along with Chief of Staff Mike Hall from Gov. Jim Justice's office, members of the West Virginia House and Senate, West Virginia CTC presidents and students, and NACCE President and CEO Rebecca Corbin.
"West Virginia's community and technical colleges have demonstrated a game-changing commitment to encouraging and developing entrepreneurial thinking across our campuses," said Chancellor Tucker. "Just last year, we became the first college system in the nation to join with the Entrepreneurial Learning Initiative to make entrepreneurism a core part of the community college experience in our state. Today, our presidents have signaled yet again their dedication to this important mission by signing the NACCE pledge, through which we will see even greater focus on educating West Virginia's future entrepreneurs."

The pledge involves five specific action steps that advance entrepreneurship in communities and support local start-ups and small businesses. The five action steps are:
Form teams to focus on entrepreneurship
Connect with entrepreneurs in the community
Collaborate with industry in your region
Focus on business and job creation
Share stories through events and the media
"Presidents signing the pledge represent community colleges serving more than a million students across the country," said Rebecca Corbin, of NACCE. "Through this important tool, college leaders learn how to meet challenges and explore untapped opportunity."
The West Virginia college presidents who signed NACCE's Presidents for Entrepreneurship Pledge included:
Peter Checkovich, Blue Ridge CTC
Eunice Bellinger, Bridge Valley CTC
Charles Terrell, Eastern WVCTC
Keith Cotroneo, Mountwest CTC
Bonnie Copenhaver, New River CTC
John Moore, Pierpont CTC
Robert Gunter, Southern WVCTC
Michael Koon (interim), West Virginia Northern CTC
Chris Gilmer, WVU at Parkersburg CTC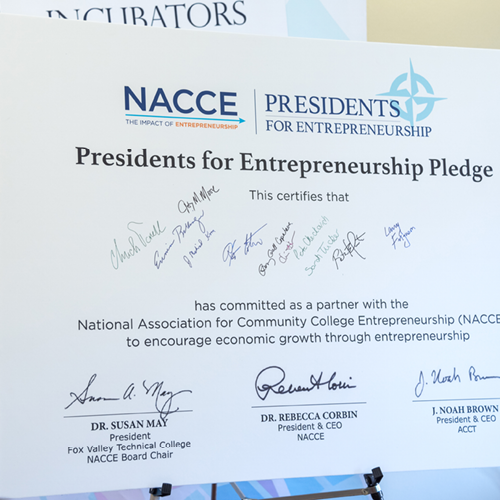 For more information, visit www.nacce.com
---