Leveraging Assets to Build a Better Tomorrow
Date posted
February 1, 2019
By Rebecca Corbin, Ed.D. & Ron Thomas, Ph.D. (excerpted from NACCE's new book, Community Colleges as Incubators of Innovation: Unleashing Entrepreneurial Opportunities for Communities and Students, 2019, Stylus LLC).
From its inception in 2002 on the campus of Springfield Technical and Community College (STCC) in Springfield, Massachusetts, NACCE has grown in membership and scope by working with business communities across the country and forging new partnerships in increasing numbers. When a major foundation grant concluded in 2015, it ushered in a new organizational model for NACCE, one that was based on co-creating revenue streams with a variety of funders and members. This model proved to be effective. By diversifying funding streams and seizing new opportunities that could be implemented as community of practice projects, NACCE grew financially.
Mapping assets and leveraging opportunity – in a community or on an ecosystem basis – is the foundation for what Saras Sarasvathy, Ph.D., professor at the University of Virginia's Darden Graduate School of Business Administration, calls the "Bird-in-Hand Principle" for entrepreneurs. Entrepreneurs must start with their means, which can be grouped into three categories: who I am – my traits, tastes and abilities; what I know – my education, training, expertise and experience; and who I know – my social and professional networks.
Pivot!
Notably, NACCE followed the advice it delivered to its member colleges: identify strengths and attributes in your community, work with local industries and businesses, and co-create in concert with nearby community colleges and other institutions. Seeking new, like-minded partners for revenue-shared agreements and engaging faculty and administrators in member colleges to engage in creating new resources to spur entrepreneurial teaching and leadership strengthened NACCE's effectiveness and ability to build a reserve for the future. It also allowed NACCE to expand its impact and its reach, which were propelled by two major initiatives – ecosystem mapping and the Presidents for Entrepreneurship Pledge.
Ecosystem Mapping
In NACCE's own rebuilding process, one important "Bird-in-Hand" asset in January 2015 came in the form of a federal grant for $99,342 from the Appalachian Regional Commission (ARC). This helped NACCE support technical assistance training in the area of innovation in entrepreneurship among 11 Appalachian community colleges in poverty-distressed areas. NACCE's work with these community colleges and their communities has continued. With a 2017-2018 funded grant through the ARC, NACCE is working with six community colleges in Eastern Kentucky to train 72 faculty in the CORE curriculum and provide them with entrepreneurial coaching and support.
The Presidents for Entrepreneurship Pledge
Reduced budgets, higher accountability standards, and the waning number of professionals prepared for community college leadership created a crisis for community colleges in the first decade of the 2000s. A new leadership model was needed for community college leaders to meet these challenges, and in response, NACCE unveiled the Presidents for Entrepreneurship Pledge (PFEP) in 2011. Designed to assist community college presidents in advancing entrepreneurship in their communities and creating a culture of entrepreneurship on their campuses, the PFEP model was based on five commitments community college presidents were asked to make based on successful entrepreneurship activities reported from NACCE members. These commitments include:
Form teams to focus on entrepreneurship
Connect with entrepreneurs in the community
Collaborate with industry in your region
Focus on business and job creation
Share stories through events and the media
Fortunately, community college leaders have a long history of innovation and the ability to seek opportunities to better serve their colleges and communities, so college leaders across the country embraced the PFEP.
E-ship as Part of the National Conversation
In 2016, NACCE was able to get a seat at the table through invitations to Demo Day, the Tech Hire Initiative, and other White House-sponsored events geared to spur entrepreneurship. A year later, NACCE granted over $500,000 to 13 community colleges to engage in entrepreneurial projects. Over $3 million was secured for 2018-2020 to be re-granted through NACCE to community colleges. Technical assistance support enabled NACCE to help foster the creation of 24 makerspaces in California and form effective partnerships between K-12 and community college partners in Appalachia. This work continues.
Just as STCC willingly shared its entrepreneurship stories of success and failure with hundreds of people who visited the campus to see the creative enterprise, NACCE continues to stoke the growing interest among community colleges about the importance of entrepreneurship to their institutions and the communities they serve. This 'can-do' mindset is the cornerstone for NACCE as a national membership organization and continues to guide its operational mode and spirit today.
To learn more, read NACCE's new book, Community Colleges as Incubators of Innovation. To order, click here.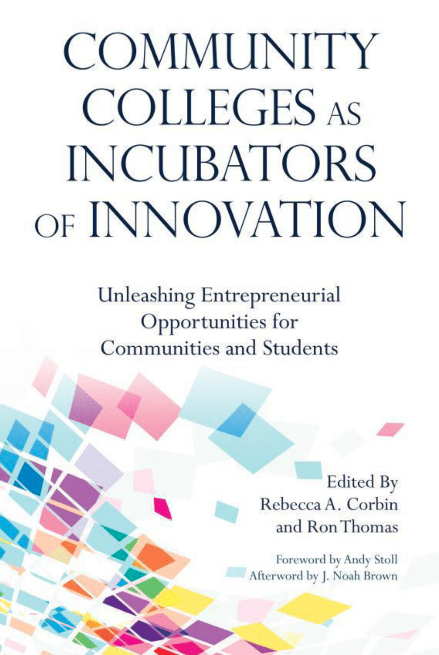 Rebecca Corbin has served in leadership roles in the community college system for the past decade, as president and CEO of NACCE, and as vice president of institutional advancement and executive director of the Foundation for Rowan College at Burlington County in New Jersey.
Connect with Rebecca on Twitter @RebeccaCorbin7
Ronald E. Thomas served for 17 years as president of two-year colleges. He joined NACCE in 2003, serving as a board member and chairman for two years. During his tenure as chairman, Thomas was instrumental in the launch of the Presidents for Entrepreneurship Pledge (PFEP) in 2011.
Connect with Ron on Twitter @ronedwardthomas