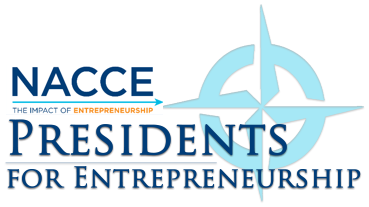 Presidents for Entrepreneurship Pledge (PFEP) Commitment Checklist
As the first step in the process, identify a "champion" on campus to begin identifying other talent on and off campus to support the activities of the college. The internal champion must be committed to including everyone so that all groups are invested in the process, and ensures that entrepreneurs are at the table and driving these conversations to ensure relevancy of the activities and resources to the end users.

Five Action Steps for Creating Economic Vitality Through Entrepreneurship


1. Create or Expand Internal & External Teams Dedicated to Entrepreneurship
INTERNAL— NACCE Membership Team (10 seats + President). Appoint NACCE membership team representative of entrepreneurship education in the classroom, workforce and economic development, Board of Trustees, marketing, foundation, entrepreneur(s), etc.
INTERNAL— Expand the NACCE Membership Team to include representatives from every area of campus to meet on a regular basis and discuss all activities related to entrepreneurship
EXTERNAL—Identify entrepreneurs and other groups outside of the college (SBDC's, Women's Business Centers, Universities, Business Incubators, Chambers, Economic Development Organizations) that are interested in supporting entrepreneurship in your community
EXTERNAL—Develop an entrepreneurial ecosystem mapping an easily navigated landscape of resources available to entrepreneurs and small businesses in the college's community
2. Increase Entrepreneurs' Engagement in Community Colleges
Include entrepreneurs and small business owners on academic program advisory boards
Develop a directory of college alumni who are small business owners in the community
Identify, engage, and convene at least five entrepreneurs in your community
Build student internship and off-campus student employment opportunities with entrepreneurs and small business owners
3. Engage in Industry Cluster Development
Internal and external team agendas and meetings include local and regional industry trends
Hold industry focused entrepreneur & small business events (i.e. arts, tourism, auto, health care, etc.)
4. Leverage Both Community College and Community Assets to Spur Innovation and Job Creation
Identify People (intellectual capital, human capital, skills, expertise, networks, designers)
Identify Place (equipment, space, accelerator, incubator, co-working, meet-ups)
Identify Materials (facilities, equipment, FabLabs)
5. Create Buzz and Broad Exposure of your College's Commitment to Entrepreneurship
Internal team includes college marketing and public relations
Submit content to NACCE weekly e-news, blogs, quarterly journal to promote work nationally
Include entrepreneurship activities and accomplishments in annual reporting to constituents
See Which Community College Presidents Have Signed On!

Read the PFEP Validation Reports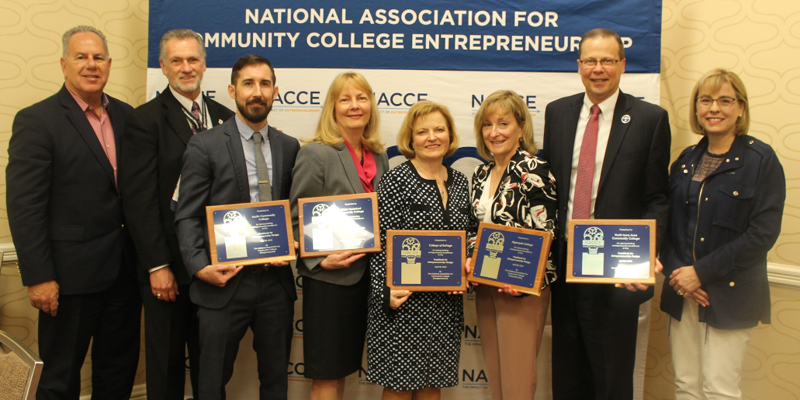 The PFEP College of Excellence Award Winners from 2018 included:
PFEP Step 1: Create or expand internal and external teams dedicated to entrepreneurship - Algonquin College - Ottawa, Ontario

PFEP Step 2: Increase entrepreneurs' engagement in community colleges -

College of DuPage – Glen Ellyn, Illinois

PFEP Step 3: Engage in industry cluster development - Austin Community College – Austin, Texas

PFEP Step 4: Leverage community college and community assets to spur innovation and job creation - Wake Technical Community College – Raleigh, North Carolina

PFEP Step 5: Create buzz and broad exposure of your college's commitment to entrepreneurship - North Iowa Area Community College – Mason City, Iowa
Ready to Commit? Contact Trish Truit at truitt@nacce.com for next steps.