NACCE Announces 3rd Annual Pitch for the Trades Semi-Finalists
Date posted
September 14, 2021
NACCE is excited to advance a group of college applicants forward to the semi-finalists round for the 3rd annual NACCE Pitch for the Trades, presented in partnership with the Philip E. & Carole R. Ratcliffe Foundation.
Out of the many applications received, colleges represented in the semi-final round are: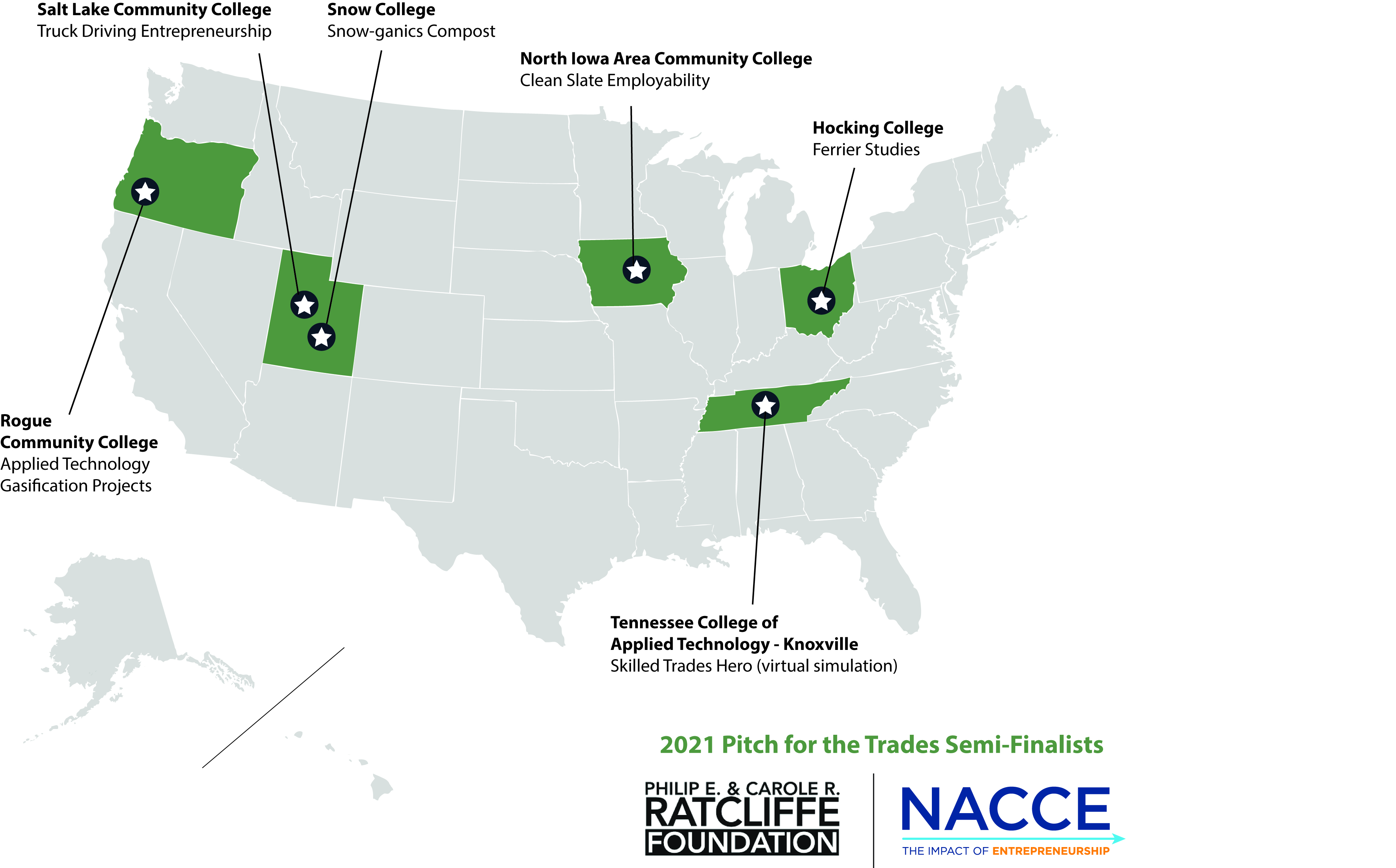 Hocking College (OH) | "Farrier Studies"
North Iowa Area Community College | "Clean Slate Employability"
Rogue Community College (OR) | "Applied Technology Gasification Project"
Salt Lake City Community College (UT) | "Truck Driving Entrepreneurship"
Snow College (UT) | "Snow-ganics Compost"
Tennessee College of Applied Technology | "Skilled Trades Hero" (virtual simulation)
The intent of this competition is to meet the economic, educational and environmental needs of communities by fostering job creation in the skilled trades and apprenticeship space. NACCE's goal is to create funding awards that will make creative and innovative programs successful. We are excited to continue our long-term partnership with the Philip E. & Carole R. Ratcliffe Foundation, and are grateful for their support of skilled trades in our nation's community colleges. Together, we are building on our collective success by expanding training and opportunity in the skilled trades, resulting in the creation of jobs across the nation.
Semi-Finalists will live-pitch to a panel of judges on September 15, 2021, following which a group of finalists will be named. Finalists will compete in the final round for their share of $135,000 in prize funds on October 5 during the #NACCE2021 Annual Conference. Our distinguished judges, selected for the finalist round, include experienced and respected leaders from foundations, education, business and industry. Their insights, entrepreneurial expertise and insights are invaluable to the pitch teams who are contending to advance skilled trades and entrepreneurial opportunity in their colleges and communities.
Questions? Reach out to Pitch for the Trades Project Manager Theresa MacLennan.
_____________

About NACCE
NACCE is an organization of educators, administrators, presidents and entrepreneurs focused on igniting entrepreneurship in their communities and campuses. NACCE has two main goals: to empower college leaders to approach the business of running a community college with an entrepreneurial mindset and to grow the community college's role in supporting job creation and entrepreneurs in their local ecosystem. NACCE unites a dynamic network of community colleges. For more information, visit www.nacce.com. Follow us on Twitter at @NACCE, like us on Facebook, and join our LinkedIn group.
About the Philip E. & Carole R. Ratcliffe Foundation
The Philip E. and Carole R. Ratcliffe Foundation is a charitable organization designed to encourage and reward entrepreneurship, create jobs, and expand economic opportunity. Based in the Annapolis, Maryland, the foundation provides funds to institutions to encourage entrepreneurship in non-traditional business fields such as the arts, design, health care, environmental science, aquaculture and skilled trades. The Ratcliffe Foundation strives to integrate its programs with local communities through mentorships and business involvement. Visit: https://www.ratcliffefoundation.com/