2021 Pitch for the Trades FINALISTS Announced
Date posted
September 17, 2021
NACCE is struck by the ingenuity and diversity the semi-final teams showed in their virtual presentations before a panel of judges on September 15 and are inviting all six colleges to compete in the third annual NACCE 2021 Pitch for the Trades, presented in partnership with the Philip E. & Carole R. Ratcliffe Foundation. The Ratcliffe Foundation is offering $135,000 in cash prizes to be divided between the winners during the October 5 competition, taking place at NACCE's 2021 Annual Conference.
Each team is competing for up to $50,000 towards their college's skilled trades initiative, all of which expand economic opportunities for students and communities. At the same time, participating teams are creating a buzz about the skilled trades and the impactful work community colleges are doing in furthering equity and social programs.
The six colleges battling in the Pitch for the Trades finals at NACCE's 2021 Annual Conference in Minneapolis are:
Hocking College (OH) | Entrepreneurship in Farrier Science
Lead: Dan Kelley, Dean of Natural Resources
North Iowa Area Community College (IA) | Clean Slate Employability
Lead: Melinda McGregor, Director of Emerging Workforce Solutions
Rogue Community College (OR), Applied Technology - Gasification Project
Lead: Kim Freeze, Dean, Science & Technology
Salt Lake Community College (UT), Truck Driving Entrepreneurship
Lead: Jon Beutler, Director, The Mill Entrepreneurship Center
Snow College (UT), Snow-ganics Compost
Lead: Russ Tanner, Entrepreneurship Center Director
Tennessee College of Applied Technology (TN) | Skilled Trades Hero: Becoming an Entrepreneurial Rock Star
Lead: Becky Russell, Cosmetology Instructor
Dr. Rebecca Corbin, President and CEO of NACCE, noted, "The 2021 Semi-Final Pitch Competition contestants provided a diverse and robust array of projects. Several focused on embedding entrepreneurship mindset and practice into skilled trades. Others embraced creative approaches to enhance workforce development within skilled trades. As such, the judges unanimously decided to move all six proposals to the final pitch competition on October 5. Thank you to the judges, and congratulations to our finalists!" We hope to see you all at #NACCE2021.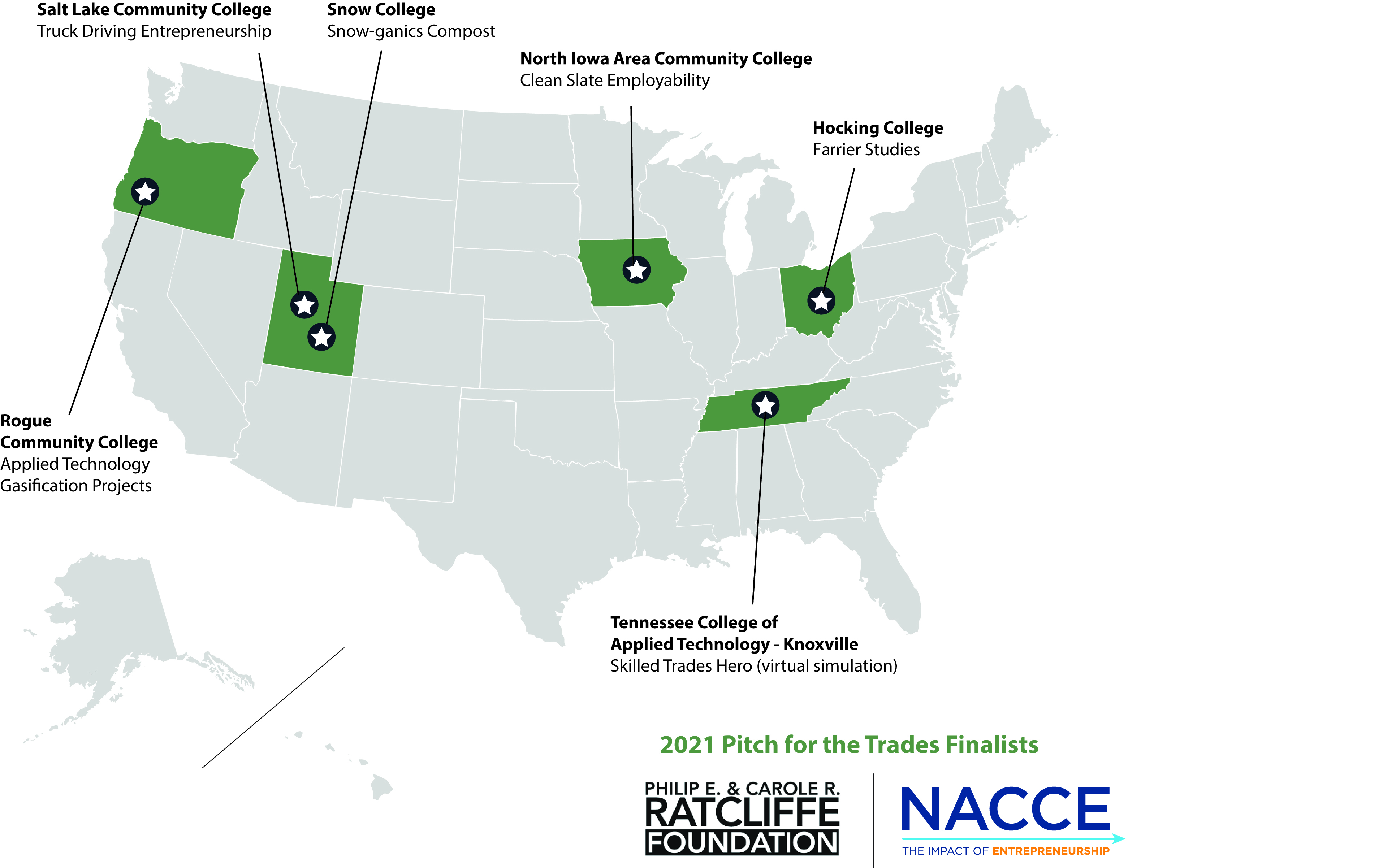 About NACCE
NACCE is an organization of educators, administrators, presidents and entrepreneurs focused on igniting entrepreneurship in their communities and campuses. NACCE has two main goals: to empower college leaders to approach the business of running a community college with an entrepreneurial mindset and to grow the community college's role in supporting job creation and entrepreneurs in their local ecosystem. NACCE unites a dynamic network of community colleges. For more information, visit www.nacce.com. Follow us on Twitter at @NACCE, like us on Facebook, and join our LinkedIn group.
About the Philip E. & Carole R. Ratcliffe Foundation
The Philip E. and Carole R. Ratcliffe Foundation is a charitable organization designed to encourage and reward entrepreneurship, create jobs, and expand economic opportunity. Based in the Annapolis, Maryland, the foundation provides funds to institutions to encourage entrepreneurship in non-traditional business fields such as the arts, design, health care, environmental science, aquaculture and skilled trades. The Ratcliffe Foundation strives to integrate its programs with local communities through mentorships and business involvement. Visit: https://www.ratcliffefoundation.com/