Earn Digital Badges at NACCE 2020 Virtual
We are pleased to offer the following digital badges at NACCE 2020 Virtual. Each badge coincides with one of the four breakout track sessions:
Workforce Development & Non-Credit Programming
Entrepreneurship Programming
Lessons Learned from COVID-19
Academic Programs
Click on each badge to learn more!
Workforce Development & Non-Credit Specialist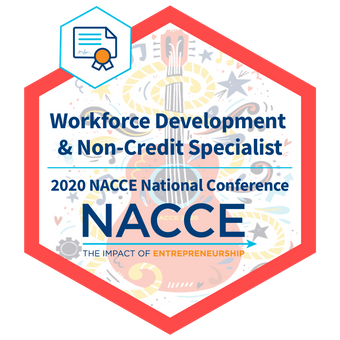 The following sessions are part of the Workforce Development & Non-Credit Specialist track:
| | |
| --- | --- |
| Building Access to Workforce Solutions - A Collaboration | Engagement Coaching To Build Healthy, Well-Rounded Entrepreneurs |
| I Can! (I can become a plumber while in prison) | |
| Opportunity Workshops at HCC | |
---
Skilled Entrepreneurship Professional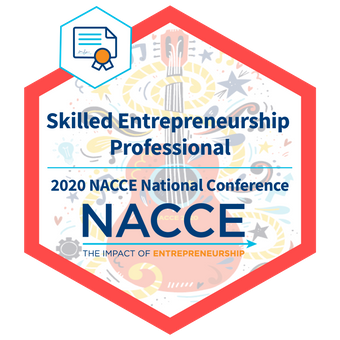 The following sessions are part of the Skilled Entrepreneurship Professional track:
| | |
| --- | --- |
| Creating an Entrepreneurial Community College Isn't Just For Students | Developing Mindset for a VUCA Future |
| Entrepreneurship and the Barter Trade Economy | Getting Out Over Your Skies |
| Hacking Student Engagement | How To Z Imagine: Student, Employee and Community Engagement Synthesized |
| InventOR: Connecting Students, Entrepreneurs, Employers and Economic Developers | Keep Students Engaged While Converting Your Entrepreneurship Offerings To Online |
| Preparing K12 Students for Success in Community College Entrepreneurship Programs | Portable Skills: A Backpackers Guide to Competencies |
| See Rock City...and Entrepreneurial Opportunities | |
| Teaching Intellectual Property Rights Through Dynamic Case Studies | Veterans and Veteran Entrepreneurship: Better Understanding Both |
---
COVID-19 Resource Professional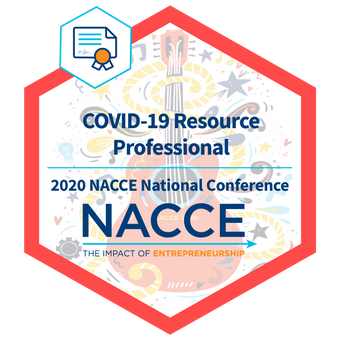 The following sessions are part of the COVID-19 Resource Professional track:
| | |
| --- | --- |
| Eagle2Eagle and Faculty2Faculty | Boredom Busters in the COVID Age- Connecting Students to the Entrepreneurial Ecosystem |
| Lessons from the Pandemic: Leveraging the Entrepreneurial Mindset During COVID-19 | Pandemic Pivots That Deliver and Fund Small Business Empowerment |
---
Certified Academic Professional

The following sessions are part of the Certified Academic Professional track:
Entrepreneurship For Every Student: Integrating Entrepreneurship into CTE Programs

Expanding the Entrepreneurial Mindset in Communities: A Pathway To Infiltration

Growth Recipe: Expanding Entrepreneurial Programs from Nonprofit to Government Entity

Internationalize Your Courses with globalEDGE, a Free Website for International Business Education

Learning How To Communicate Persuasively With AI: The Key to Business Success

New Start for Women: An Entrepreneurial Mindset for Equity

Nicolet MyWay: Removing Barriers to Serve the New Adult Learner

Social Entrepreneurship Community of Interest Workshop

VentureDash: The Best Way To Run a Business Plan Competition
---
What is Digital Badging?
We are committed to providing you with the tools necessary to achieve your professional goals and we understand that communicating your credentials in an ever-expanding online marketplace can be challenging. That is why we have partnered with Credly's Acclaimplatform to provide you with a digital version of your credentials. Digital badges can be used in email signatures or digital resumes, and on social media sites such as LinkedIn, Facebook, and Twitter. This digital image contains verified metadata that describes your qualifications and the process required to earn them. Anyone can verify your NACCE certifications by clicking on the badges and viewing the details about specific skills you developed. Every time you earn a badge, NACCE will send you an email with a link to claim your credential.