Back to Events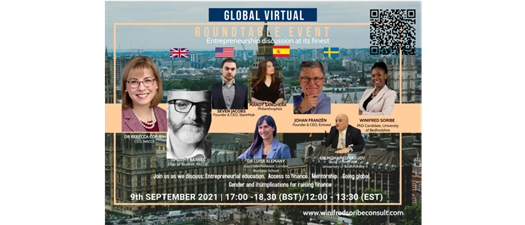 Global Virtual Roundtable Event
Thursday, September 9, 2021
Event Details
The Changing Landscape of
Entrepreneurship Across Borders: A Global Virtual Roundtable Event
We are excited to invite you to a global roundtable on September 9 at noon EST with our own NACCE CEO Dr. Rebecca Corbin speaking among seven international panelists on the U.S./Europe entrepreneurship landscape. Hear speakers from the United Kingdom, Sweden, and Spain, as well as from the National Association of College and University Entrepreneurs (NACUE), a similar organization to NACCE based in the U.K. Organized by the Business and Management Research Institute in partnership with Winifred Soribe Consult, this event will bring together great minds from the faculty of London Business School, University of Bedfordshire, social entrepreneurs and investors, as well as NACUE Chairman Of The Board Of Trustees.
In this 90-minute webinar you will learn about:
Access to finance: the European pessimism, and the American Optimism – differences in culture and its implications
Access to entrepreneurship education and its adaptability in real life
Internationalization and Expansion – ease of starting a business in the US or Europe with regards to regulations
Gender and its role in raising finance
The role of mentorship in venture success
This event is free and open to the public.