Bold Thinking and Bold Action: Women's Entrepreneurship
Date posted
August 28, 2020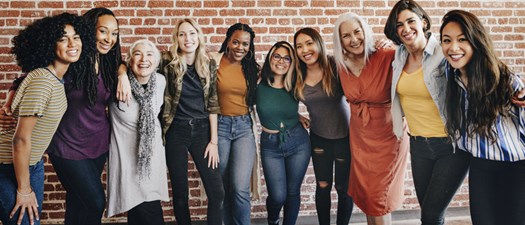 Written by Jen Worth, Senior VP of
Workforce & Economic Development
at the American Association of Community Colleges (AACC), NACCE Board Member, and Women's Entrepreneurial Leadership Council Chair
Bold thinking and bold words have long been the hallmarks of how people define entrepreneurs. Often these bold words are positive such as: passionate; risk-taking; motivated; and creative. These words resonate with companies, investors, and staff, because these words often increase innovation and profits that help build communities.
I have been graced to stand aside mentors and reported directly to leaders (particularly in my recent post at AACC) that have encouraged, celebrated, and challenged me, all while helping me grow from my mistakes. In truth, my journey has been significantly easier than others. I have had the wisdom of others given freely and the support of many across a range of perspectives and communities, and I hold those authentic and trusted voices dearly close.
However, on my professional journey there have also been moments when the bold words that were used to describe me included "aggressive" instead of "determined"; "audacious" rather than "brave"; or yet still "abrasive" instead of "definitive".
I like to think I have a thick skin, and never really paid it any mind. I focused more on the work and generating relationships with partners, and generally kept on trucking forward. Maybe it was because I was often one of the only females in the career and technical education (CTE) discussion circles, and for some reason, individuals thought I should be demurer because of my gender, but my mind and my mouth just wouldn't comply, and some of those risks worked out. Self-reflection is important and I like to hope that I honed my manners to being both authentic and effective.

It was only after serving on the board of NACCE for several years, and having witnessed many entrepreneurship, small business, and incubator centers housed at a myriad of innovative community colleges who had the foresight to realize they are hubs of economic development, that NACCE and our board of directors had the capacity to initiate the Women's Entrepreneurial Leadership Council (WELC). NACCE has always had strong members – and strong leadership – and the time is right for this work. Now that the organization has the bandwidth and the financial strength to take on more specialized conversations, what better group than NACCE to build out assets for community colleges seeking to support women joining the entrepreneurship ecosystem?
The first official action of the WELC, a team of women and men from across the nation created by the NACCE Board of Directors, was to create a comprehensive list of resources and activities that wouldn't sit on a shelf but be tactical and practical for community colleges. The council structured a June "Leading Ladies" event, to focus on the "what" and "why" tools should be created for women as early-career entrepreneurs, mid-career entrepreneurs, and experienced entrepreneurs.
Within 48 hours of announcing the Leading Ladies event, sixty-seven professionals from across the nation had signed up to participate, and registration was closed so that an intimate discussion could be conducted.
The group's feedback resulted in an inclusive, accessible and dynamic set of opportunities that NACCE intends to launch over the next twelve months. Our goal is to establish a strong resource library that carries the gravitas of the NACCE brand and supports a thriving ecosystem for women entrepreneurs across the nation.
Each of the tools expectedly showcase that women crave different supports at different points on their journey. Early on, they likely seek a safe and supportive space to know when, how, and where to risk and fail-forward, to learn how to listen to the bold words of positivity, and shut out the noise of the negative. This is most desired through direct mentorship. For women later in their journey, a collaborative and trusted circle of peers and ongoing advisement outweighs the steps in any book without relationship relevance. For experienced entrepreneurial women, the "why" behind the "what" they sought was that their relationships had been established – as had their confidence – so regular connections to growth, and an in-depth exploration of new facets of skills development was desired through more of the NACCE-led platforms.
In each stage of a professional journey, an entrepreneur will undoubtedly find hurdles to overcome, skills they must master, and take on an inner battle of boldly risking for the potential reward of massive returns versus gloriously and potentially public failure. More women in this country at community colleges deserve to be described using big, loud, bold, and moreover, positive defining words. On behalf of the NACCE WELC, I stand behind each of those women as they wish a champion.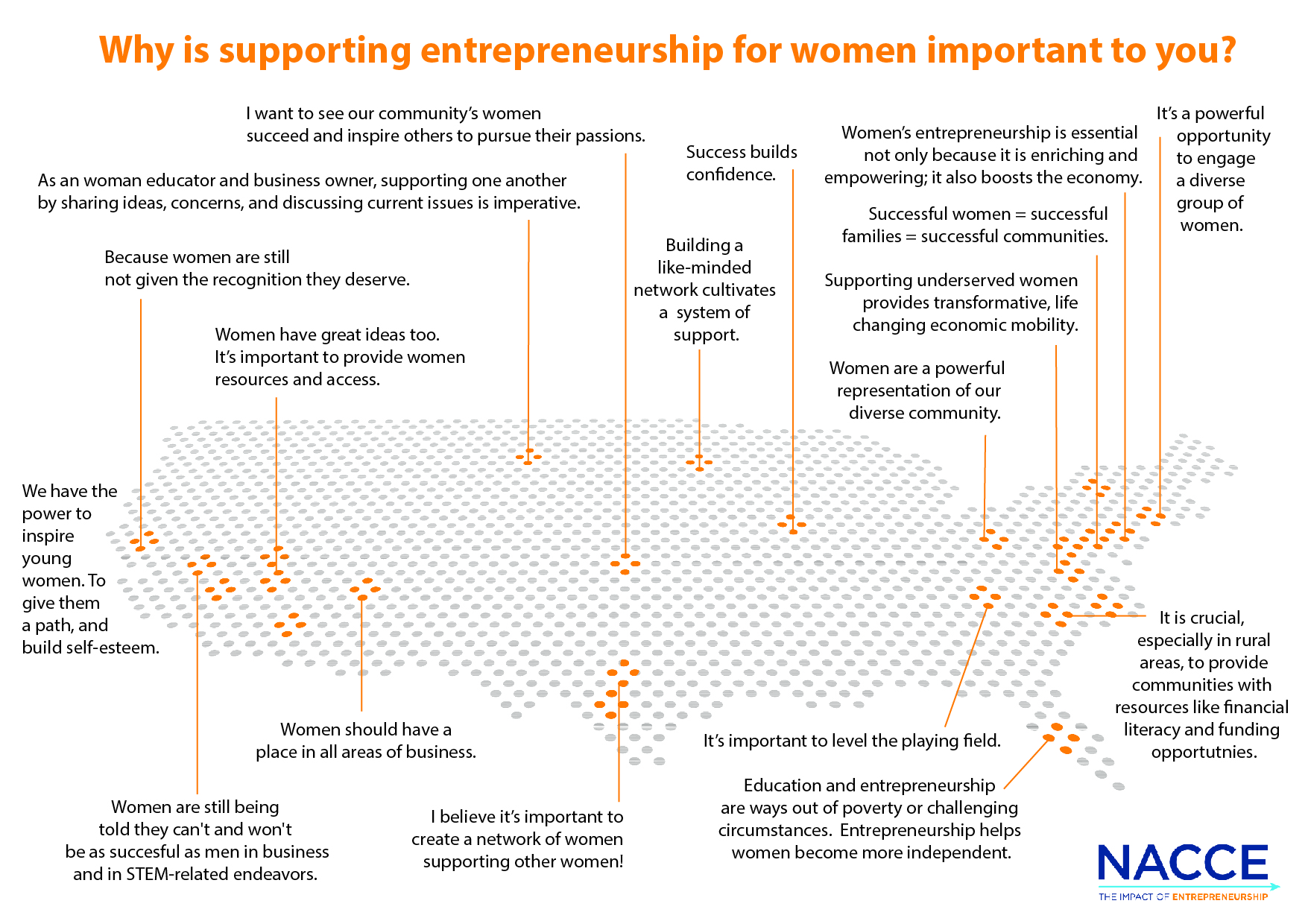 ---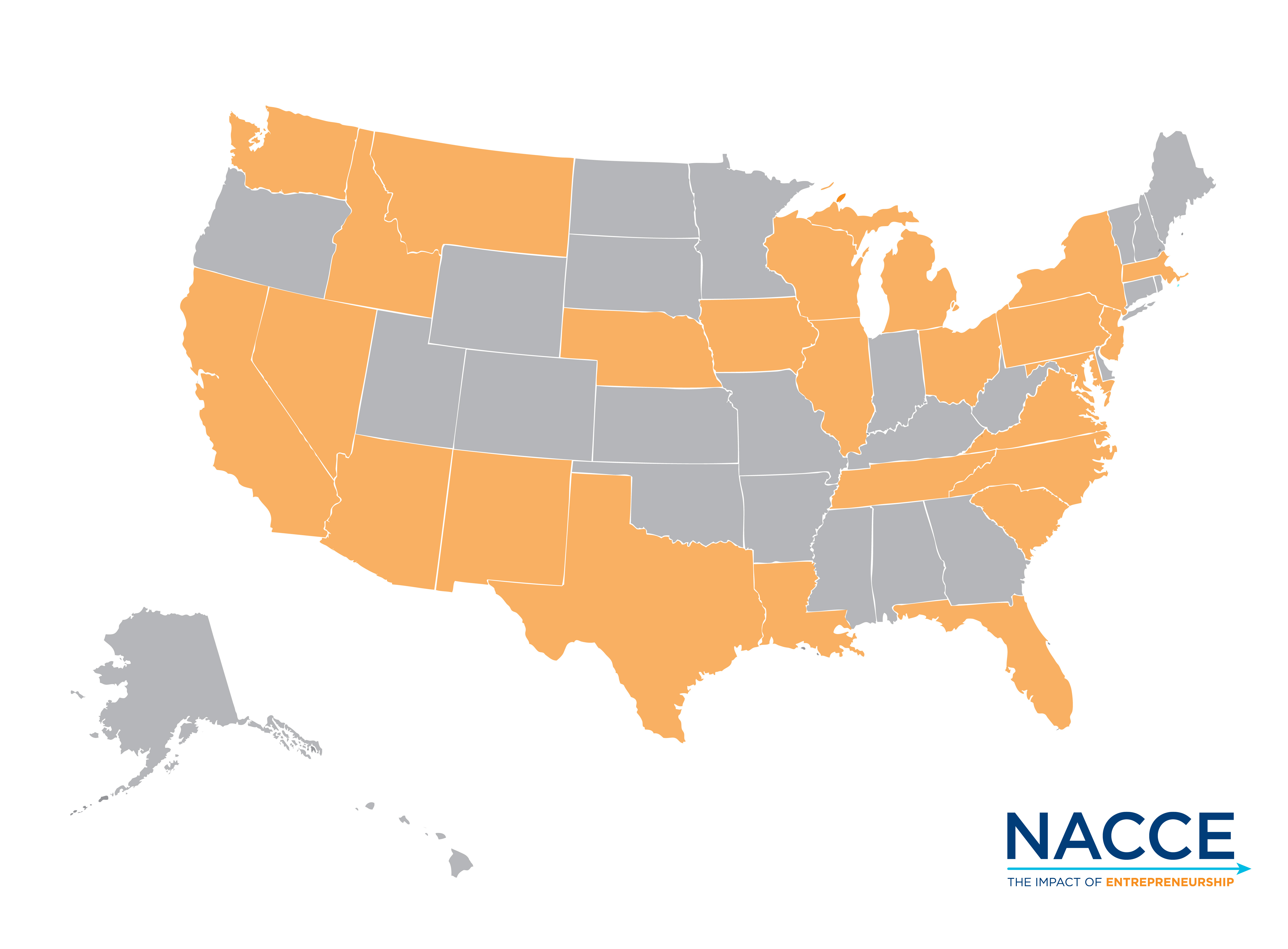 June 2020 Leading Ladies Event Recap
Written by Anne Strickland, NACCE Vice President
Our June Leading Ladies event introduced us to the stories of four phenomenal women who have found success by being entrepreneurial. Our panel, titled "A Women's Entrepreneurial Journey" posed two questions:
When did you know you were more of an entrepreneurial or "fail-forward" leader that would challenge the system or go against the grain on behalf of yourself and others?
What do you wish you had along your professional path that would have helped you get there faster?
"I wish I had known at a younger age that it's ok to fail," said Lisa Kiplinger Kennedy, Regional Director of the Business and Entrepreneurship Inland Empire for the Inland Empire / Desert Region (California Community Colleges). "Growing up there was always a push to get A's, and you had to be the best. I think that I had known it was ok to fail as long as you use it as an opportunity to learn I might have taken more chances than I did."
Dr. Yves Salomon-Fernandez, President of Greenfield Community College (MA) recognizes that she now knows she is stronger than she thinks. "I realized that I was a very entrepreneurial person at a very young age. When I look back on the moment when I decided that I needed to carve my own path, it was such a defining moment. I realized that I couldn't be accepting of the norms that I was presented with… it accelerated the pace at which I learned. It accelerated the pace in which I progressed in my professional life, but also in my academic life."
"What I wish I had known all along – and that I kind of knew intuitively but wish I recognized more strongly early on – is that the power of community and collaboration in the community is enormous. It's just huge. And you really can do something quite amazing when you bring in all kinds of people with different perspectives," says Dr. Mindy Kole, Associate Dean of Adult Learning at SUNY/Ulster (NY). This kind of collaboration and community building is making quite an impact in Ulster.
Dr. Shasta Buchanan, Vice President of Student Affairs at Austin Community College (TX) remembers clearly reading a book by Mary McLeod Bethune in the third grade, and thinking "oh my goodness. Here's a woman that looks just like me that started her own school with a dollar and fifty cents. And I said I may never have my name on a school, but if I can be like her… just her ability to want to serve others, and take care of African American students and then work with the President of the United States and serve on different committees and the caucus for our country as well as the world… I want to be like that person." Telling her parents her new truth as an eight-year-old propelled her into a journey that we know will inspire you, too. NACCE members can watch the recording of our June Leading Ladies event online by logging into our webinar archive.
We're planning another Leading Ladies event, and look forward to updating you on our progress and introducing you to new resources this fall. In the meantime, we welcome your thoughts on why women's entrepreneurship is important to you! Do you have ideas about what resources would benefit the women's entrepreneurial ecosystem? Are you interested in getting more involved? We believe we are stronger together, so please email NACCE Vice President Anne Strickland at strickland@nacce.com to learn more.