PRESS RELEASE NACCE Announces 2023 Entrepreneurial College of the Year Award to Patrick & Henry CC
Date posted
October 30, 2023
NACCE Announces 2023 Entrepreneurial College of the Year Award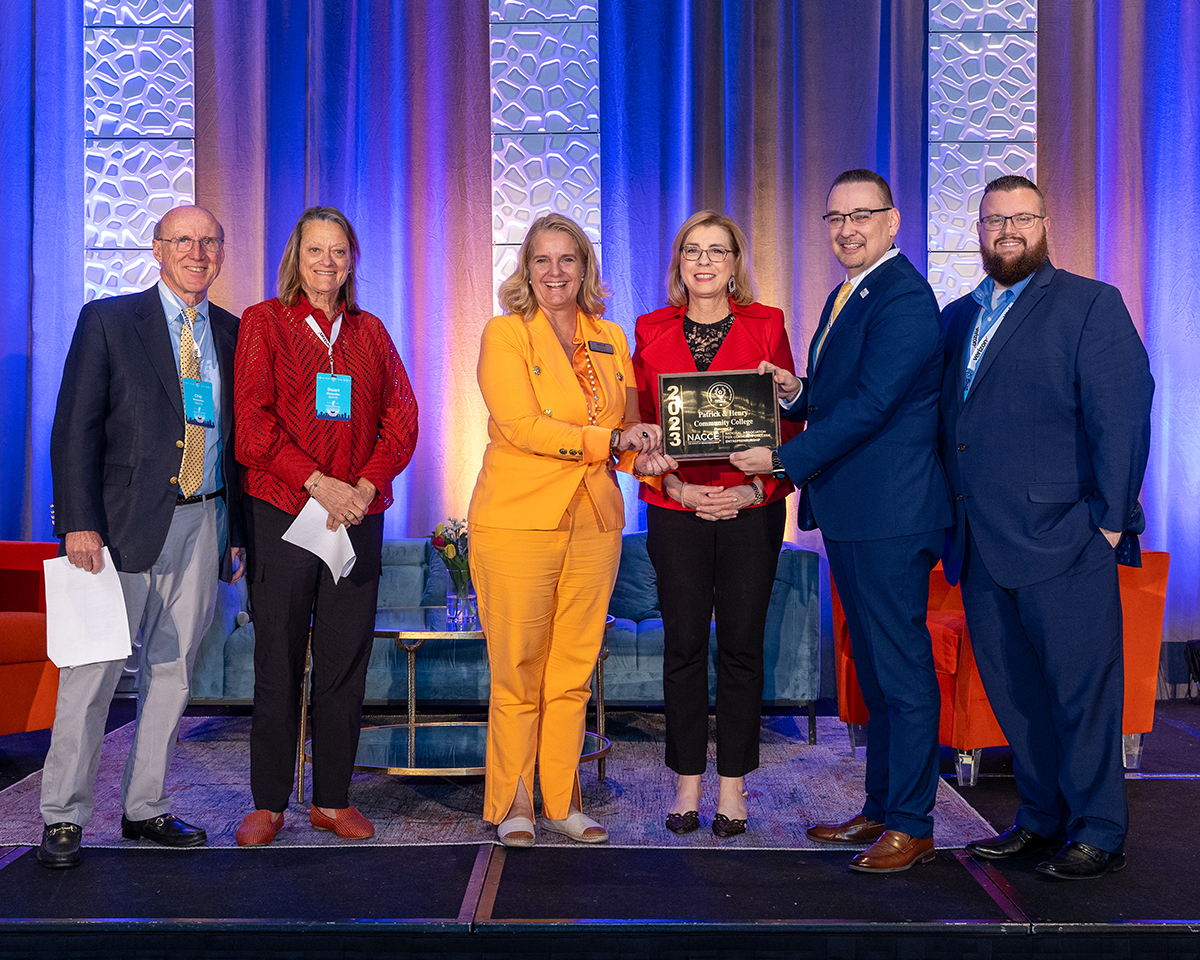 Nashville, TN - The National Association for Community College Entrepreneurship (NACCE) is thrilled announce Patrick and Henry Community College as the winner of the distinguished 2023 NACCE Entrepreneurial College of the Year Award. This recognition is a testament to Patrick and Henry Community College's dedication to fostering entrepreneurship and driving positive change in its local community. The award will be presented during the upcoming NACCE Annual Conference in Nashville, Tennessee, scheduled for October 30, 2023.
Patrick and Henry Community College has demonstrated unwavering commitment and leadership as a member of the inaugural cohort of the Entrepreneurial College of the Future (ECoF) program. Their outstanding contributions have significantly impacted their community, yielding impressive results.
A standout achievement of their partnership with the Martinsville and Henry County (MHC) Chamber of Commerce is the expansion of their Entrepreneurial Boot Camps, which comprise MHC Startup—an eight-week program tailored for new business owners—and MHC Grow—a four-week program designed for entrepreneurs with less than five years of experience. These programs are dedicated to inculcating the principles of effectuation and equipping participants with the knowledge and skills vital for success as small business owners.
Since their participation in the ECoF program, Patrick and Henry Community College has graduated 314 entrepreneurs, with a substantial portion of this total achieved in a short period. This has culminated in the establishment of 74 new businesses, with $572,000 in cash and in-kind prizes awarded. Moreover, this initiative has created 270 new jobs. Notably, their Entrepreneurial Boot Camps boast an impressive 87% success rate, significantly surpassing the national average.
A particularly notable achievement is that over 50% of program participants are female, and in a community where 20% of the population is comprised of people of color, almost half of the participants are minorities. This has contributed to a surge in female and minority-owned small businesses in their region, a vital driver of economic growth.
A noteworthy aspect of this initiative is that Patrick and Henry Community College offers their Entrepreneurial Boot Camps entirely free of charge to all participants, thanks to their valued partnership with the MHC Chamber of Commerce. This inclusive approach has made entrepreneurship education accessible to a broader spectrum of the community.
The success of their initiatives has also allowed Patrick and Henry Community College to secure grant funding. We are pleased to announce that they will soon appoint a Business Community Navigator, whose role will be to enhance the community's understanding of the entrepreneurial ecosystem and cultivate deeper connections with individuals, businesses, and organizations eager to support their mission.
The remarkable economic renaissance experienced in Patrick and Henry Community College's community is a testament to their dedication to expanding regional entrepreneurship. NACCE commends their tireless efforts in fostering entrepreneurship and creating opportunities for the people of their community.
About NACCE:
The National Association for Community College Entrepreneurship (NACCE) is a 501(c) (3) organization dedicated to promoting entrepreneurship through community colleges by providing resources and support to build and sustain high-impact entrepreneurship programs.
The association represents 340+ community and technical colleges, universities and HBCU's including over 2,000 faculty, staff, administrators, and presidents who serve more than three million students.
For more information, visit nacce.com.
About Patrick and Henry Community College: Patrick & Henry Community College, a comprehensive two-year institution, services Martinsville city as well as Patrick and Henry counties. P&HCC is a top tier leader among community colleges in areas such as athletics, technology, and unique program offerings. By providing a multitude of innovative curricula such as motorsports, entrepreneurship and mechatronics, P&HCC is changing lives and enriching the community it serves. P&HCC is an EEO institution. For more information, please visit www.patrickhenry.edu.