Women in Eship Center of Practice Celebrates Women's History Month with a NEW Event Series
The forty-first Women's History Month begins today, and we can't think of a better time to pause and reflect on what this means for today's woman.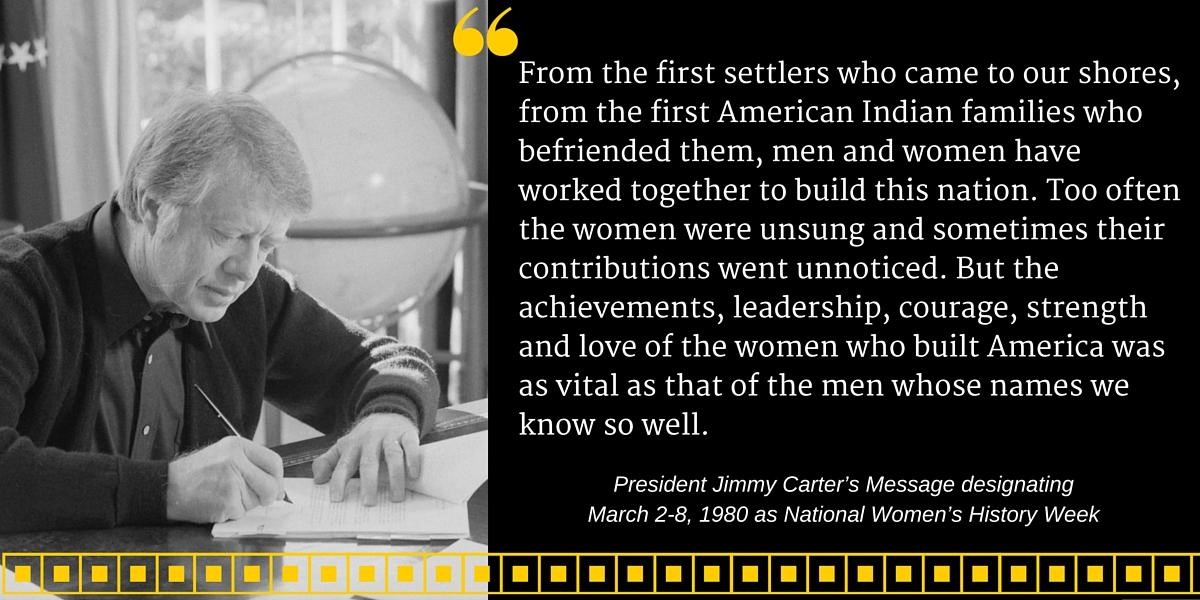 President Jimmy Carter signing the first Presidential Proclamation designating the month of March as Women's History Month (1980). Photo Credit: https://www.womenshistory.org/womens-history/womens-history-month
"During the last year, women have balanced work and life in an unrelenting stressful situation. For the women who attempted to add in the additional responsibility of starting or managing a small business, or attempting to support entrepreneurship through the many assets of community colleges including incubators or accelerators, they have my ultimate respect. To stay bright and creative during this time is a challenge for anyone, but to do so with all these pressures takes a force that can only come from courageous leaders. I am honored to be a part of the Women in Entrepreneurship Center of Practice, on behalf of the economy these women will impact positively, and to be a peer of all those who are involved."

– Jen Worth, Women's Entrepreneurial Leadership Council Chair
We also can't think of a better time to announce our plans for NACCE's Women's Entrepreneurship Center of Practice. When we convened Leading Ladies last year, we gained a great deal of insight about what our women leaders and entrepreneurs needed. Our team has been hard at work exploring how we can create an intentional space where both our entrepreneurial leaders and entrepreneurial women, as well as those who support them, can come together and learn from one another, work alongside each other, and lift one another up. To that end, we encourage you to get involved in one of the following new opportunities at NACCE: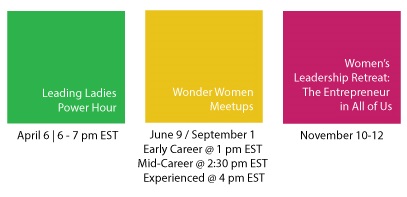 Women in Entrepreneurship Center of Practice Design Thinking Workshop
March 25 | 1 – 2:30 pm EST | Virtual Via Zoom
Join us for a message from a fellow leader and entrepreneur, and join in an interactive design thinking workshop, led by Dr. Rebecca Corbin, NACCE President and CEO. Together, we'll explore what more the Women in Entrepreneurship Center of Practice might do – maybe even what a Women's Entrepreneurship Pilot Program might look like! – building upon our initial Leading Ladies ideas and launching the Women in Entrepreneurship forum in our signature members-only online community, NACCE Meets. Participants in all aspects of this event will earn a digital badge!
Look for our event recap, slides, and keynote recording in an upcoming blog post!

Leading Ladies Power Hour
April 6 | 6:00 pm EST via Zoom
October 2021 | To be held in conjunction with NACCE 2021 Annual Conference
Join in the fun as we get to know our Leading Ladies better while bringing a bit of learning and levity to your day. We encourage interruption, and we mean to have a good time. All we need is your smiling face, willingness to ask and answer questions, and an hour of your time. Snacks, drinks, kid and pet cameos are welcome here.

Wonder Women Quarterly Meetups
June 9 | Early Career: 1:00 pm EST / Mid-Career: 2:30 pm EST / Experienced: 4:00 pm EST
September 1 | Early Career: 1:00 pm EST / Mid-Career: 2:30 pm EST / Experienced: 4:00 pm EST
Build a network of peers in NACCE's Wonder Women Meet-Up series. Twice a year, we'll gather together in early career, mid-career, and experienced networks, bringing you a high-impact speaker/session with plenty of time for us to engage with one another. Topics and registration will be announced in an upcoming edition of eNews – save the date!

Women's Leadership Retreat: The Entrepreneur in All of Us
Tentatively Planned for November 10-12 | Wrightsville Beach, North Carolina

This small group, hybrid in-person and virtual event, will be hosted in NACCE's new home state of North Carolina. Breaking into three groups – early-career, mid-career, and experienced entrepreneurial women, we will explore leadership themes, the importance of professional development and continuous learning, and the impact of entrepreneurial thinking and action, with opportunities for self-care, networking, and mentorship.

We've made a lot of strides since the first Women's History Month in 1980. We've seen – and hope that we will continue to see – a lot of change. While we don't know what challenges and opportunities may present themselves in 2021, what we do know is that we can go farther together. NACCE hopes that this new suite of engagement opportunities will provide an authentic community of support fueled by camaraderie and candor with the power to create new solutions and new pathways as we make our way forward.