Slyngshot X NACCE
Date posted
January 20, 2023
When Ryan Groves and Landon Phillips, the co-founders of Slyngshot, set out to help make entrepreneurship more accessible for everyone, they realized there were no quality resources to aid individuals in taking that 0-1 step. Every aspect of this platform was created to help aspiring entrepreneurs take that first big step towards launching their idea. They partnered with the Singleton Foundation to reframe the approach to entrepreneurial education and accessibility.
Why 0-1?
Entrepreneurship is a scary word. Even for seasoned founders, it can feel big and overwhelming, the barriers of entry seeming impossible to overcome in order to get an idea past the point of inception. At what point can someone call themselves an entrepreneur? There's no secret ceremony or initiation that involves Bill Gates himself signing a certificate of authenticity. The niche jargon and acronyms of "Entrepreneur lingo" read like a foreign language. Incubators, accelerators, VCs, USPs, POCs, it gets confusing fast. Once an idea is developed, there are resources and programs available to help founders get funding for, launch, and even grow their start-ups, but little attention is being paid to the founders who need help getting ideas out of their brains and into the real world.
For students, these barriers are magnified. At a point in life where everything is unknown and learning is the priority, actually doing can seem like an unattainable goal.
Enter: Slyngshot
Slyngshot levels the playing field. Regardless of background or skill level, anyone can get started. Through easy to answer questions in a variety of formats, Slyngshot gamifies the otherwise daunting process of developing a business plan, tricking the user to think critically about their strategy and marketability. The language is simple. Written at a 5th grade reading level, the questions and pointers are easy to understand and make Slyngshot a functional resource for ESL learners and non-business majors. At its core, Slyngshot is a fresh approach to onboarding students into entrepreneurship and the current learning outcomes of many educators in the entrepreneurial space.
Create, Build, Share
Slyngshot offers three different starting points for users, depending on where they're at in the founding process. Start with create, and Slyngshot leads the user through a series of brainstorming exercises, helping them identify relevant problems in their life and how said problems could be solved.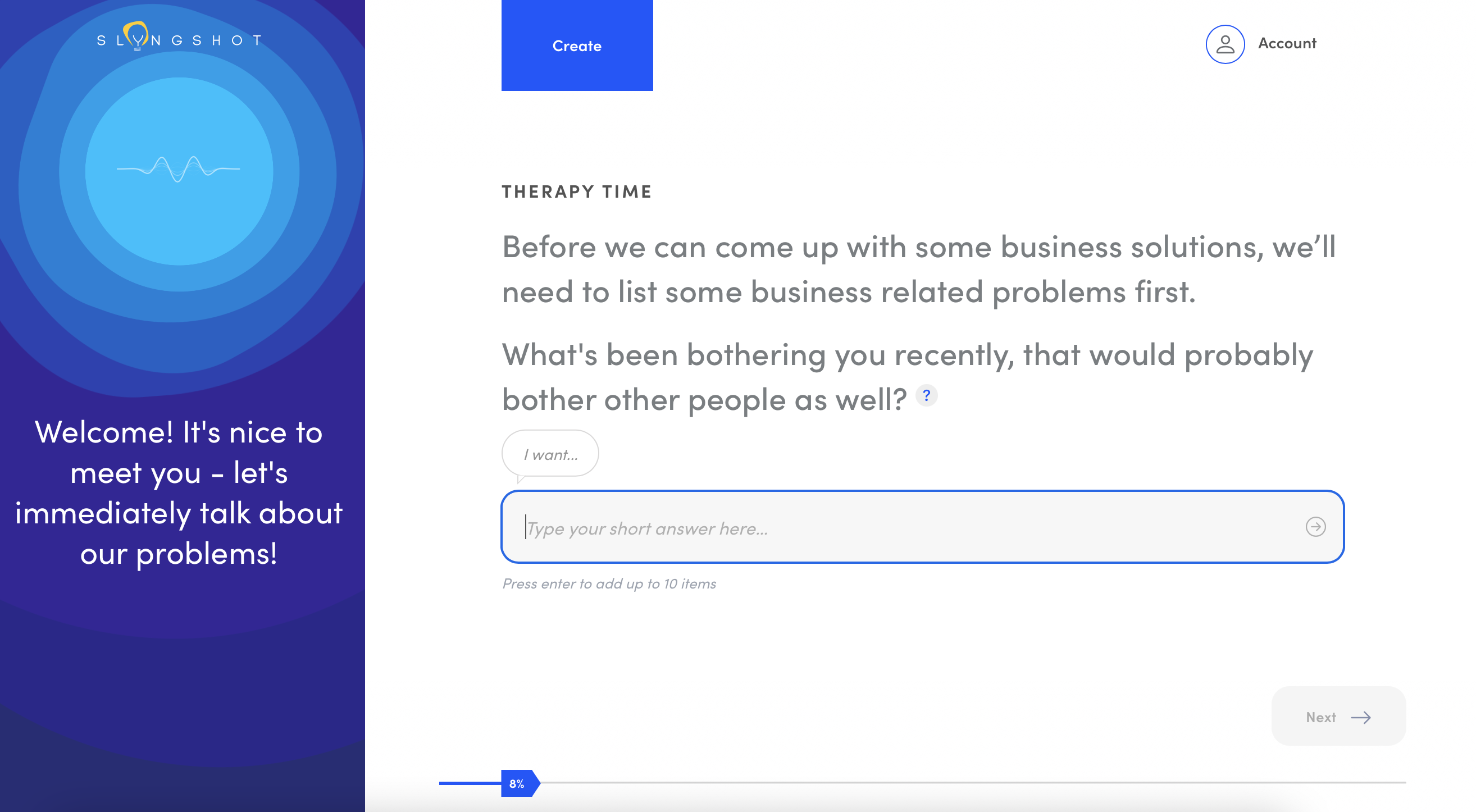 If a user already has an idea they can start with Build, and jump right into a series of targeted questions to help them develop an official business plan for their idea. The Build section splits into seven categories: Idea, Strategy, Product, Value, Marketing, Delivery, and Community. The questions in each of these categories include unique takes on the traditional questions. Activities like ranking, "mad libs," and button selection minimize the amount of actual typing one is doing and promote a flow.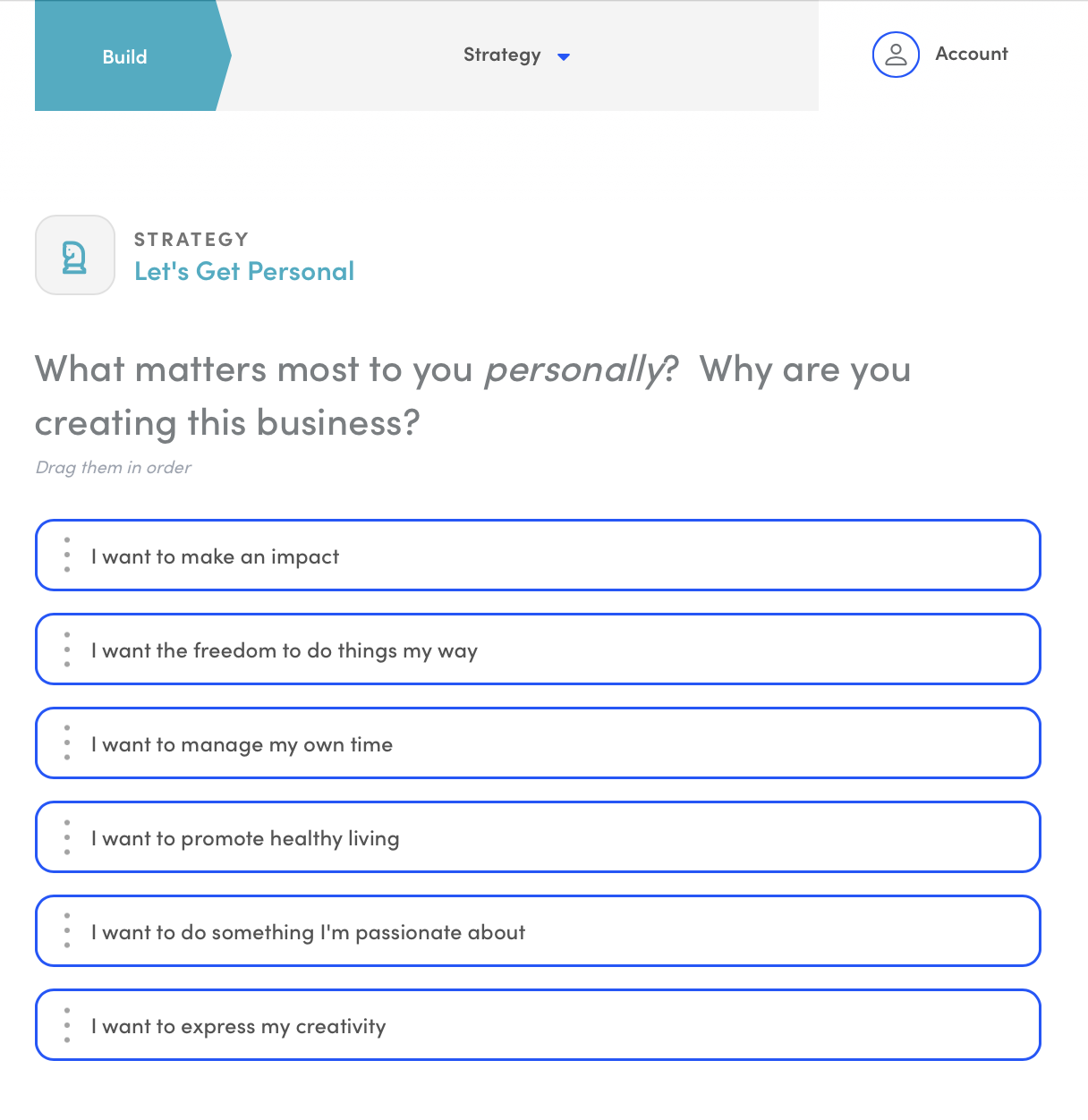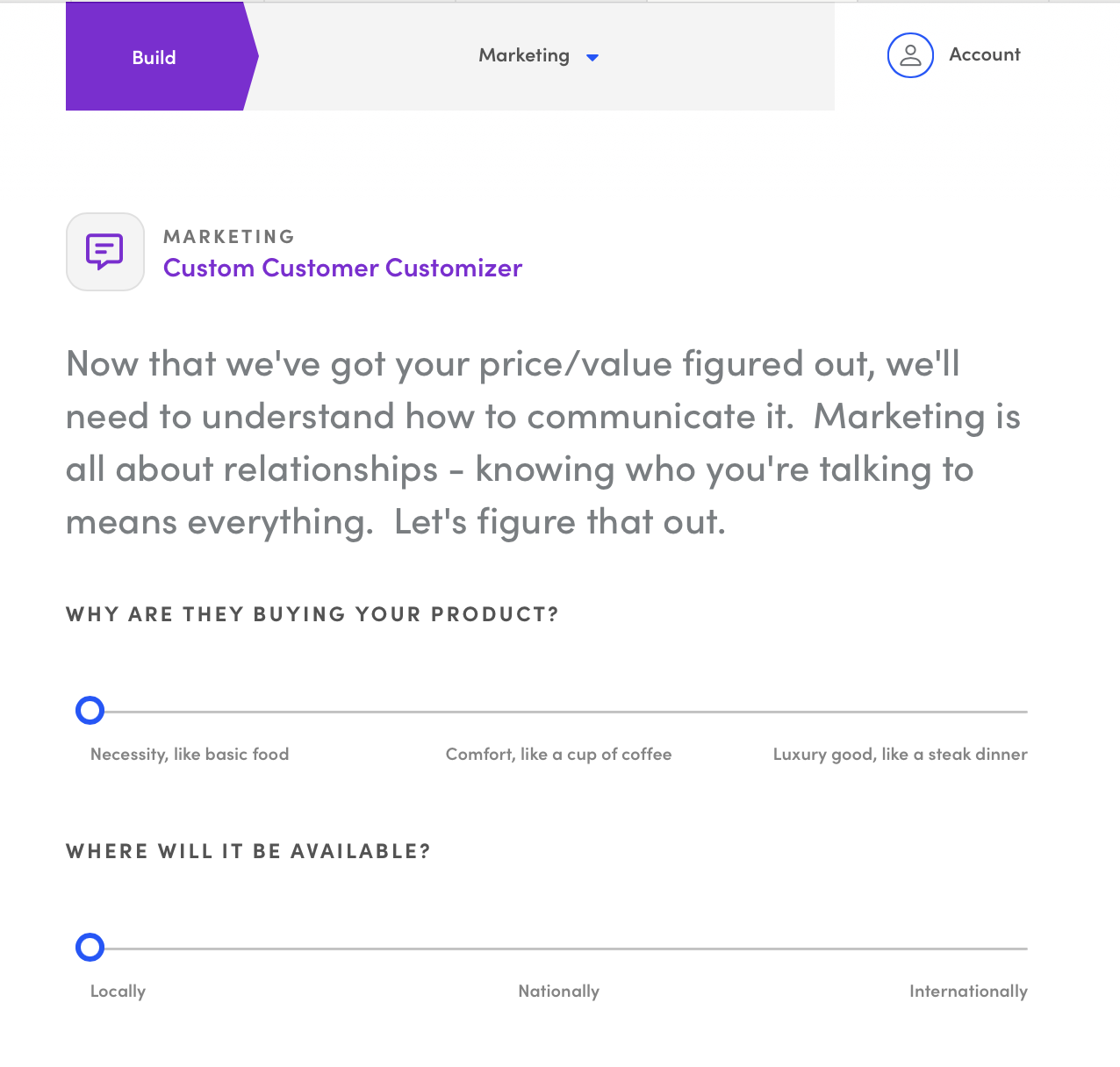 After finishing the build section, Slyngshot users can share the idea via their own custom website. This website is an elevated pitch deck. It's interactive, easily editable, and clear. Users can share their sites with friends and family, mentors, and even potential investors.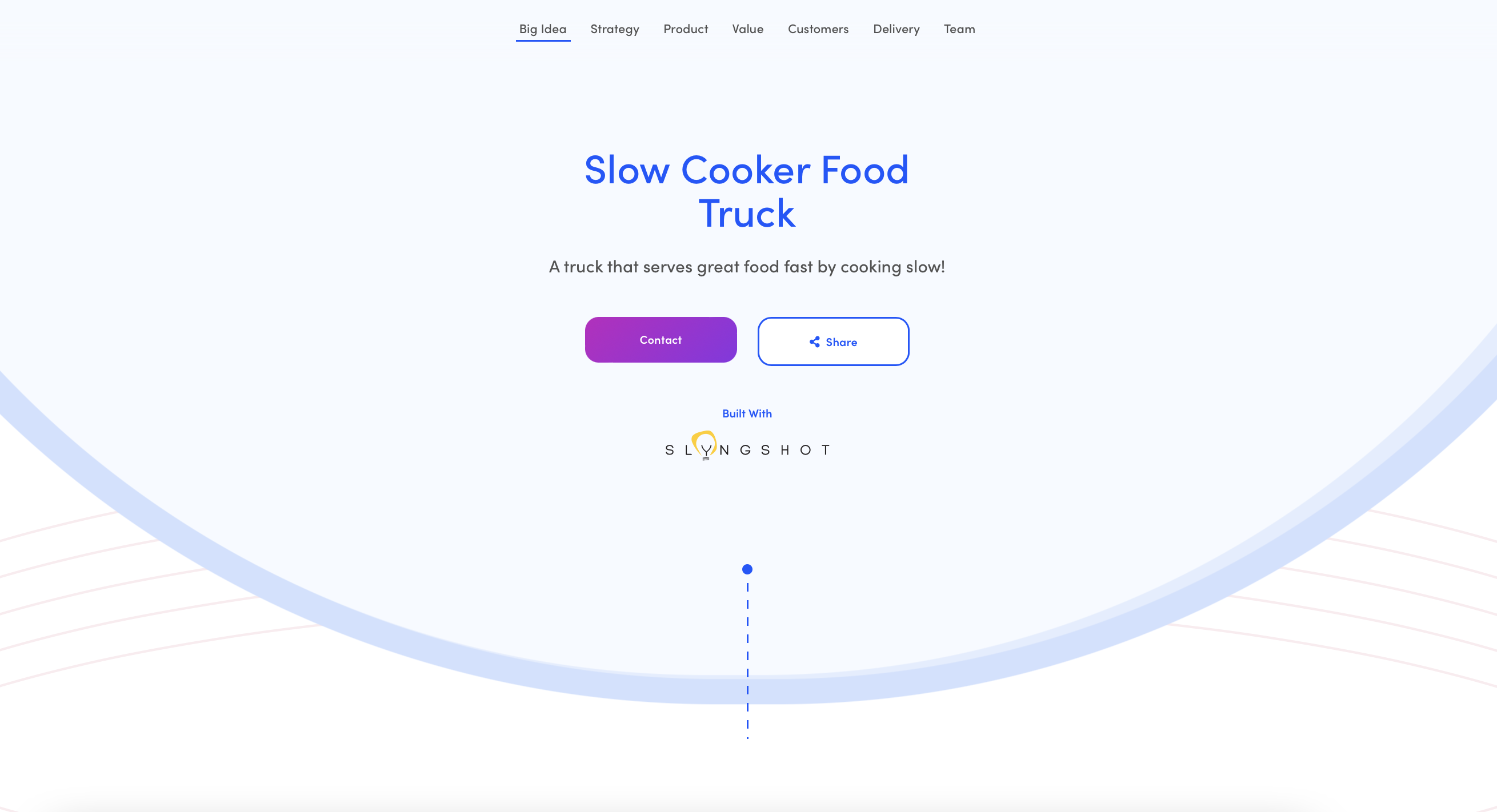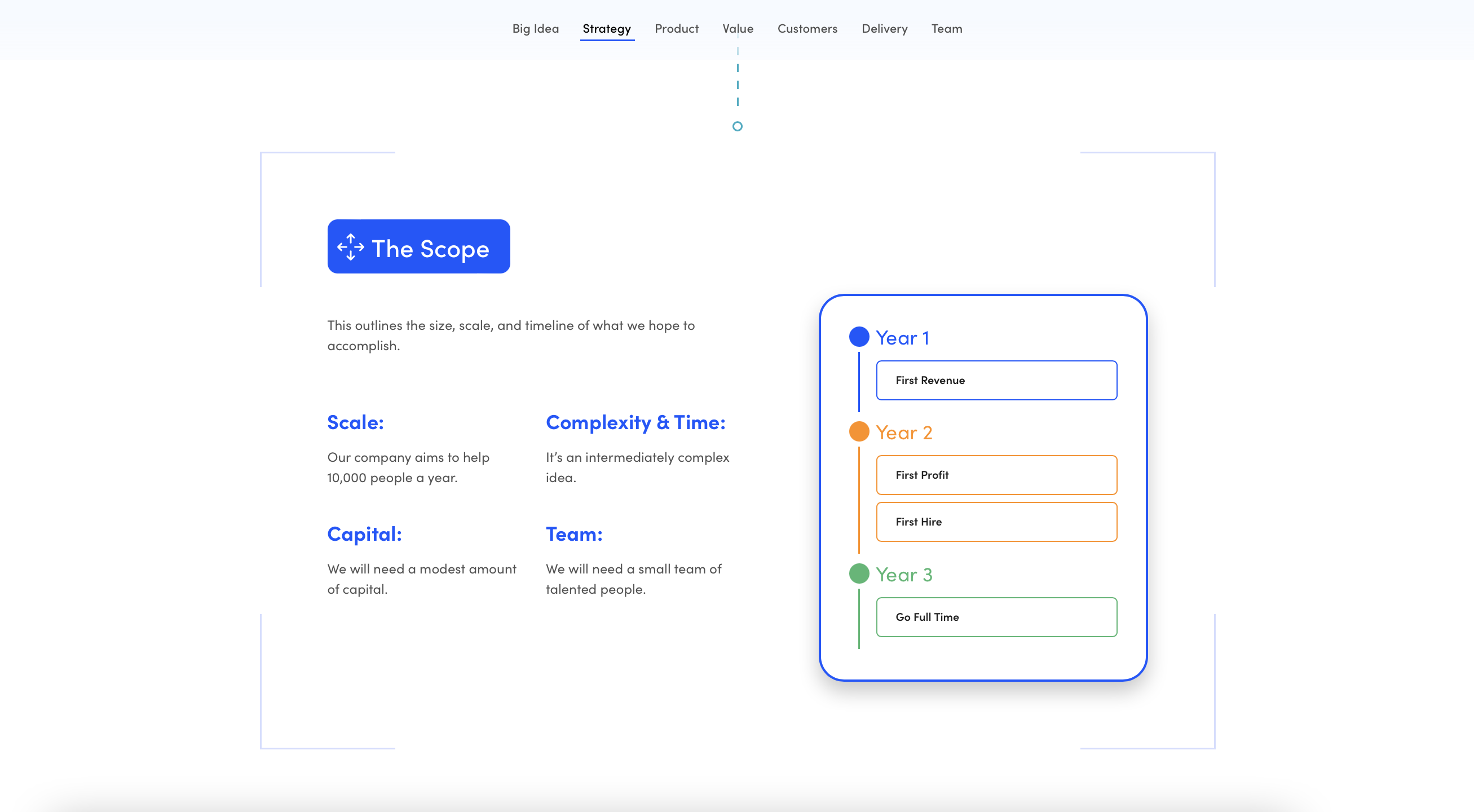 Anyone Can Be An Entrepreneur
There is value in seeing an idea on paper, or in the case of Slyngshot, on screen. For a student, that value goes way up. They can go from a problem to a pitchable business in less than an hour, giving them a sense of accomplishment impossibly hard to garner in the existing entrepreneurial world.
Slyngshot not only provides benefits to the individual, but to the overall entrepreneurial ecosystem they belong to. A partnership with Slyngshot offers a custom data dashboard in which educators can view their entrepreneurial impact and usage in their community. There is immense intrinsic value in being able to track the number of new ideas created, built, and completed within an allotted amount of time. Additionally, being able to see the point at which a student stops participating, or the speed at which they complete a certain question, means identifying strength and pain points within a curriculum and information on what engages your students.
Bring Slyngshot into your classroom with a customized license. We partner with entrepreneurship centers, organizations, and entire campuses to help students take that first step into entrepreneurship, from 0-1.
Email us today create@slyngshot.io, or set up a meeting with our team.