Seven Top Takeaways From Our April Member Webinar - Best Practices for Teaching Entrepreneurship
As a member benefit, NACCE hosts monthly free webinars for our network. Did you miss our
April Member Webinar
entitled "Best Practices for Teaching Entrepreneurship in an Online Environment"? If yes, read on to discover our seven top takeaways from this event.
---
This has been a difficult time for the world, bringing many challenges to our traditional approaches to entrepreneurship education. In a matter of a few weeks, thousands of classrooms abruptly pivoted from in-person instruction to online education. NACCE hosted Best Practices for Teaching Entrepreneurship in an effort to bring solutions to our members and friends who are navigating "the new normal."
Our first presenter, Dr. Eric Liguori, Executive Director and Rohrer Chair at the Rowan Center for Innovation and Entrepreneurship for Rowan University, shared data points from a recent national survey that he conducted. Hundreds of entrepreneurship educators from across the United States shared how they are rapidly responding to COVID-19. The survey revealed the following:
90% use experiential approaches (learning by doing & reflecting on that process) in their

regular

classrooms, but more than 50% cannot maintain experiential learning in an

online

environment;

85% feel comfortable using online tools to "successfully" transition their class to a digital format, but only 38% view their online conversion outcomes as "effective" or "highly effective;"

28% anticipate a positive impact from the online transition, 51% expect no impact, and 21% predict a negative impact;

only 7% were familiar with 6 out of 10 popular online tools, which raises concerns about digital literacy.
One of the survey respondents described well how many educators are feeling right now: "I feel like I am building an airplane while I fly it." Students are also struggling with this transition as a result of many factors including the lack of structure, the need to learn new technology rapidly, and adequate internet access. Another survey respondent shared that his students have reported themselves to be "the most academically unmotivated right now," and that they are "waking up and falling asleep in Zoom classes."
After hearing these survey results from Liguori, Doan Winkel, Co-Founder of TeachingEntrepreneurship.org and John J. Kahl Sr. Chair in Entrepreneurship & Director of the Muldoon Center for Entrepreneurship at John Carroll University shared some of his best practices for combating these struggles that many entrepreneurship educators find themselves dealing with today.
Seven Top Takeaways From Our April Member Webinar:
Best Practices for Teaching Entrepreneurship
1. Do NOT lecture to your students online.
If you lecture, you risk the loss of engagement and there's a greater likelihood that your students may "zone out." While some lecturing might be inevitable, try to stay animated and limit your speaking time. While educators typically aren't "YouTubers," consider watching a few to gain some insight into captivating mannerisms, voice intonations and audience engagement.
2. Allow yourself to be imperfect
.
Perfection isn't possible. We didn't have the luxury to prepare for this pandemic, nor did we have the time to purchase or train everyone on online tools. Do your best and don't be afraid to get outside your comfort zone and learn a new technology tool.
3. Turn the uncertainty of learning a new tool into something fun
.
If you are using the Zoom platform, surprise your students with a virtual background that shares something about your personal interests. For example, your background could be your favorite TV show or travel destination. Give them the opportunity to do the same. You might also consider offering a prize to the student with the best virtual background.

Above: A variety of virtual backgrounds; screenshot taken from webinar.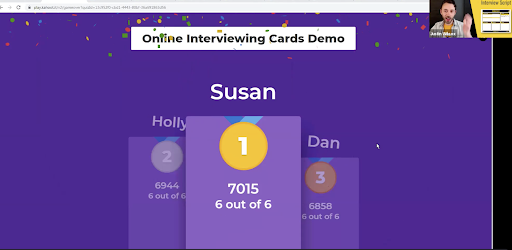 4. Bring elements of gamification into the classroom.
Competitions can be a great way to engage your students. Many educators have mastered Kahoot.it for online gamification in their courses. This game-based learning platform makes it easy to create, share and play learning games or trivia quizzes in minutes.
5. Replace lectures with interactions, and replace group work with collaboration.
Create digital worksheets with Google Docs and Slides, and apply them in real-time make your lectures more interactive. Justin Wilcox, Founder at TeachingEntrepreneurship.org and Adjunct Professor at John Carroll University, shared a few of his digital worksheets during the webinar including this one focused on customer interview cards. If you are using Zoom or another platform that allows for smaller breakout groups, have your students complete digital worksheets in breakouts. Check out this blog post on how to create a digital worksheet with Google Docs and Slides.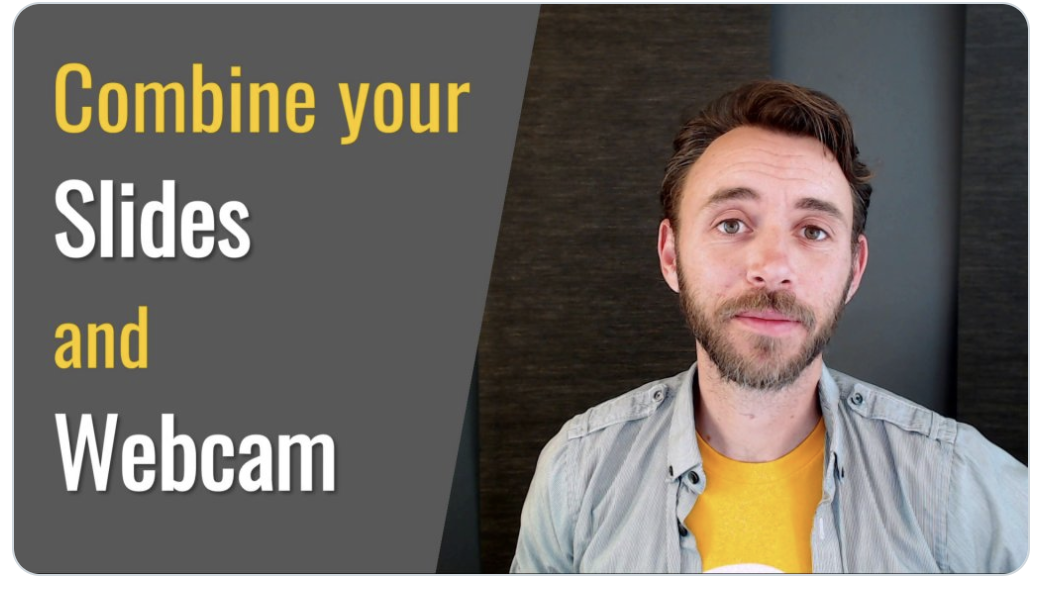 6. Combine your slides and webcam into one screen.
Justin recorded a short video showing how he does this. The less screens open, the better!
7. Have empathy and show kindness
to your students, colleagues, and yourself.
Take notice of student's home environments and digital acumen. Test new tools and see how students respond to them. Ask for their feedback and be creative on how you can use or adapt certain existing materials.
We hope that you found these top seven takeaways to be helpful. NACCE members can access this webinar and slides here after logging in to NACCE.com. If you're interested in online entrepreneurship lessons plans, visit bit.ly/ExpressPack (free through June 2020). Looking for more information? Check out Dr. Christine Mollenkopf-Pigsley's Seven Quick Tips for Taking Your Courses Online.
Stay tuned for future communications regaring effective strategies for student and faculty engagement in an online environment as NACCE continues to connect our extensive member network. We wish you and your students much success – we are all in this together!
---
Thank you again to our presenters for sharing their time and expertise with our NACCE network!
Eric Liguori, Executive Director and Rohrer Chair, Rowan Center for Innovation and Entrepreneurship, Rowan University
Justin Wilcox, Founder, TeachingEntrepreneurship.org and Adjunct Professor, John Carroll University
Doan Winkel, Co-Founder, TeachingEntrepreneurship.org, John J. Kahl Sr. Chair in Entrepreneurship & Director of the Muldoon Center for Entrepreneurship, John Carroll University