Transfr Creating Pathways from Classroom to Career
Transfr is revolutionizing the way we prepare the next generation for well-paying jobs across industries. Through hands-on training simulations that teach critical skills for in-demand jobs, Transfr is bridging the gap between the classroom and the workforce. By partnering with a wide array of organizations, Transfr is shaping better futures for workers, employers, and communities, helping students and job seekers become skilled employees and highly capable entrepreneurs.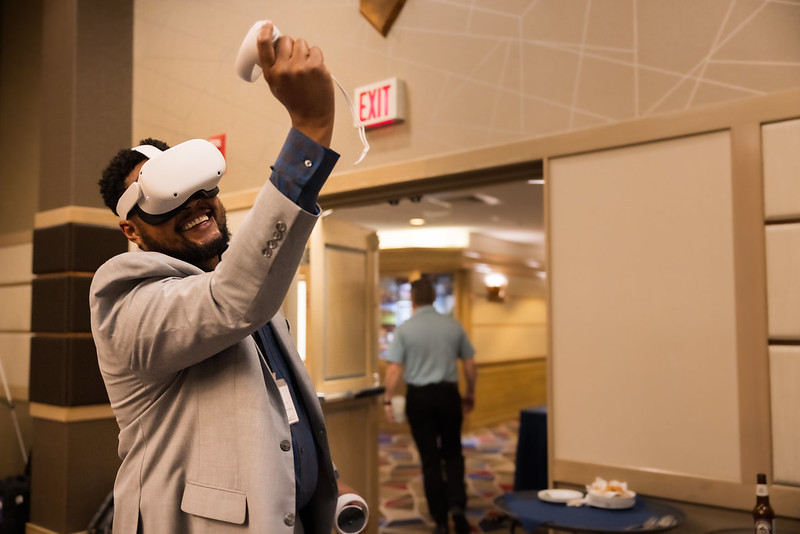 With over 500 partners throughout the US, Transfr is changing lives and expanding horizons in countless ways. Let's explore some incredible spotlight stories!
The Technical College System of Georgia (TCSG) is transforming training with Transfr. TCSG, consisting of 22 technical colleges across the state, joined forces with Transfr in 2020 to integrate simulations into non-credit manufacturing programs. This move provided students with valuable hands-on skills training. The results were astounding, with over half of the first cohort continuing their higher education and finding gainful employment.
Keith Fletcher, former Executive Director for TCSG's Strengthening Community College Grant, highlighted the depth of Transfr's library as a key factor in their partnership. "Transfr offers quality training across a wide range of subjects," Fletcher noted. While there are many VR systems available, Transfr's comprehensive content sets them apart.
Shelton State Community College is another success story, utilizing Transfr's VR simulations to prepare students for jobs. The college's Ready to Work programs integrate Transfr's skills training into classroom soft-skills and work preparation sessions. This approach makes students more employable and ready for additional training when they enter the job market.
Molly Wagner, an instructor at Shelton State CC Ready to Work program, praised Transfr's modern instructional approach. She emphasized how the technology engages students of all ages, allowing them to progress at their own pace and receive immediate feedback on their progress.
TRIO Electric, based in Houston, is also harnessing the power of VR to train tomorrow's electricians. TRIO Electric collaborated with Transfr to develop VR simulations based on their pre-apprenticeship program. Through a series of detailed simulations and classroom sessions, TRIO's program equips students with a solid knowledge of electrical construction, opening up numerous opportunities for employment, including the potential to start their own businesses.
Michael Cox, a pre-apprenticeship student at TRIO, shared his positive experience with VR training. He found it to be effective, informative, and precise, offering not only practical insights but also the necessary underlying knowledge for success in the field.
In conclusion, Transfr is leading the way in creating classroom-to-career pathways for individuals seeking well-paying jobs. By partnering with various organizations, Transfr is empowering students, job seekers, and communities. The success stories from the Technical College System of Georgia, Shelton State Community College, and TRIO Electric demonstrate the tangible impact of Transfr's hands-on training simulations. Through innovative technology and high-quality content, Transfr is shaping a future where individuals can thrive in their chosen careers.